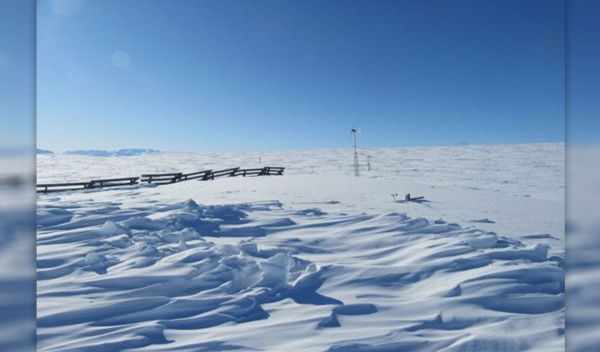 Scientists say deepening Arctic snowpack drives greenhouse gas emissions
Insulating effect of deeper snow is thawing ancient carbon permafrost reserves
Human-caused climate change is shortening the snow cover period in the Arctic. But according to U.S. National Science Foundation-supported research led by Earth system scientists at the University of California, Irvine, some parts of the Arctic are getting deeper snowpack than normal, and that deep snow is driving the thawing of long-frozen permafrost carbon reserves. That's leading to increased emissions of greenhouse gases like carbon dioxide and methane.
"It is the first long-term experiment where we directly measure the mobilization of ancient carbon year-round to show that deeper snow has the possibility to rather quickly mobilize carbon deep in the soil," said Claudia Czimczik, lead author of the study, which appears in AGU Advances. "Unfortunately, it supports the notion that permafrost carbon emissions will be contributing to already-rising atmospheric CO2 levels." 
Fieldwork for the study took place at the International Tundra Experiment (ITEX) at Toolik Field Station in Alaska, an experiment started in 1994 by study co-lead author Jeff Welker of the University of Alaska Anchorage. The original goal of the experiment, Welker explained, was to understand how deeper snow would affect Arctic tundra ecosystems.
Over the last several years, the joint UCI and Alaska team conducted fieldwork at the ITEX site and found that a common Arctic biome — tussock tundra — had turned into a year-round source of ancient carbon dioxide. This is a result of thawing permafrost buried under snow where the snow has been three to four times deeper than the average long-term snow depth since 1994. 
When the research started, neither Welker's team nor climate scientists thought that the deeper snow experimental treatment would lead to such a rapid thawing of the permafrost.  
"These findings suggest that the stability of permafrost in Arctic Alaska, and possibly globally, can respond rather rapidly to changes in Arctic winter snow conditions, where winter can be up to eight months long," said Welker. "Winter climate feedbacks like this are a tundra characteristic not previously recognized and fully appreciated." 
The team's findings, Czimczik said, suggest that even if humanity stopped emitting planet-warming gases like carbon dioxide immediately, emissions from Arctic sources would continue. 
"Long-term observations and experiments over decades such as those conducted at the ITEX site help us detect and understand environmental change," said Roberto Delgado, a program director in NSF's Office of Polar Programs. "The findings underscore the importance of snowpack depth as a driver of carbon emissions from underlying thawing permafrost."