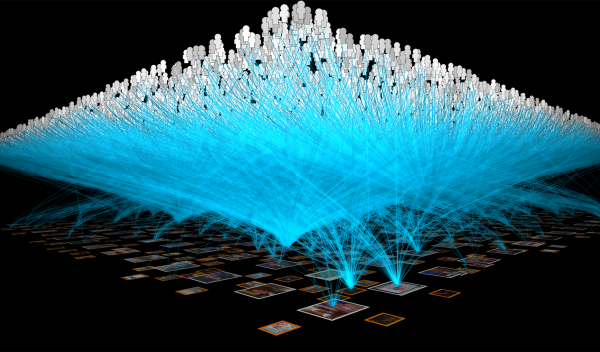 Small Business Innovation Research Award Leads to Multimillion Dollar Investment
NSF-funded Bluefin Labs, recently acquired by Twitter, will shape the future of social television
At this moment in time, Twitter might well be the social soundtrack of our lives.
Twitter brings us public conversations that most often reflect our reactions to events and cultural phenomena--television, in particular--as well as our hobbies, interests and behaviors, making its content a priceless commodity for networks, as well as for companies that design, manufacture and market consumer products.
"Twitter is a public broadcasting network, like a ham radio," says Deb Roy. "Anyone who wants to tune in and hear what you have to say can do so."
Roy and his collaborators are tapping into this wealth of public data--the "social soundtrack" phrase is Roy's--with technology they invented that can track and analyze Twitter commentary about television content, both programming and commercials, providing valuable data-driven insights for networks and advertisers.
Their company, Bluefin Labs, uses computer algorithms to examine the context of words individuals use and connect their comments back to the events, people, products, brands and viewing contexts that prompted the writers to express these words in the first place.
"We can help networks understand how engaged their audiences are," says Roy, professor of cognitive sciences at the Massachusetts Institute of Technology.
Bluefin, named after a local restaurant where Roy and his co-founder Michael Fleischman would dine, and where they planned the company, was spun out of the MIT Media Lab with seed funding from the National Science Foundation's (NSF) Small Business Innovation Research Program (SBIR), with two grants totaling about $1.1 million. Part of the award came from NSF's funding under the American Recovery and Reinvestment Act of 2009.
"This is a perfect example of NSF's SBIR program investing funds in a risky project to de-risk it," says Errol Arkilic, program manager in NSF's division of industrial innovation and partnerships. "The idea was to get it to the point where the private sector was willing to invest in it."
Clearly it worked. Twitter recently acquired Bluefin Labs, reportedly for $100 million.
"While our products have always included data from multiple social media services, the reality is that Twitter is the platform where the overwhelming majority, about 95 percent, of public real-time engagement with TV happens," Roy and Fleischman said in a statement after the deal became public. "Now as part of Twitter, we look forward to working closely with Nielsen, TV networks, advertisers, agencies, and the rest of the TV ecosystem to help shape the future of social TV."
Since its creation, Bluefin Labs has been providing information to clients that include major U.S. television networks, as well as Ad Age 100 brands and major advertising agencies. Bluefin will continue to honor those contracts until they expire, Roy says, but predicts "changes in our focus," as a result of their new relationship with Twitter.
For its part, Twitter has not yet revealed how it will use Bluefin, except to say that its "data science capabilities and social TV expertise will help us create innovative new ad products and consumer experiences in the exciting intersection of Twitter and TV."
How does the Bluefin technology work?
When people tweet about a television program, Bluefin's massive data collection process analyzes the conversations and, within minutes, draws conclusions about what people are saying--perhaps a particular character is driving the conversation--and how they are responding to the program, and to its commercials.
"We have built a TV tuner to tune into conversations about every show, and we tune into ads as well," Roy says. "If they also are talking about another show, we have an interest graph that connects audiences across TV shows. These same people might also tweet about the clothes they wear, the cars they drive, the food they eat, or their pets. Many people who watch a certain show might have cats, so we would say to the cat food maker: 'did you know this? This may be a place to advertise.'"
When describing the evolution of so-called "social TV," that is, the marriage of television watching and television commentary via Twitter, Roy compares it to the end of the era of silent movies, and the start of talking pictures.
"There was a generation that grew up with silent movies, 25 or 30 years before the first sound tracks were introduced," he says. "You grew up knowing movies as silent. Then the first sound track comes around, and it makes sense because we are used to hearing what we see. It was something you would naturally want, and now you've got it. Sound made the movie experience complete.
"Television has been around for about 80 years and from day one has been broadcast into individual homes," he adds. "Millions of people were watching simultaneously, but not together. It's a sequestered experience built into the technology. But now, people have formed a social soundtrack around Twitter and other social media. Instead of the office water cooler, they are talking to each other on social networks about what they are watching. About 25 percent of people on Twitter speak as they watch TV."
In the old days, audiences had to wait until after a broadcast, or the next day, for "spin" from media experts. Not anymore. The "spin cycle" has been replaced by the Twitter feed. "A social soundtrack flows into my living room," Roy says. "Twitter feeds light up immediately with real time audience feedback. I don't have to wait for the spin rooms to fill up. Anybody with a Twitter account potentially can have a voice, and, if they attract me as a follower, can influence my thinking. There are tens of millions of people on Twitter--a multitude of voices, and in biased ways. What's new is the flow of information in a more decentralized and open way. There clearly has been a shift in the locus of control and power."
He believes the concept of a social soundtrack will be around for a long time to come.
"I think it is not a fad," he says. "There is a pent up desire to connect with others we know. Twitter has unleashed that, and now we have 'social TV,' that is, social media combining with television. Eventually we will stop calling it 'social TV,' and just call it TV. It's a creative process that is just starting. We are at the very beginning of it."