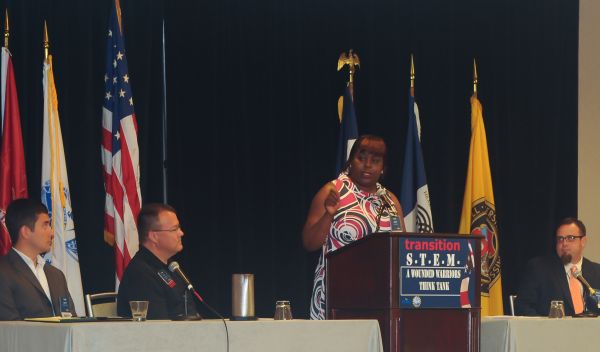 Transition STEM: A Wounded Warriors Think Tank Assists Veterans Pursuing STEM Education and Careers
Goal was to discuss what types of support and policies are needed to improve this transition
In the military, soldiers gain vast experience using sophisticated and cutting-edge technological innovations that require skills in the science, technology, engineering and mathematical (STEM) fields.
However, the transition to post-military education and employment presents challenges. And when a veteran, a Wounded Warrior, has a disability related to military experiences, the challenges are even greater.
In order to develop solutions, the National Science Foundation (NSF) sponsored "Transition STEM: A Wounded Warriors Think Tank," in Kansas City, Mo., July 27-28. The Alliance for New Careers in STEM (KC-BANCS) and the University of Missouri-Kansas City (UMKC) Institute for Human Development and School of Computing and Engineering hosted the event.
This event was the first of its kind to bring together national leaders to work with higher education and industry professionals to assist Wounded Warriors interested in pursuing education and careers in STEM fields.
"The goal of Transition STEM was to produce a collective response to transition issues facing Wounded Warriors and identify recommendations for improved supports, policy and funding," said Ronda Jenson, the Director of Research at the UMKC Institute for Human Development.
"Increasing degree attainment and increasing the STEM workforce are both important national priorities," said Alexis Petri, the KC-BANCS project director. "Veterans provide a natural opportunity for both."
The outcome of the think tank is a list of recommendations and insights designed to assist the successful transition of Wounded Warriors through STEM education to STEM careers.
"STEM business and industry representatives noted that the workforce sees veterans as an asset because of their leadership training and technical experience," said Petri. "Employers value their applied skills and knowledge, decision-making ability and leadership skills. The challenge is to help veterans translate their military experience into terms that resonate with employers."
Transition STEM participants included Wounded Warriors and veterans, private sector STEM industry representatives, higher education leaders who recruit and support Wounded Warriors in their STEM degrees, veteran program services leaders, disability experts, researchers of effective support for Wounded Warriors, policy leaders who determine transition protocol for higher education and representatives from NSF.
"The participants appreciated the opportunity to take part in a first-of-its kind think tank event that explored the very natural match between Wounded Warriors and broadening participation in STEM careers," said Jenson.
The think tank focused on topics such as: transition from military to civilian life; "transition success stories" or Wounded Warriors' perspectives on transitioning into STEM post-secondary education and careers; what leaders in higher education need to know about Wounded Warriors who are pursuing degrees and careers in STEM fields and how to support them; STEM-related business and industry perspectives on recruiting and hiring Wounded Warriors; as well as an in-depth presentation about post-traumatic stress disorder and what it's like having it as a college student.
"It is not that STEM jobs are provided for Wounded Warriors separate from the general jobs available," said Jenson. "It is more of a realization that STEM jobs are brain powered and that an important part of broadening participation in STEM includes the brain power of individuals with disabilities, especially Wounded Warriors."
Some of the recommendations for higher education that were developed through the think tank include the following:
Establish a campus-wide office for veterans with a team of experts drawing from military and academic cultures.
Initiate a process to review and accept documented military training that corresponds to academic courses.
Create a one or two-credit course on academic success for Wounded Warriors in STEM fields.
Develop veteran-to-veteran programs, such as peer mentoring.
Bridge programs that ease the transition from military to college, building collegiality.
Develop training that helps faculty, staff and administration understand the types of support that are available to veterans, and awareness of veterans' needs.
Present STEM fields to Wounded Warriors as having direct potential for career opportunities.
Use military experiences to build on STEM study.
"The next steps are to develop a comprehensive report for NSF and audience-specific materials to promote recognition of the issues and challenges and inspire direct action," said Jenson.
KC-BANCS is funded by the NSF Research in Disabilities Education program with the goal of increasing the number of students and veterans with disabilities who enter post-secondary STEM academic programs, complete two-and-four-year degrees in STEM fields and attain STEM careers. It is a program that is part of the UMKC Institute for Human Development and School of Computing and Engineering in partnership with a STEM Alliance of educators, veterans and industry professionals.