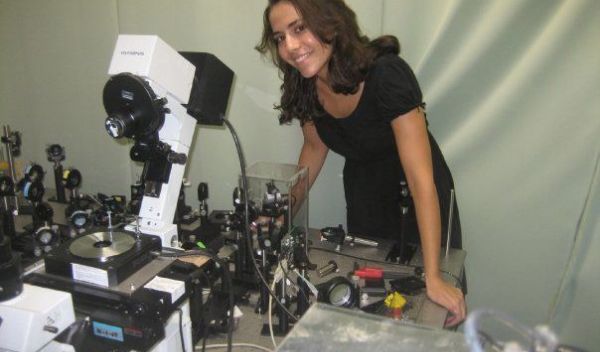 A Trip Abroad to Learn How DNA and Protein Pair Up
Graduate student Markita Landry describes her research, learning experiences and cultural adjustment in Japan as part of NSF's EAPSI program
Proteins are able to identify a tiny DNA target--usually only a few base pairs long--among thousands of non-targeted base pairs. I study how that happens using high resolution, optical traps. And, to help advance my research for my doctoral thesis, I spent a summer doing research in Toshio Yanagida's laboratory in Osaka, Japan, as part of NSF's East Asia and Pacific Summer Institutes (EAPSI) program.
Proteins are able to target DNA sequences at surprisingly fast rates, and some, like the protelomerase protein I study, are able to do so without help from energy-rich helpers like ATP. This is analogous to finding your way to a new laboratory (like I had to do) in the middle of a very large foreign city (such as Osaka, Japan), in a car (without fuel, thankfully not my case) in a matter of minutes or seconds.
What we are learning is very useful for determining how proteins work, and this could ultimately help us understand how much of a role protein-DNA interactions play in cells, and even in entire organisms.
However, while at the University of Illinois, I was having trouble extracting meaningful results from my data, and decided that I would need to approach my scientific questions in a different way. At Osaka University, I used a technique called Total Internal Reflection Fluorescence Microscopy (TIRFM). The technique allowed me to visualize tiny biological molecules--in this case, proteins--and track the motion of the proteins along DNA molecules.
To say that my 10 weeks in Osaka were a learning experience would be a serious understatement. New lab instruments, new culture, even a new sleeping cycle. Surprisingly enough, learning to operate TIRFM instruments was by far the easiest learning experience of the summer.
First of all, I could not speak or read Japanese. This led me to make several mistakes only illiteracy could cause, such as eating my morning cereal with cream instead of milk, or accidentally washing my laundry in fabric softener instead of detergent. However, thanks to the astoundingly welcoming environment created by my new Japanese friends, I quickly became acclimatized to my new living environment, and took advantage of this unique opportunity to discover Japan.
Never one to forego a cultural opportunity, I searched "Craigslist" to find local urban housing rather than stay at the Osaka University student dorms. I found myself sharing an apartment with two Japanese women in the heart of downtown Osaka. Despite a slight communication barrier, living with my Japanese roommates was the cultural highlight of my EAPSI experience.
I visited each of their hometowns to celebrate Obon with their families. They were glad to show me the most authentic local restaurants and museums, and in turn, I was glad to teach them to tango and salsa dance, and I cooked some Bolivian dinners for them and their friends.
With the help of my new colleagues at Osaka University, my project also advanced as steadily as my acclimatization to Japanese culture. TIRFM videos of my protein interacting with DNA showed that, unlike previously imaged proteins, this particular protein did not slide along DNA.
The finding was important for our research: if the protein did not move, how did it quickly find its target sequence? The perplexing new information led us to conclude that our particular protein may be part of a protein family that interacts with DNA in a manner that is distinct from previously studied protein-DNA interactions.
The findings might help us understand the roles of protein-DNA interactions in living cells and organisms, where proteins are often crowded by other cellular machinery and might not be able to move as freely as in our in vitro experimental setups.
These results could not have been realized without the collaboration established through the EAPSI/Japan Society for the Promotion of Science (JSPS) program. Moreover, I was asked to write a book chapter in an upcoming book entitled Chemistry as a Second Language: Chemical Education in a Globalized Society. Hopefully, this book will help encourage more research scientists to perform research in foreign laboratories.
After months of Japanese bath house trips, traveling, traditional Japanese Matsuri festivals, raw seafood meals, lab group outings, late night conversations on our apartment balcony, and even a 16-hour-long hike to the top of Mount Fuji, saying goodbye to my roommates and lab mates was, by and large, the most difficult part of the EAPSI experience. However, the cultural and academic lessons I learned over the course of 10 weeks continue to enrich my day-to-day life, both in and out of the lab.
-- Markita Landry, University of Illinois at Urbana Champaign
This Behind the Scenes article was provided to LiveScience in partnership with the National Science Foundation.