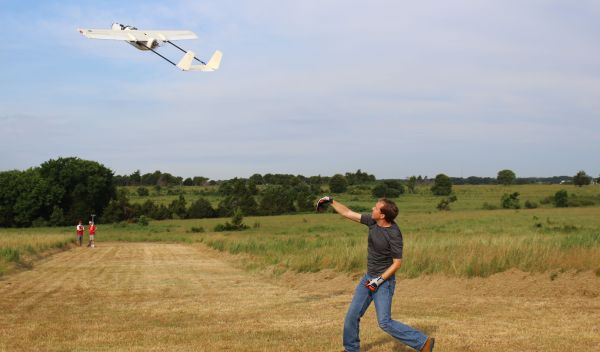 Turn your eyes to the skies for the latest explorers
6 ways NSF-supported research is improving unmanned aerial systems for scientific and societal benefit
From strengthening wildlife conservation efforts to improving disaster response, researchers are finding new ways to use small, unmanned aerial vehicles (UAVs) -- also known as drones or unmanned aerial systems (UAS) -- to gather data, improve communication, and explore environments where humans and larger aircraft dare not go.
These advances are due, in part, to improvements in UAV technology, as well as clearer ground rules that govern the many uses of unmanned aircraft. Increased federal funding, including a recent $35 million commitment from the National Science Foundation (NSF), will advance the basic research needed to design UAVs that can save lives, improve safety, and enable more effective science.
"Designing and developing highly-capable UAS platforms requires basic research in the theoretical principles of UAS, including sensing, perception, control and communications," says Lynne Parker, NSF director of the division of information and intelligent systems. "Once these agile and robust UAS systems are developed, they can be extended to operate in a variety of challenging domains, such as serving as vital tools for scientific exploration."
Since 2010, NSF has funded dozens of UAV research projects related to computing, engineering, earth science and biology, and supported entrepreneurs through its Small Business Innovation Research program.
The examples below demonstrate the potential for researchers to advance their scientific knowledge and provide benefits to society through the use of unmanned aircraft.
Wildlife conservation
With their ability to travel at altitudes and in environments where manned aircraft cannot, UAVs can study species in difficult-to-reach locations, and to help researchers address a number of important questions about ecosystems.
Michael Shafer, an assistant professor of mechanical engineering at Northern Arizona University, is working on an NSF-funded project to better track wildlife -- particularly small animals such as bats and birds -- in non-intrusive manner. By developing low-cost, UAV-mounted radio telemetry systems that can receive radio signals from tagged wildlife, and by making the pre-engineered systems available to wildlife researchers via open source publishing, he hopes to significantly reduce the barriers to tracking animals in the wild.
Shafer's lightweight modules leverage the flight capabilities of UAVs to better detect signals from wildlife transmitters. This involves developing signal-processing algorithms to assist in detecting and localizing very high frequency radio tags, and assembling a radio system capable of providing the required sensitivity. It also involves designing a system compact enough to fit on a UAV, along with special vehicles for field researchers and the radio-sensing modules they carry.
In addition to the technical development effort, Shafer and his team plan to work with the Upward Bound program at Northern Arizona University to guide first-generation, low-income high school students from the Four Corners region -- Arizona, Utah, Colorado and New Mexico -- toward successful college careers.
Increasing the accuracy of weather forecasts
UAVs are particularly well-suited for gathering data in the lower atmosphere (1,000-4,000 meters), where many weather phenomena begin and where manned aircraft are too dangerous or expensive to fly. Radar cannot always track conditions at this level and weather balloons have too short of a duration at these altitudes.
Through the $6 million, four-year Collaboration Leading Operational UAS Development for Meteorology and Atmospheric Physics (CLOUD-MAP) project, Oklahoma State University, the University of Oklahoma, the University of Kentucky, and the University of Nebraska will work together to develop the capabilities of meteorologists and atmospheric scientists to use unmanned aircraft as an everyday research tool.
The CLOUD-MAP project recently completed its first flight campaign, which resulted in nearly 250 unmanned flights of 12 separate UAV platforms over a three-day period -- one of the largest scientific unmanned aircraft operations ever. The effort, which brought together more than 65 researchers and students, collected important meteorological, climatological and operational data that will increase the accuracy of weather forecasts, ultimately saving lives and property.
Enhancing communications in a disaster
NSF CAREER awardee Yan Wan from the University of North Texas is developing aerial networking systems that use directional antennas on UAVs to deliver on-demand communication to first responders in emergency response situations.
Typical wireless communications have a range of only 100 meters, or just over the length of a football field. Wan and her colleagues, however, developed technology that extends the Wi-Fi reach of drones to 8 kilometers, or about 5 miles.
Wan and her team have worked with emergency agencies across Texas to test their system's ability to quickly establish emergency communications in disaster drills and exercises. In May 2015, working with researchers from Worcester Polytechnic Institute and the Austin Fire Department, she demonstrated how UAVs can establish aerial communication in a search-and-rescue operation, providing emergency responders with the aerial views they need to direct robots to find victims quickly and transmitting video streams of survivors to control centers. For this, and other activities, she and her colleagues won the Dallas-Fort Worth Metroplex's 2015 Tech Titan Award.
UAVs in hurricane and nuclear disasters
Robin Murphy, the director of the Center for Robot-Assisted Search and Rescue (CRASAR) at Texas A&M University, has deployed UAVs to some of the worst natural and man-made disasters in recent memory.
In the wake of Hurricane Katrina, Murphy directed UAVs to explore buildings along the Gulf Coast -- the first time an unmanned aircraft was used for emergency structural inspections. During the nuclear meltdown at the Fukushima Daiichi plant in Japan, she was part of a team that flew UAVs to determine radiation levels and inspect damage at the reactors. And in the days following the 2015 floods in Texas, Murphy led a team that deployed UAVs to inspect the storm-ravaged area.
Murphy determined that one 20-minute drone flight would generate roughly 800 photographs, each of which takes a minute to inspect. This led her to conclude that data analysis tools, deployed alongside unmanned aircraft, are necessary to make UAV technology useful in time-sensitive situations.
Working with collaborators and students, Murphy has developed software that uses computer vision and machine learning to improve UAV flight paths, as well as anomaly detection techniques to better locate survivors with UAVs.
Combining the capabilities of UAVs with tools that allow them to work in a targeted way is the secret to developing effective search-and-rescue UAVs, Murphy believes.
Sea ice mapping
Last year, scientists aboard the Nathaniel B. Palmer research vessel carried out two separate UAV trials as part of a research cruise in the Southern Ocean. The flights evaluated the aerial mapping of sea ice to determine the distribution of floating sea ice. [Watch a video of the flights.]
Researchers on the trip were exploring the vulnerability of Antarctic ice to melting due to the presence of relatively warm ocean water below it. Melting ice would drive glaciers into the sea faster and raise sea levels worldwide. This data will inform for future integrated observation programs.
In remote and dangerous locations such as Antarctica, UAVs can help to gather critical information without endangering human pilots, which is why the NSF-managed U.S. Antarctic Program is developing a policy on the safe and environmentally sound use of UAVs in Antarctic research.
Safer, cheaper infrastructure monitoring
As U.S. infrastructure ages, its operators need more efficient and affordable techniques to monitor and assess bridges, railroads, power lines, dams and other large systems. UAVs enable innovative approaches for monitoring the health and stability of structures from above and below.
Ivan Bartoli of Drexel University leads a project that focuses not just on UAVs, but on what those unmanned aircraft look at. Using novel manufacturing processes, his team designs special surface coatings -- like paint -- that enable UAVs to rapidly collect multi-spectral imaging data. Advanced algorithms then analyze that data to find structural deformations, allowing engineers to quickly identify damage to critical components of monitored structures.
Scientists and engineers are already moving many of these technologies out of the lab and into the marketplace. Hung La of the University of Nevada, Reno is building on NSF-funded research to create low-cost UAVs and robotic systems that can efficiently inspect steel and concrete bridges.
La is part of an NSF Innovation Corps Team that has completed more than 160 customer interviews, helping him focus on customer uses as the research team finalizes the drone and robotic platform and thinks about the long-term commercialization of the technology. The product has been tested and deployed in the field, and La is working with his university to patent the technology.
These and other new ways of thinking about infrastructure are leading to a safer, more stable future.