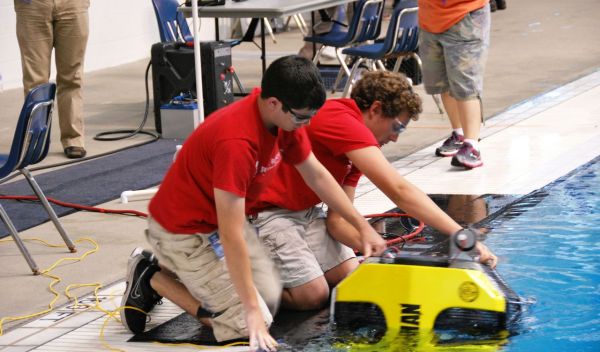 Underwater robotics competition helps students build skills for ocean occupations
Annual competition, sponsored by the Marine Advanced Technological Education Center, gives competitors a taste of the real-life capabilities needed to maintain an ocean observing system
The Marine Advanced Technology Education (MATE) Center hosted its 12th annual student underwater robotics competition earlier this summer in Federal Way, Wash. The center is a national partnership of organizations working to improve marine technical education and help prepare the future workforce for ocean occupations.
Headquartered at Monterey Peninsula College, a community college in Monterey, Calif., the MATE Center has been funded as a National Science Foundation (NSF) Advanced Technological Education (ATE) Center of Excellence since 1997.
The student underwater robotics competition challenged this year's participants to design and build a remotely operated underwater vehicle (ROV) for tasks related to operating and maintaining an ocean observing system, a collection of high-tech instruments above and below the waves that provide around-the-clock information about what's happening in the ocean.
The challenge was based on work being done at the University of Washington, where researchers are designing an observatory for the ocean floor. The missions assigned to this year's competitors were designed to simulate many of the things that will have to be done by ROVs during the installation and maintenance of the observatory.
"This was a very challenging mission," said Jill Zande, associate director and competition coordinator at the MATE Center. "And we found that a number of the students did really well."
Participants included more than 50 student teams representing middle schools, high schools, home schools, community colleges, universities, after-school clubs and outreach programs from the U.S., Canada, Venezuela, China, Hong Kong, Singapore, Macao, Taiwan, Saudi Arabia, the UK, Russia and Egypt.
Competitors' mission tasks
Student teams piloted their ROVs to complete a variety of underwater mission tasks, prepared and presented an engineering report to a panel of volunteer judges, and created a poster display aimed at the general public.
Students were encouraged to think like entrepreneurs and manage their teams like companies, a process that helps them develop the teamwork, creative thinking and problem-solving skills that are valued in today's global workplace. Teams were evaluated on the design, construction and performance of their ROVs, their ability to communicate what they learned, and how they put their knowledge to use in designing and building their ROVs.
Teams competed in either the RANGER or EXPLORER class, depending on the sophistication of their ROVs and the mission requirements. Teams from California won first place in each class. A complete list of winners appears below.
MATE's impact over its history
With NSF funding, the MATE Center began as an ATE project, and has broadened its mission, expanded its reach and increased its impact over almost 20 years. MATE began with a focus on community colleges, but over time opened up to four-year institutions and high schools. Part of its mission is to develop curricula in marine technology, underwater robotics, marine geospatial technology, career awareness and ocean observing systems. MATE also offers professional development for high school, college and university faculty that focuses on a broad array of marine technologies, workplace skills, and pedagogical innovations.
Now, an Innovative Technology Experiences for Students and Teachers (ITEST) project, led by Zande, is reaching middle-school students and teachers.
The idea behind MATE's growth is that the ROV competition can be a means to keep students engaged in science, technology, engineering and mathematics (STEM) subjects and create a pathway to careers in the STEM workforce. Ocean careers cover a broad range of skills, and MATE provides information on its website about the preparation required for more than 50 different careers, from that of able seaman to electrical engineer to ROV technician. There are also listings for jobs and internships.
The pathway from MATE to ocean careers is well traveled. "We've had students snapped up by industry into $60,000 jobs before they've finished their associate degree," said Deidre Sullivan, director and principal investigator for the MATE Center. "When the Deepwater Horizon oil spill happened three years ago, some of the people who were operating the ROVs looking at the damage were graduates of the MATE curriculum."
"MATE has become a magnet for these kinds of skills," said David Campbell, program director for ATE. "If a student is interested in this kind of career, most community colleges will train students in electronics and depend on their future employers to train them in marine electronics. MATE is one of the few that's geared toward marine technology."
Winners of the 2013 ROV competition
There were three top winners in each class, and a host of other awards.
Explorer (Advanced) Class Winners:
In the explorer class, the overall first place winner was Jesuit High School of Carmichael, Calif. The team also won an award for being safety conscious.
Memorial University of St. John's, Newfoundland, Canada, took the second place prize. Third place was captured by SeaTech 4-H Club of Mt. Vernon, Wash., which also had the highest overall mission score.
Ranger (Intermediate) Class Winners:
Aptos High School of Aptos, Calif. won overall first place in the ranger class. With 310 out of 320 possible points, the team had the highest mission score, and they also won an award for best technical report.
Second place went to Heritage Collegiate of Lethbridge, Newfoundland, Canada. Third place went to Greater New Bedford Voc-Tech of New Bedford, Mass., which also won an award for top poster display.
NSF's ATE program is celebrating its 20th anniversary this year. The program was created to improve and expand educational programs for technicians to work in high-tech, STEM fields that drive the U.S. economy. The program is congressionally mandated and focuses on both the undergraduate and the secondary school levels.