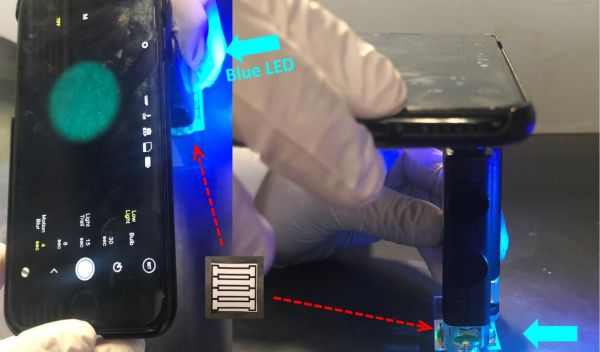 Using a smartphone to detect norovirus
Researchers strike balance between sensitivity and affordability with gut-busting microbe
A little bit of norovirus -- the highly infectious microbe that causes about 20 million cases of food poisoning in the United States each year -- goes a long way. Just 10 particles of the virus can cause illness in humans. With support from NSF through its Water and Environmental Technology Center, a team of University of Arizona researchers has created a simple, portable and inexpensive method for detecting extremely low levels of norovirus.
The project was led by Jeong-Yeol Yoon, a researcher in the Department of Biomedical Engineering; Soo Chung, a biosystems engineering doctoral student who works in Yoon's Biosensors Lab; and Kelly A. Reynolds, chair of the Department of Community, Environment and Policy. The team published their results in ACS Omega, the official journal of the American Chemical Society. The university also discussed the results in a press release.
"Advances in rapid monitoring of human viruses in water are essential for protecting public health," Reynolds said. "This rapid, low-cost water quality monitoring technology could be a transformational tool for reducing both local and global disease burdens."
"The challenges addressed by the work of NSF's Water and Environmental Technology Center impact important industries," said Prakash Balan in NSF's Division of Industrial Innovation and Partnerships. "Entities that treat wastewater and drinking water, plus companies that create and service technologies for removal of contaminants from water could greatly benefit from this technology."
Norovirus can spread quickly through a community through its water supply. The virus causes about 200,000 deaths globally each year.