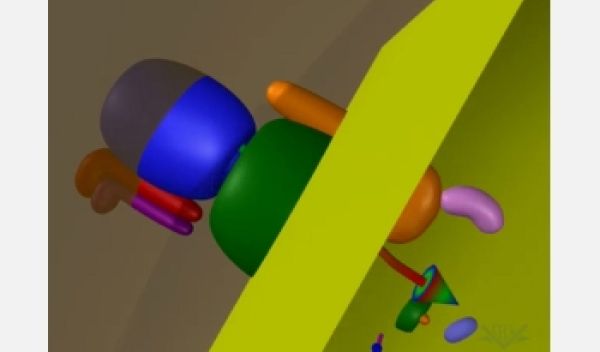 Virtual Tools Add New Dimension to Learning
Internet-based resources educate students about archaeology, biology, computer science and geology
An Internet-based education project at North Dakota State University (NDSU) provides a new virtual environment in which high school or college students can learn about a variety of topics including cell biology, computer programming and geology. One even runs the Oscar-winning software used to create the popular movies "Stuart Little" and "Toy Story II."
The project's Virtual Cell (VCell) game, for example, allows students to explore the interior of an interactive 3-D cellular world while learning about scientific methods and biological concepts such as respiration and photosynthesis. The game's 3-D graphics allow students the look and feel of moving through an actual cell or cellular component. Students are encouraged to play the role of a biologist and examine cellular organelles, conduct experiments and form conclusions.
A series of eight, highly graphical animations complement VCell. Basic versions of VCell and the animations were greatly enhanced when the NDSU team collaborated with Alias Systems Corporation (Toronto, Canada) to acquire the popular animated movie software Maya. The wealth of digital information in the animation files is converted to a 3-D visual display using parallel processors in the NDSU Center for High Performance Computing, resulting in a 3- to 4-minute narrated production.
A number of U.S. colleges, as well as education centers in France and India, have employed VCell as an education tool. To facilitate international use, future plans for VCell include translation into French and Spanish.
Each of the larger project's educational tools, developed by the World Wide Web Instructional Committee (WWWIC) at NDSU, exploit the value of learning through visualization, which aids student understanding of complex processes by converting abstract concepts into visual objects. Well-designed visual tools also allow students to learn more information in less time.
Published empirical studies showed the use of VCell and the VCell animations improved problem solving ability and content retention.
The National Science Foundation (NSF) provided early support for the WWWIC through an Experimental Program to Stimulate Competitive Research (EPSCoR) grant to NDSU computer science professor Brian Slator. The EPSCoR program promotes development of a state's science and technology resources through partnerships between universities, industry and government in order to advance economic growth. Subsequent awards to support WWWIC projects were made through NSF's education and computer science directorates.
The Department of Education and Alias/Wavefront Inc. also provided support for the project.
--Randy Vines