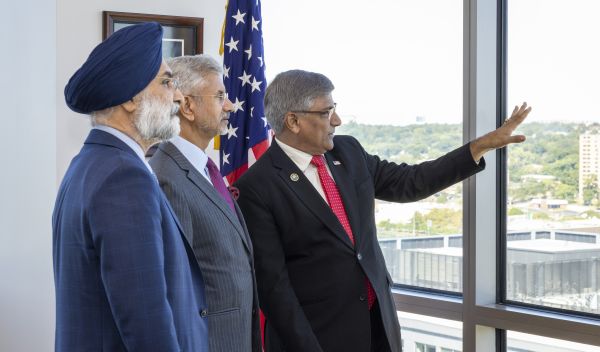 This week with NSF Director Panchanathan
NSF Director Sethuraman Panchanathan dove into a busy schedule this week, with multiple meetings with international representatives and a reception to honor a retiring congressional champion of STEM research and education.

On Monday, the director promoted NSF's vision and priorities at a Science Diplomats Club breakfast at the French Embassy, delivered opening remarks at a U.S.-India discussion on science and technology for economic and national security, and met with the Saudi minister of education at NSF headquarters.

On Tuesday, the director met with members of the Pacific Postsecondary Education Council to discuss collaborating with public colleges and universities in the America-affiliated Pacific islands to address education issues. He also participated in a virtual meeting of the Science and Technology Action Committee on how it can help implement the new "CHIPS and Science Act."

On Wednesday, the director delivered opening remarks at the U.S.-Israel Strategic High-Level Dialogue on Technology to promote partnerships on critical and emerging technologies to solve global challenges.

And on Thursday he attended a reception hosted by the Coalition for National Science Funding to honor retiring Rep. Eddie Bernice Johnson, who for many years helmed the House Committee on Science, Space and Technology.