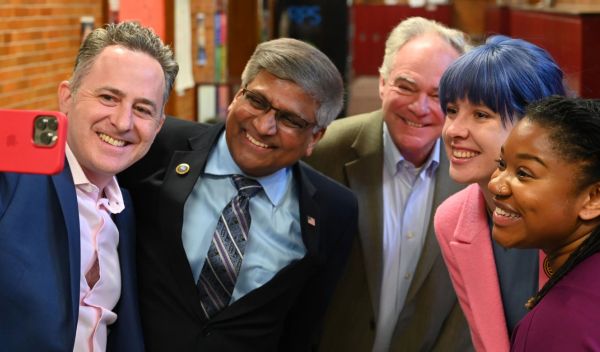 This week with NSF Director Panchanathan
How do you converge excellence, equity and access to grow STEM opportunities across the nation? This week, NSF Director Sethuraman Panchanathan visited Virginia Commonwealth University, alongside Sen. Tim Kaine and Rep. Rob Wittman, to listen and learn about how the institution is working within its community to unlock and expand access to STEM opportunities.
The trip started with a classroom visit to Franklin Military Academy to meet two dedicated K-12 teachers shaping the next generation of #STEM leaders: 2023 Richmond Public Schools' Teacher of the Year Christal Corey and NSF Noyce Scholar and Richmond Teacher Resident Jini Valence.
Afterward, the director, media and congressional staff toured VCU's Nanomaterials Core Characterization Facility and Virginia Microelectronics Center to hear from NSF-supported researchers and students working side by side to unlock bold, transformative approaches to STEM education.
Other highlights of the day included meeting with faculty and researchers supported by the CAREER program and a roundtable discussion on engaging the missing millions from STEM and how VCU leadership, community partners, NSF-supported faculty and students are committed to driving these efforts — for the more diverse our workforce is, the more innovative and revolutionary our discoveries and research will be.