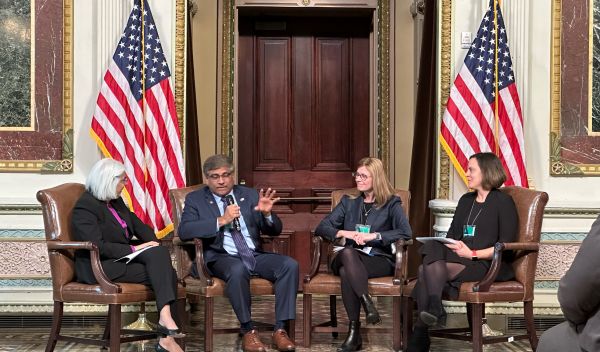 This week with NSF Director Panchanathan
How the investments of yesterday and the actions taken today will continue to shape the future was at the forefront of NSF Director Sethuraman Panchanathan's mind this week.
On March 13, Director Panchanathan participated in the White House Office of Science and Technology Policy event on the administration's Fiscal Year 2024 budget request, which includes $210 billion for federal research and development, the largest-ever investment for federal R&D.
The Director thanked the administration and Congress for their continued support to enhance NSF's ability to invest in even more individuals and communities across the nation, generate breakthroughs and foster more innovations. When realized, this increased budget will enable NSF to continue to:
Create opportunities everywhere.
 
Build a more resilient planet. 
 
Advance emerging industries for national and economic security.
 
Strengthen research infrastructure.
During the event, OSTP Director Arati Prabhakar sparked a lively armchair conversation with Director Panchanathan, National Institute of Standards and Technology Director Laurie E. Locascio and Advanced Research Projects Agency for Health Director Renee Wegrzyn. Director Panchanathan shared how NSF is tracking and measuring the success of programs like GRANTED and NSF Engines, which are broadening participation and catalyzing and fostering regional-level innovation ecosystems. Watch the White House OSTP event on the president's budget request for FY 24.
Later in the week, Director Panchanathan joined Ireland Prime Minister Leo Varadkar and Science Foundation Ireland Director-General Philip Nolan to honor the SFI St. Patrick's Day Science Medal Award 2023 recipients. Their contributions to the global scientific enterprise — as a result of U.S.-Ireland research collaborations — have pushed forward the frontiers of discovery and innovation.
Collaborative research projects between the U.S., Northern Ireland and the Republic of Ireland partnership — such as the Center-to-Center funding mechanism — have created opportunities for NSF Engineering Research Centers to connect and collaborate with research centers across Northern Ireland and the Republic of Ireland. For example, a recent collaboration joined NSF's PATHS-UP Engineering Research Center, led by Texas A&M University, with the FutureNeuro Centre in the Republic of Ireland and the Intelligent Systems Research Centre in Northern Ireland has enabled the development of a low-cost point-of-care system that can quickly and accurately detect and measure drug levels and biomarkers in patients. 
International collaborations continue to draw on the collective strengths and full scientific and industrial capacities of the U.S. and Ireland to create deep and meaningful impacts in communities around the globe by enabling talent, ideas and innovations throughout our nations.