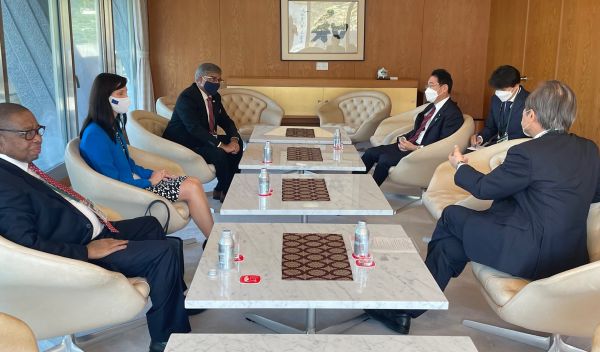 This week with NSF Director Panchanathan
NSF Director Sethuraman Panchanathan did some serious globetrotting this week, from a science and technology forum in Kyoto, Japan, to the Museum of Science in Boston, Massachusetts.

The director spent Sunday and Monday in Kyoto, where he delivered opening remarks for the panel entitled "The World in 2022 – What Do We Need From Science and Technology?" He also met with representatives from science agencies from countries such as Saudi Arabia, Thailand, Australia, Brazil, Canada and Switzerland.

On Wednesday, Panchanathan delivered virtual opening remarks to the Presidential Committee of the National Medal of Science, which was meeting for the first time since 2017 to review candidates for the highest recognition the country can bestow on U.S. scientists and engineers.

And on Friday, the director was in Boston with U.S. Sen. Edward J. Markey (D-Mass.), where he met with university leadership from across Massachusetts to address science and technology powering solutions to major challenges and creating new opportunities for all. The state is the second-largest recipient of NSF support.