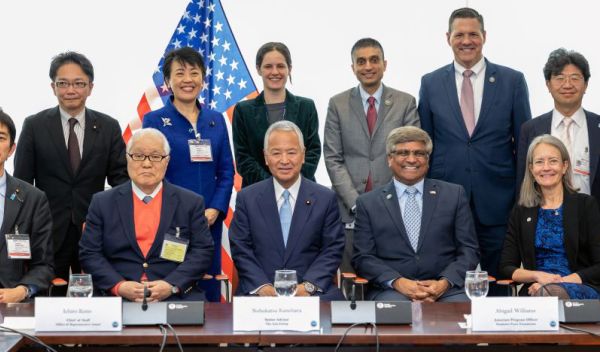 This week with NSF Director Panchanathan
This week, NSF Director Sethuraman Panchanathan remained steadfast in ensuring that NSF investments harness the nation's vast and diverse talent pool to advance critical and emerging technologies, tackle pressing societal and economic challenges and accelerate the translation of research results from lab to market.
The Director reaffirmed NSF's commitment to investing in the nation's STEM enterprise in a meeting with Rep. Ro Khanna (D-CA) and leaders from industry and academia in California. During a roundtable discussion, Director Panchanathan spoke on how the "CHIPS and Science Act" can retain our nation's position at the forefront of discovery and innovation — while creating the workforce needed to support and sustain this effort. The "CHIPS and Science Act" authorized a more than doubling of NSF's budget over the next five years. If realized as appropriations, this boost in funding would increase NSF's ability to invest in even more individuals, ideas, innovations and infrastructure in every corner of the country.
Director Panchanathan also hosted the Honorable Amari Akira and delegation members from the National Diet of Japan for a discussion on our shared interest in spurring innovation from basic research results. NSF was pleased to learn of Japan's interest in collaborating on entrepreneurship training, including on NSF's Innovation Corps (I-Corps™), and is looking forward to learning from Japan's successes over time. The Director also participated in the White House Asian American (AA), Native Hawaiian and Pacific Islander (NPHI) Heritage Month Summit, where attendees participated in breakout sessions and roundtable discussions about how to continue striving for more representation, leadership in public service, and advancing equity and inclusion for AA and NPHI communities. This month calls attention to the vast and diverse diaspora and rich heritage of these cultures and shines light on these often overlooked populations.
"Every day, Asian Americans, Native Hawaiians and Pacific Islanders make important contributions to our nation's STEM communities and the overall growth of our country," said Director Panchanathan during prerecorded remarks at the event. "I am honored to join you today in celebrating these achievements and recommitting ourselves to ensuring that opportunities are available everywhere, for everyone. Only through diversity, accessibility and inclusion can we unleash the full potential of all Americans throughout the United States and build a better, brighter future for all."