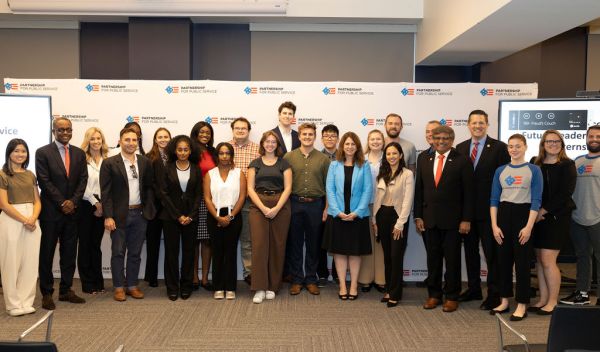 This week with NSF Director Panchanathan
In a whirlwind week, NSF Director Sethuraman Panchanathan focused on strengthening and scaling collaborations to create both powerful local and global innovation systems.
On Sept. 21, Director Panchanathan traveled to New York University to join in on the celebration marking the first anniversary of NYU and the Korea Advanced Institute of Science and Technology's (KAIST) global academic partnership, alongside guests like Republic of Korea President Yoon Suk Yeol, New York City Mayor Eric Adams, NYU President Linda G. Mills and others. The director lauded the NYU-KAIST partnership, sharing more on how partnerships grounded in shared values fuel tremendous new advancements, leading to discoveries that enable more societal benefits through innovation and entrepreneurship.
Today, NSF has more than 130 investments in a wide range of research with South Korean partners. As the ROK remains at the forefront of scientific research and development in sectors like semiconductor manufacturing, artificial intelligence, synthetic biology and other emerging industries of the future, NSF continues to foster collaboration between U.S. and Korean research communities that will advance knowledge, support scientific breakthroughs and stimulate innovation in key areas that will be critical to both our nations.

Earlier in the week, NSF hosted a congressional showcase of the 25 National Artificial Intelligence Research Institutes. Sen. Martin Heinrich (D-NM) and Sen. Mike Rounds (R-SD), co-chairs of the Senate AI Caucus, joined Director Panchanathan in welcoming the crowd. In his opening remarks, the director shared more about the critical role NSF has played, and continues to play, in the development of the technology AI systems have been built upon, and more on NSF's efforts surrounding AI workforce training and development. Over 200 Congressional staff and members of the external research community gathered to learn about real-world applications of AI and see firsthand the technologies that are transforming the AI field and the many ways in which federal investments are being used in AI research, innovation, community partnerships and workforce development. 

NSF is one of the largest investors in AI research in the federal government, supporting AI research, innovation and education across all 50 states and territories, with the agency's partnerships spanning a network of over 500 funded and collaborative institutions. Today, the people behind NSF's 25 AI Institutes are tackling some of the most pressing scientific and societal challenges, ranging from food security and healthcare to weather forecasting and cybersecurity.
Director Panchanathan also came together with leaders from the State University of New York, New York's system of public colleges and universities in New York state, as well as the National Oceanic and Atmospheric Administration, Nation Institutes of Health and U.S. Economic Development Administration, for the annual SUNY Day in Washington, D.C. The director spoke of how NSF is scaling established programs and introducing new initiatives to ensure that the talent that exists in every community across the nation gets the resources and support needed to enter and thrive in our nation's STEM enterprise.
Last week, he also kicked off the Partnership for Public Service's Future Leaders in Public Service Internship Program, welcoming the fall class of 2023's cohort of 30 students. He shared about his journey into public service and imparted advice to the interns, encouraging them to embrace the flare of inspiration and the drive to ask more questions and find more answers, and to push through the challenges ahead.