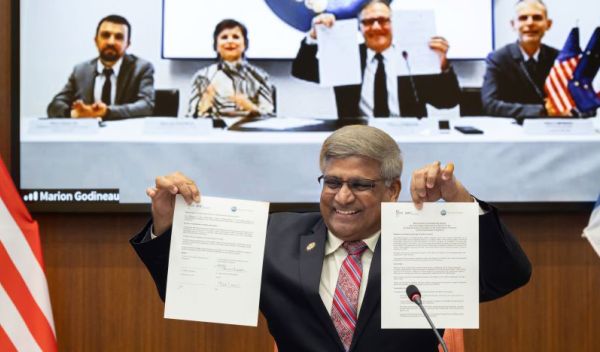 This week with NSF Director Panchanathan
This week, U.S. National Science Foundation Director Sethuraman Panchanathan keyed in on advancing high-impact global collaboration by fostering international partnerships.

NSF's Office of International Science and Engineering Head Kendra Sharp and Deputy Office Head Jessica Robin joined Director Panchanathan for a virtual signing of a memorandum of understanding between NSF and the French National Research Agency. NSF announced two new funding opportunities in conjunction with this MOU signing: one on catalysis with Earth-abundant elements and one on quantum information science and engineering. These funding opportunities will build upon existing partnerships focused on computer science, computational neuroscience, and the molecular and cellular biosciences-physics interface.

The director also welcomed Executive Member of Japan's Council for Science, Technology and Innovation Takahiro Ueyama to NSF headquarters. Together, the leaders renewed their commitment to deepen collaboration across the U.S.-Japan research community to leverage international expertise in addressing global challenges, advancing scientific and technological breakthroughs, and building resilience to protect both nations' social and economic systems.