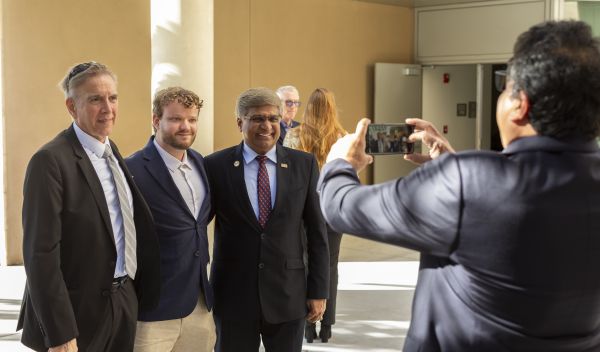 This week with NSF Director Panchanathan
On Friday, Oct. 27, U.S. National Science Foundation Director Sethuraman Panchanathan visited the University of California, Santa Barbara, to meet with students, faculty and researchers, tour cutting-edge facilities and share NSF's approach to building strong partnerships across government, industry, academia and more to create powerful innovation ecosystems.
UCSB is home to NSF-funded facilities like the AI Institute for Agent-based Cyber Threat Intelligence and Operation, the Kavli Institute for Theoretical Physics, the Materials Research Laboratory and the Quantum Foundry. 
This week, Panchanathan also welcomed Omran Sharaf, assistant foreign minister for advanced science and technology, United Arab Emirates, along with other delegates from the UAE, to NSF headquarters. During this first-ever delegation to NSF from the UAE, they exchanged information on priority areas and commonalities across the U.S. and the UAE research ecosystems. 
On Saturday, Panchanathan will attend the Ovation Gala, hosted by the Greater Austin Asian Chamber of Commerce, where he will be presented with a lifetime achievement award.