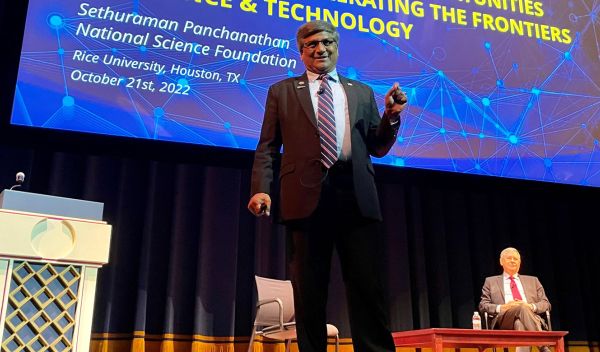 This week with NSF Director Panchanathan
NSF Director Sethuraman Panchanathan fielded a packed schedule this week, from receiving a public service award to meeting with international colleagues to visiting Rice University in Houston, Texas.
Panchanathan met with the Finance Minister of India on Sunday to discuss the partnerships that the U.S. and India have fostered over the years to advance society and the ways that global collaboration have powered breakthroughs from the historic first images of a black hole to battling pandemics.
On Monday, the director received an Award for Distinguished Public Service from IEEE-USA for his achievements, leadership and outstanding contributions in the fields of science and engineering.
He delivered virtual opening remarks Tuesday morning for National Disability Employment Awareness Month, encouraging an equitable work environment for a more equitable society. Later, he delivered the keynote address for the Government-University-Industry Research Roundtable of the National Academies of Science, Engineering and Medicine, discussing NSF's commitment to building strong partnerships to create powerful ecosystems across the country.
On Wednesday, he held back-to-back meetings at NSF headquarters with the heads of Science Foundation Ireland and Switzerland's State Secretariat for Education, Research and Innovation to discuss international partnerships to power new breakthroughs and advance the frontiers of science.
Finally, on Friday, Panchanathan delivered a presentation about NSF for the Civic Scientist Lecture Series at Rice University's Baker Institute for Public Policy. The event was organized as part of Rice's activities to celebrate the inauguration of Reginald DesRoches as the eighth president of the research university.