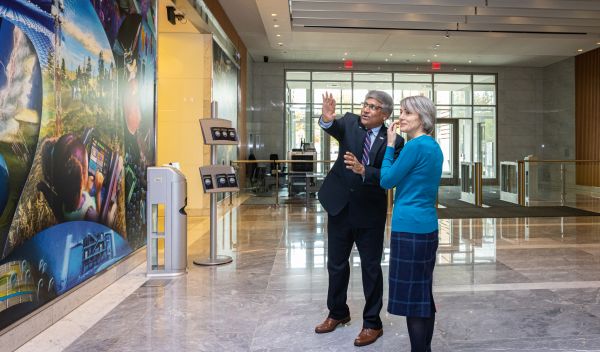 This week with NSF Director Panchanathan
NSF Director Sethuraman Panchanathan kicked off the two-day Transatlantic Big Science Conference on Monday in Washington, D.C., with opening remarks praising the importance of worldwide partnerships. The conference is part of the International Year of Basic Science for Sustainable Development 2022. It brings together science leaders to explore supercharging the historic cooperation among major research organizations to find solutions to urgent crises facing the world today and in the future.
Afterward, he put his words into action by hosting Dame Ottoline Leyser, chief executive of UK Research and Innovation, to discuss joint research ambitions supporting green futures, student and workforce development, and inclusivity.
Over the past year, Panchanathan has met with countless representatives and delegations from around the world, engaging international partners to discuss collaboration in key areas such as AI, agriculture, healthcare, energy, pandemic response and climate change.