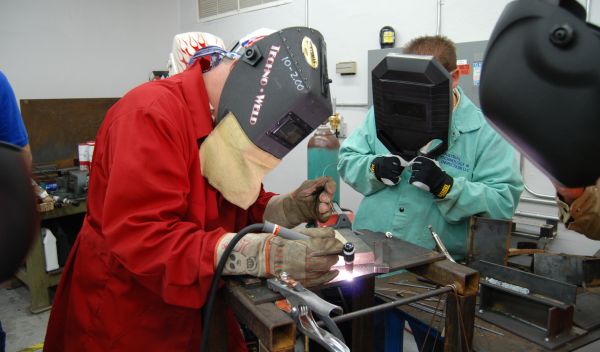 Weld-Ed Sparks Training and Development for Welding Students and Educators
Program seeks to meet economic need for an educated and skilled workforce of manufacturers
On June 9, President Obama hosted an event at the Northern Virginia Community College Campus with The Manufacturing Institute and the National Association of Manufacturers to discuss major steps that should be taken to build an educated and skilled workforce of manufacturers who are crucial to the economic future of the United States.
The President stressed the importance of strong partnerships between manufacturers and community colleges to make Manufacturing Skills Certifications, or learning standards, more readily available. He also announced the goal of providing 500,000 more skilled workers for the manufacturing industry within the next five years.
"The overall theme of the event as presented by President Obama, is that it is important to have a credential which ensures that the individual has a specific body of knowledge and a skill to do a job," said Ray Shook, Executive Director of the American Welding Society (AWS), who was present at the event and represented the welding industry. "This allows a prospective employer to hire a person who will provide value to the employer, which allows for the company to be more productive so that it can compete in the global market."
People in occupations needed to create products are economic staples. Welders, for instance, are necessary to assemble structures and products ranging from bridges and cars to cell phones and computers. More than 50 percent of U.S. products require welding, according to the AWS. And it takes advanced skill to weld effectively.
But currently, there are shortages of certified welders and welding education resources.
"Welders…are skilled technicians, they can do the work that most people cannot do…This country was built by welders and somewhere along the line we kind of lost our focus," said Jay Leno, an enthusiastic employer of welders who is featured in the AWS DVD, "Hot Bikes, Fast Cars, Cool Careers."
The Weld-Ed National Center for Welding Education and Training is striving to revive a focus on welding.
Weld-Ed is a national partnership of colleges, universities, professional societies and private industry, including the American Welding Society. The goal of Weld-Ed is to increase the number of welding technicians to meet the demands of the workforce, improve education in welding technology for the associate degree, and promote and improve professional development for welding educators. In the 2009/2010 academic year, the Weld-Ed partner schools educated 4,120 welding technicians. "It is one thing to learn a skill, but it is another thing to achieve the certification which validates the skill," said Shook.
The Weld-Ed Center, located at Lorain County Community College in Elyria, Ohio, is part of the National Science Foundation- (NSF) funded Advanced Technological Education (ATE) Program, which "focuses on the education of technicians for the high-technology fields that drive our nation's economy."
Weld-Ed also has nine additional community college and university partners, including Chattanooga State Technical Community College, Honolulu Community College, Illinois Central College, North Dakota State College of Science, Pennsylvania College of Technology, Texas State Technical College (Texas), Yuba College (Calif.), The Ohio State University and Weber State University (Utah).
Ultimately, Weld-Ed stands out as a program that creates a bridge between educational institutions and the welding industry. State-of-the-art welding labs and new classrooms offer resources for learning skills that are directly transferable to industrial jobs. Weld-Ed also focuses on recruiting and educating welding technicians familiar with the current and future needs of the industry.
As observed by Lorain Community College, "AWS as an advocate for the welding industry gives Weld-Ed the opportunity to be challenged by real industry issues. This high level of collaboration with the industry, educational institutions and AWS has been the most pleasant surprise."
Welders are essential to industries that underpin the economy, including the automotive, shipbuilding, aerospace, mining, petrochemical extraction and refining industries; and the defense and energy sectors.
Today, career opportunitiesfor welders are increasing. Even in an economy where recent graduates in various disciplines struggle to find work, virtually 100 percent of welding school graduates find rapid job placement, according to Shook.
An AWS DVD entitled, "Students in Welding," cites a recent study that indicates there will be a need for 250,000 welders throughout the next decade.
"From an overall economic standpoint, it is a great time to become a welder as there are jobs available all over the world," said Shook.
Welding professionals can follow varied paths as new technologies in welding continue to develop and expand. Today, welders are trained to operate robots and automated systems that use lasers, electron beams and even explosives as a means to join metals. Computers and computer software play roles in using these automated systems. In addition, welding is expanding beyond a field that was once just metal-based to include materials such as polymers, plastics, ceramics, man-made fibers and other new materials.
Welding is also crucial for ensuring the safety of our infrastructure.
Shook explained that currently the country faces the challenge of repairing or replacing highway bridges, refurbishing energy production plants, and maintaining and constructing new petrochemical production and refining facilities--most of which were built more than 50 years ago. Indeed, tragic accidents such as the 2007 collapse of the I-35W Mississippi River Bridge in Minnesota, brought home the importance of maintaining the nation's infrastructure to protect public safety and emphasized the important role to be played by welders in such an effort.
"A need for quality welding is definitely an issue in 2011, and it goes beyond economic concerns in the areas of public safety and fitness-for-service," said Shook. "While economy is always an issue in manufactured products, it is often surpassed by safety concerns in one-of-a-kind constructions. We are bound by our collective conscience to ensure that public structures such as buildings, roads and bridges will perform as intended, and welding plays a big role in making sure that happens."
For more information and resources about Weld-Ed and the welding industry, including free magazines and DVDs on welding and welding careers, contact the American Welding Society.