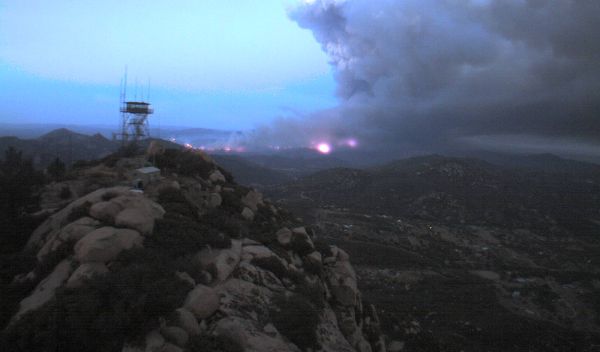 Wiring the Wilderness
Working with a wide range of partners, NSF-supported HPWREN demonstrates the value of connecting remote science sites to a high-speed network
The world has gone wireless, even in the wilderness, thanks to HPWREN.
HPWREN (the High-Performance Wireless Research and Education Network) began in 2000 with the objective of connecting remote science sites to a high-speed network. Today, the wireless network covers nearly 20,000 square miles in San Diego, Riverside and Imperial counties in Southern California.
Hans-Werner Braun, a research scientist at the University of California, San Diego (UCSD) Supercomputer Center, is principal investigator of the project along with Frank Vernon, a geophysicist at the Scripps Institution of Oceanography.
The idea for HPWREN was born when Frank Vernon approached Hans-Werner Braun about networking Vernon's earthquake sensors, which are located in remote areas.
"[Vernon] already had some real-time wireless connectivity to his seismic sensors, but wanted to increase performance and reliability, as well as create an opportunity to deploy more," said Braun.
The network includes backbone nodes located at UCSD and San Diego State University campuses in addition to those in remote environments. It spans horizontally from San Clemente Island to near the Arizona border and vertically, from the Mexican border to the Joshua Tree National Park, with its longest link spanning 72 miles.
"It's a network of backbone nodes using Internet routers that happen to be on mountain tops, interconnected via wireless links, and from there, connected to user sites," said Braun. "Eventually, traffic to and from the Internet gets sent via the San Diego Supercomputer Center, which is one of the nodes on the network. Think of the nodes as railway stations, which interconnect various railroad tracks--wireless links--for network traffic."
These nodes consist of antennas, which can be as large as 10 feet in diameter and almost 400 pounds. These antennas connect to radios, radios connect to the local router, and the backbone sites then connect to HPWREN user sites.
Applications
Braun utilizes the network to research quality-of-service, policy-based routing, and systems integration to guide the performance and efficiency of the network. But, in addition to those network-analysis aspects, HPWREN is a collaborative cyber-infrastructure for research, education and first responder activities in remote locations.
The wireless network allows scientists in such fields as environmental sciences, astronomy and oceanography to share real-time data, with applications including wildfire communications, remote research, remote environmental sensing, distance education and virtual exploration.
Users also turn to HPWREN as a test bed to develop real-time data delivery systems for seismic networks, ocean observing systems and measuring earth crust movements through the Plate Boundary Observatory.
"We are now working with a wide range of partners, such as ecological reserves, astronomy observatories, firefighters, geophysicists, ocean researchers, a wolf center, various agencies and others," said Braun.
These partners include San Diego State University, Santa Margarita Ecological Reserve, Native American learning centers, Palomar Observatory, Mount Laguna Observatory, the National Park Service, the California Wolf Center, the California Department of Forestry and Fire Protection, and many more.
"One of the most gratifying things is that you're working with other researchers in astronomy, earthquake sensors, hydrologists--things that I don't know much about," said Braun. "Just learning how all these things fit together is very gratifying to me."
Recent and future efforts
Most recently, HPWREN assisted the National Park Service at Santa Monica Mountains National Recreation Area in installing a web camera and wireless connection in the Santa Monica Mountains. The camera will serve both educational and public service objectives by monitoring fires and providing data for a fire behavior model currently in development.
It also supported a scientist from England's University of Bath in setting up magnetic field sensors and a data logger at Piñon Flat Observatory in California to study sprites, a type of transient luminous event (electrical discharges) that occur above thunderstorm clouds and create visual flickers in the sky. The unit at Piñon will be the first fully operational station of four around the world and takes full advantage of HPWREN's capabilities--ideal locations for sprite detection are often remote and far from main electricity sources.
Braun is enthusiastic about what lies ahead for the project. "There seem to always be new things coming up," he said. "The latest request was for HPWREN involvement in network support for on-board cameras on a firefighter airplane. I continue to be amazed by all the things that people are accomplishing via the network infrastructure."
-- Irene Chang, National Science Foundation, ichang06@gmail.com
This Behind the Scenes article was provided to LiveScience in partnership with the National Science Foundation.