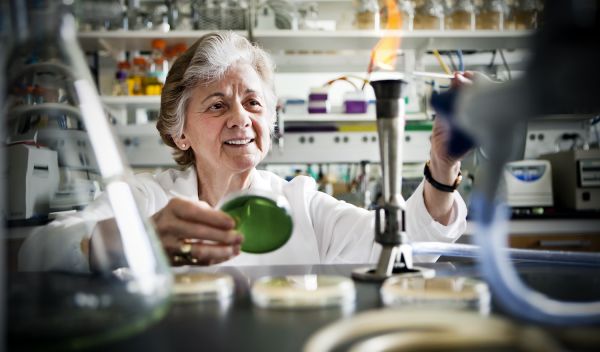 Women's History Month and one woman's trek in science
Revisiting a moment in Alaska with Rita Colwell, the first woman to serve as NSF director
Before Rita Colwell became the first woman to serve as director of the National Science Foundation (NSF), she was an internationally recognized expert on cholera and other infectious diseases. To get to that place, she overcame challenges many women in science will recognize.
"When I went to high school, girls simply were not allowed to take physics," Colwell said at a 1998 Association for Women in Science-Alaska Chapter lunch. "What's more, my high school chemistry teacher told me I'd never make it in chemistry -- because women couldn't. That angered me, but also galvanized me. I had begun to see science as a way to understand the world and a way to make my way in the world."
Noting that her audience had "lived the rigor of a frontier life," Colwell reflected back on her own trek in science. "Living in the Arctic has parallels to the challenges we face as women in science," she said. She gave the speech during her first year as NSF director, a position she held from 1998 to 2004. During her tenure, Colwell led efforts to remove barriers for aspiring scientists and engineers, so that other women could avoid roadblocks similar to those she faced.
For Women's History Month, which honors the extraordinary achievements of American women, we briefly revisit highlights from the remarks Colwell delivered nearly 20 years ago. She described issues that remain relevant today: perseverance leading to payoffs, the importance of mentorship, and the power of scientific curiosity.
Colwell noted that she got her start in science "out of sheer stubbornness," overcoming obstacles she later worked to eliminate as NSF director.
During her six years leading the agency, Colwell worked to include more underrepresented groups in science. She oversaw a 68 percent increase in NSF's budget, championed innovative science and engineering education programs, and increased funding devoted to the advancement of women in academic engineering and science careers.
Colwell earned a bachelor's degree in bacteriology, a field she didn't discover until her senior year of college. A great teacher made the subject interesting and fun: "Professor Dorothy Powelson was an inspiration. That was it. All six of us women in her class went on to get M.D.s or Ph.D.s."
She would later earn a master's degree in genetics from Purdue University and a doctorate in oceanography from the University of Washington. Graduate students in all scientific and engineering fields are well-acquainted with long hours of detail-oriented work. For Colwell, it was tallying flies.
"I counted 186,000 fruit flies," she said. "It was tremendous fundamental preparation for microbiology."
Colwell went on to become the first biologist in more than 25 years to lead NSF.
In 2001, she oversaw the creation of NSF's ADVANCE program, which was established to increase the representation and advancement of women in academic engineering and science careers. By the time her tenure ended, the funding for ADVANCE had doubled.
Building on Colwell's legacy with ADVANCE and other programs, NSF recently launched NSF INCLUDES, a comprehensive initiative to proactively seek and develop science, technology, engineering and mathematics talent from all sectors and groups in our society. In 2016, the first NSF INCLUDES awards were issued to 37 projects.
"There are talented, promising people from all corners of our country who can be leaders in science and engineering," said NSF Director France Córdova. "Rita Colwell is a trailblazer and an inspiration to woman scientists and truly all scientists everywhere. We thank her for encouraging efforts to broaden participation."
Challenges remain today, as women are still largely underrepresented in many areas of science and engineering.
A recent report from the National Center for Science and Engineering Statistics shows the extent to which this is the case. Since the late 1990s, women have earned about half of science and engineering bachelor's degrees. But their representation varies widely by field, ranging from 70 percent in psychology to 19 percent in physics. As the scientific community works to become more inclusive, Colwell's words still resonate.
"The tough challenges facing us as women in our treks through science and education are far from over," Colwell said in Alaska. "But as scientists, we know the value of both reason and imagination."