Image: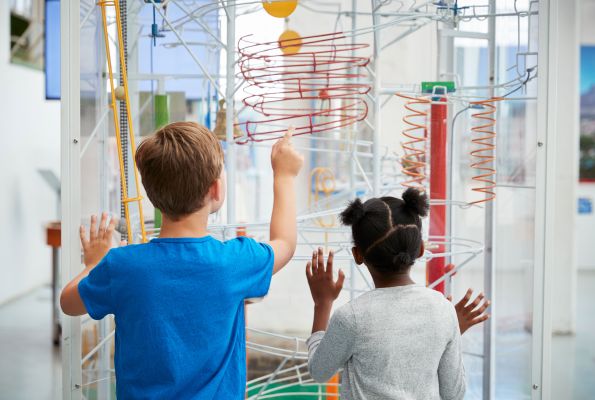 7 NSF-funded museums and science centers offering virtual experiences to enjoy from your home
Though museums and science centers across the nation may have closed their doors due to COVID-19, there are still ways to enjoy their exhibitions. Museums, science centers, zoo, aquariums, and other NSF-funded science organizations are bridging the social distance gap by offering a variety of free virtual resources and experiences that you can enjoy from the safety and comfort of your home. Research shows that most learning happens outside the classroom, and NSF has long recognized the importance of these informal settings in science, technology, engineering and math (STEM) education.

"The need for various ways that people can engage with their passions, explore new content, and make connections between science and society is never more apparent than it is today," shared Julie Johnson, Program Officer for the Advancing Informal STEM Learning program. "Organizations like museums, zoos, aquariums, national parks, libraries and more offer opportunities like these for people of all ages. Programs such as AISL in the Division of Research on Learning at NSF have long recognized the need for quality research and development to support life-long learning."

As the world celebrates International Museum Day on May 18, here are seven examples of the STEM education experiences and resources offered by NSF-funded organizations. So, grab a blanket, make some tea, and get ready for some enlightening virtual STEM experiences.
1. Learn all about Geology with the American Museum of Natural History 
Did you know that there is a difference between a meteorite and a meteor? Have you always wanted to know what happens if a meteorite falls to earth? The  American Museum of Natural History  has an online video series that can answer all these questions and more! The Museum received an NSF grant that allowed 80 New York City high school students to have a variety of experiences including field trips, career development opportunities, laboratory courses on genomic technology, as well as a research experience in genomics at the Museum. The Museum is also offers activities that can help students learn science at home.  
2. Explore space with the Adler Planetarium

Did you know that the Adler Planetarium was America's first planetarium? According to its website, "Each year, over 550,000 visitors experience the museum's interactive exhibitions, live planetarium shows, hands-on, minds-on STEM education programs, and world-class collections." The Adler Planetarium also has an NSF grant that focuses on using citizen science to engage museum visitors in informal science learning. If you are interested in learning more about citizen science, check out citizenscience.gov
3. Immerse yourself in an interactive and game-based NOVA Evolution Lab experience

Find out what you have in common with a mushroom, a dinosaur, or even a bacterium! This free digital platform encourages scientific exploration through game-based labs and puzzles, where players can explore evolutionary relationships linking together a spectacular array of species. The platform builds on an NSF-funded museum exhibit called "Life on Earth.
4. Tour the Atacama Large Millimeter/submillimeter Array facilities and observatory   

Are you ready for a virtual road trip through the desert  to space? Located in the heart of the Atacama Desert on the Chajnantor Plateau of Chile, the NSF-funded ALMA observatory has been referred to as the "most ambitious radio observatory on Earth." It consists of 66 antennas that work together as a single giant telescope to explore stars, planets, and galaxies. In the virtual tour, you can explore the facility and learn how the telescope works. The construction on this observatory dates back to 2004 and is still in progress!  Read more about NSF's current investment and the expansion of ALMA.
5. Take a quick trip to San Francisco's Exploratorium 

Exploratorium exhibit developers, scientists, and educators have curated a collection of videos to create a virtual tour experience. Learn about everything from soap film painting and chick embryo development, to the limits of human vision  In addition to the virtual tour, the Exploratorium offers a variety of hands-on science activities you can do at home.
 
6. Engage with science authors you love through the Library of Congress

NSF has a longstanding partnership with the Library of Congress. Since the 1960s, NSF and the library have worked together on various research and analysis studies, tools and other resources for the public. Libraries are an essential part of STEM education, research, and engagement with the public. Among the library's many digital resources is their National Book Festival event series, featuring video recordings of interviews on the science, history, and cultural aspects of pandemics and illnesses.

Among the library's many digital resources are family-friendly activities by children's author and illustrator Dav Pilkey. Check out this short video on finding inspiration and exploring the Library of Congress from home.
7. Visit the sea life at New England Aquarium 
Aquariums may be closed, but staff are still on hand to care for all their inhabitants.   Have you ever wondered what Seadragons eat? Or how a 9,000 gallon Coral Reef exhibit is cleaned? The New England Aquarium's daily presentations give you a peek at how aquariums function. The New England Aquarium received an NSF grant to develop a national network devoted to increasing quality educational programs related to the science of climate change and its impacts.
8. BONUS: Livestream a symphony performed by the Baltimore Symphony Orchestra

Add some Arts to your STEM and you're learning with STEAM. The Baltimore Symphony Orchestra received an NSF grant to conduct a pilot study to assess the effectiveness of delivering informal science learning to adult audiences through live music in a concert hall environment. These "Off stage" digital resources including podcasts, educational activities, and virtual performances,  were streamed live from the artists' homes.
 
(Note: All institutions above are NSF-funded, though the resources themselves may not be)
For a more informal STEM education resources for COVID-19 and online learning, please visit: informalscience.org/informal-stem-education-resources-covid-19-and-online-learning

For a more comprehensive list of NSF-funded projects with online learning products and resources, please visit: informalscience.org/news-views/national-science-foundation-funded-projects-online-learning-products-resources

The pages and documents posted on this site include links to information created by other public and private organizations. These links are provided for the user's convenience. NSF does not control or guarantee the accuracy, relevance, timeliness, or completeness of this non-NSF information. The inclusion of these links is not intended to reflect their importance, nor is it intended to endorse views expressed, or products or services offered, on these non-NSF sites.