Image: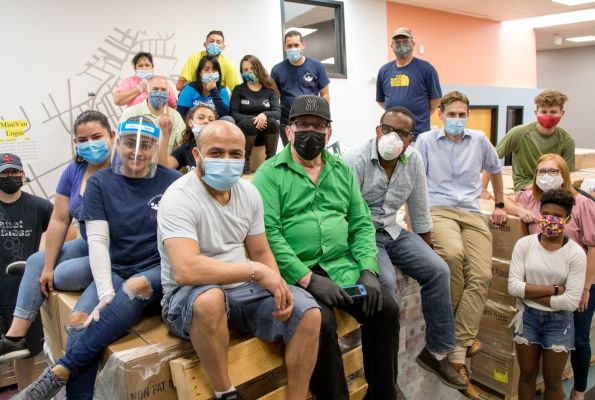 From Camden, South Carolina, to Chelsea, Massachusetts, behavioral science helps community leaders save lives
"We've got to do something," was the urgent charge from leaders of U.S. communities large and small as they grappled with the social upheaval of the COVID-19 pandemic. Advice and support came from the Societal Experts Action Network, an NSF-supported team of social and behavioral scientists who answered the call.
In early March 2020 the small city of Camden, South Carolina, had one of the first confirmed cases of COVID-19 in the state. Camden Mayor Alfred Mae Drakeford recalls her initial reaction as the coronavirus took root among the nearly 7,000 residents of her closely knit community: "I thought, we've got to do something!"
Drakeford was not alone, of course. COVID-19 infection rates across the U.S. were climbing. Roughly 900 miles north in Massachusetts, Barry Keppard was trying to make sense of all the data coming in from local hospitals and healthcare providers. As public health director for the Metropolitan Area Planning Council, Keppard leads health-related programs and policymaking affecting millions of people living in the 101 cities and towns of the Boston metro area.
"We were struggling with how best to understand the data on COVID cases and the situation on the ground at the community level," remembers Keppard. "We were also struggling with encouraging protective behaviors."
Drakeford echoes the same dilemmas in her city. "We needed people to understand that they need to social distance and wear masks," she says.
While leaders in every state were coping with the rapidly expanding pandemic and how best to help their people, the U.S. National Science Foundation was leveraging its mission of supporting fundamental science to help meet those new challenges. Through more than 1,200 rapid response grants provided in 2020, NSF provided funding for researchers working to understand multiple aspects of COVID-19, like how it spreads and what its large-scale effects are. 
Among those many inventive projects was a novel idea: create a network that can convert the discoveries and insights produced by social and behavioral scientists into something that municipal leaders like Drakeford and Keppard could apply within their communities to help make informed decisions and save lives.
And, with hospital beds filling up fast across the country, create it very, very quickly. 
Hi, I'm SEAN 
Researchers in the social and behavioral sciences have observed and studied the way people think and act for decades, with results published in thousands of academic papers and books. But in the middle of an emerging crisis, leaders and decision-makers do not have time to absorb all that research themselves or figure out how it can be used in their community.  
Enter the Societal Experts Action Network, also known as SEAN, a network of scientists assembled by the National Academies of Sciences, Engineering, and Medicine and supported by NSF. Their mission: understand the urgent needs of leaders all over the U.S. and translate decades of fundamental science exploring human behavior and society into clear and helpful guidance.
"Early in the pandemic there were so many questions," says Monica Feit, National Academies deputy executive division director of behavioral and social sciences and one of the leaders of SEAN. "From the public health benefits of mask wearing to the safety of public transportation and indoor gatherings, people were thirsty for knowledge that would help them fight the pandemic in their own community."
Through outreach with the National League of Cities, the National Governors Association and other state and local organizations, Feit and her colleagues gathered those many questions from mayors, policymakers and other leaders all over the country.
SEAN's first report emerged in mid-June 2020. It was clear and to the point: A Guide for Decision Makers Using Data to Understand the Extent and Spread of COVID-19. It summarized the strengths and weakness of the different types of data that state and local leaders were swimming in — like emergency room visits and viral test results — and provided simple criteria for evaluating the relevance of that data and how it can be applied to the decision-making process.  
SEAN's next reports would quickly follow, including Strategies for Encouraging COVID-19 Protective Behaviors and Encouraging Participation and Cooperation in Contact Tracing. Each report was also published as an interactive website, making it easy for busy leaders and their staff members to read on their mobile phones. 
"I was blown away — it was insightful and refreshing and actionable," says Keppard of his reaction after reading SEAN's guidance on contact tracing. "It was easy to interpret and understand how we could apply it. That's huge when you're working on the forefront of a public health response." 
SEAN's practical, evidence-based guidance kept coming throughout 2020 and into 2021, reaching thousands of leaders across all 50 states and in over 130 counties. So far more than 2,000 questions have been posed to SEAN through its online webinars and listening sessions.
Among that constellation of questions, it became clear that a single issue was at the forefront for many communities. 
Let's talk about the vaccine 
Reasons for vaccine hesitancy vary widely from one community to another. Within the Black community in Camden, Drakeford observed the effects of lingering memories of historical abuses like the U.S Public Health Service's syphilis study at Tuskegee. "We sometimes think back to the old days when things were done that were not legal or ethical to Black people," she says. 
Keppard also observed vaccine hesitancy among several diverse groups in Massachusetts, including Hispanic residents whose communities were hit hard by COVID-19.
"People all over the country were struggling with how to accurately and effectively inform people of the benefits of getting vaccinated," Feit recalls. "Their questions were earnest, like 'What do you say to people who are scared of needles? How do you start a conversation? How do you talk in a way that won't sound judgmental?'"
Social and behavioral scientists have discovered many counterintuitive insights about how people think and make decisions, including people with deeply held beliefs. For example, when it comes to misinformation, behavioral scientists have identified the illusory truth effect showing that repeating a false claim — even for the purpose of dispelling it — often reinforces belief in it. Discoveries by neuroscience and psychology researchers revealed that the related practice of quoting objective facts frequently fails to achieve mutual respect. Rather, sharing subjective personal experiences is more likely to foster mutual understanding and bridge cultural divides. Such discoveries can be translated into truly useful methods that anyone can employ, whether leading a public health campaign or just talking with your relatives.
Those valuable and potentially life-saving insights are concisely summarized in SEAN's most viewed report to date: Building COVID-19 Vaccine Confidence. Leaders promptly put it to good use. 
In the city of Chelsea, Massachusetts, COVID-19 infections and deaths were particularly high among its predominantly Hispanic residents. Keppard describes how he and his colleagues used SEAN's reports to work with a local organization, La Colaborativa, to improve understanding of the vaccine's benefits. Their strategy included video messages featuring trusted community members. "We supported the creation of a video series that featured a local faith leader, a business owner, the director of a community organization and a medical director, speaking messages that would resonate within that community," says Keppard. 
One of several videos produced for the Chelsea community that utilized SEAN-provided guidance by featuring trusted local leaders speaking about shared community values. Credit: The Chelsea Project
As of late July 2021, more than 65% of Chelsea residents 12 years and older were fully vaccinated, according to the Massachusetts Department of Public Health. Among Chelsea residents 30 years and older, that figure is over 80%. Those numbers are due to several factors, says Keppard, adding "a lot of it has to do with the continuous outreach efforts through trusted partners and interpersonal conversations." 
The work continues 
While SEAN has helped communities across the country respond to the pandemic, there is still much work to do. "It's not like there's an off switch for COVID and we just go back to how things were," says Feit.
After that first positive COVID-19 case in Camden back in March 2020, well over 100 people throughout its rural South Carolina county would eventually die from the disease. Nationwide, deaths caused by the disease number more than 600,000. 
"There's going to be a long tail to the pandemic," says Feit. "The impacts will be felt in society in lots of different ways." 
"Our need for transformative science doesn't stop with COVID," says NSF Assistant Director Arthur Lupia. "Every day, we have an opportunity to help people improve their quality of life. Efforts like SEAN reveal that America's scientists stand ready to answer that call. From climate and the environment to building an economy that works for everyone, rigorous science can help reveal the most effective ways to achieve our greatest goals."
Thinking back on the many lives lost in her town, Drakeford vows not to forget. "We have to remember where we came from," she reflects, then pauses and adds:
"And, realize the things we need to do."
 
If your community is struggling with a social or behavioral problem and could use evidence-based advice, contact the Societal Experts Action Network at (202) 334-3440 or sean@nas.edu.