Image: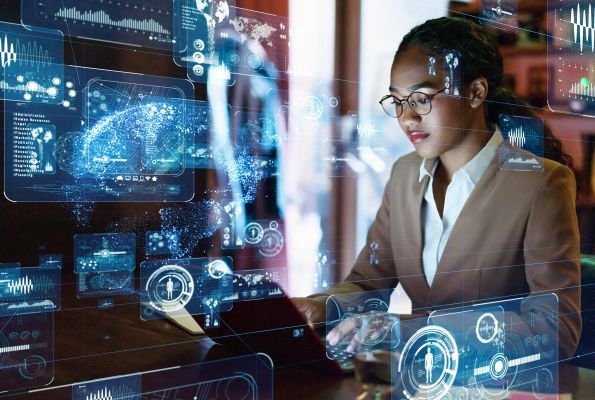 Democratizing science through advanced cyberinfrastructure
Think back to when you were a kid: Did you ever walk through a field, collect natural specimens and press your small eyes on a microscope to make observations and collect and analyze data? Many Americans are exposed to this sort of rudimentary science as children, when science seems accessible to all – and to some extent, it really is. But today, enormous data sets are shaping nearly every field of science, and sophisticated sensors and high-speed processors are essential to collecting, analyzing and deriving knowledge from Big Data. That means access to many fields of science depends in large part on access to data and data tools. But access is not universal, often limited by a multitude of technical, cultural and geographic barriers.
"If you want to democratize science in the 21st century," said Manish Parashar, director of the U.S. National Science Foundation's Office of Advanced Cyberinfrastructure, or OAC, "we need to make sure that we
address equity." Parashar's article, "Democratizing Science Through Advanced Cyberinfrastructure," published in Computer, argues that democratizing science depends on democratizing access to cyberinfrastructure. Science Matters sat down with Parashar to delve a little deeper into his views, and how OAC approaches these issues.
Q: What is advanced cyberinfrastructure?  
Advanced cyberinfrastructure is an expansive ecosystem. It includes hardware, software, the user, issues like security, connections to instrumentation and large-scale research infrastructure, and expertise. We want these elements to converge in a robust, scalable and agile manner in order to enable discoveries and innovations across all of science and engineering.
Q: What are the additional challenges that the use of cyberinfrastructure adds to the existing issue of broadening participation in science and engineering?
You are absolutely right, there are already formidable challenges to broadening participation in science and engineering across all disciplines of research. Science-enabling discoveries, innovations and inventions all increasingly depend on capabilities related to data and processing data, which is computing. These resources and the ability to use these resources are becoming so important to being part of the innovation ecosystem.
The issue is, how do we not only create cyberinfrastructure that provides its capabilities to a broad set of users but also make sure that it may be used equitably? We must provide the right training and the right environment, but we also must build our infrastructure in such a way that it minimizes barriers to entry — that it does not require special skills that are not accessible to everybody. Furthermore, it's not just providing the infrastructure, but it's also creating an environment within every institution that recognizes the importance of cyberinfrastructure and invests in it — prioritizes it — then provides incentives for researchers to leverage it.
Q: What does the cyberinfrastructure landscape look like now? Who has access and who does not?
On the positive side, we've made huge advances in the capabilities that are out there that NSF and other agencies and institutions have funded, providing these capabilities for computing and data that many users can leverage. And we continue advancing the frontiers by providing new capabilities. I think the challenge comes in making sure that we move forward from open and equal access to truly equitable and democratized access to these capabilities. It's about understanding what the barriers are at individual institutions — which may not be the same — and then addressing them so that everybody has an equitable opportunity to leverage the large investments that the federal government, including NSF, has made in cyberinfrastructure capabilities to support science and engineering research.
Q: What support has NSF provided and which programs or initiatives are making advancements?
We are addressing this issue by first understanding what resources are broadly needed as part of the national cyberinfrastructure and funding those resources, and then going a step further and understanding what institutions need to connect to and use national cyberinfrastructure.
For example, this is the approach that NSF is taking with the Campus Cyberinfrastructure (CC*) award program, which invests in coordinated campus-level networking and cyberinfrastructure for science applications and distributed research projects. Through this and other programs, we have also funded researchers or cyberinfrastructure experts across almost every state. Over 50 awards have been made to minority-serving institutions (MSIs) in the program's 10-year history, and many more awards whose activities are directed toward groups of MSIs. The NSF CyberTraining program provides additional opportunities to address training and workforce development needs.
One recent, noteworthy award is $1 million enabling the Georgia Institute of Technology in collaboration with Southern Light Rail and Southern Crossroads to provide advanced networking services for the research and education communities across the Southeastern United States. This project extends advanced network services and provides cyberinfrastructure (Cl) access, training and support to researchers and educators from four MSIs, three from the Atlanta University Center Consortium, plus Tuskegee University.
"We are addressing this issue by first understanding what resources are broadly needed as part of the national cyberinfrastructure and funding those resources, and then going a step further and understanding what institutions need to connect to and use national cyberinfrastructure."

 
Q: What are some examples of NSF support specifically for MSIs in this area?
NSF has also funded Cyberinfrastructure Centers of Excellence with experts who can provide critical information and services. If there are no local capabilities, they can provide services that can be used, for example, for cybersecurity or data management.
Let me point out one of these, Minority-Serving Cyberinfrastructure Consortium (MS-CC), which involves more than 90 MSIs, addresses crosscutting CI concerns and challenges and community needs. The MS-CC has focused on cybersecurity as well as hard to address, especially at under-resourced institutions.
NSF recently supported MS-CC and Internet2 with $15 million to improve cyberinfrastructure at MSIs with an initial cohort comprised mainly of historically Black colleges and universities. This funding enables them to make a long-term commitment to learning, matched to the size and missions of these colleges and universities. They will develop mechanisms for increasing access to cyberinfrastructure resources, funding and professional development opportunities for faculty, staff, and students — essentially, they will foster a vibrant community of practice across MS-CC campuses that involves collaboration on cyberinfrastructure, education and research applications.
A collaborating partner with Internet2 is the American Indian Higher Education Consortium (AIHEC). NSF's CI investments in, and support for Tribal colleges and universities are evident in CC* awards, such as campus networking improvements at Navajo Technical University; CI coordination and community practice development through AIHEC; and AIHEC's key role in MS-CC.
Q: Is NSF alone in advancing efforts to democratize science?
No. The White House Office of Science and Technology Policy (OSTP) recently issued an updated memorandum that sets in motion efforts to make our federal scientific ecosystem stronger and more equitable. OSTP announced revised public access policies — that is, new guidance to federal science funding agencies, ensuring free, immediate and equal access to federally funded research including the data associated with this research. This policy shifted the paradigm from research silos toward a culture that values collaboration and data sharing for accessibility to all of America, driving discovery and innovation while promoting equity. Such equitable access is not possible without cyberinfrastructure and democratizing access to cyberinfrastructure. With equitable access, the entire U.S. science and engineering enterprise will benefit.
Similarly, the National Artificial Intelligence Research Resource Task Force (NAIRRTF), which I co-chair, is developing a vision, roadmap and implementation plan for a national resource that can democratize access to computing, data, training and expertise to ensure that everyone can contribute to the AI R&D ecosystem. The task force's final report is due to Congress and the President in December 2023 and will be posted on NAIRRT's website.