Image: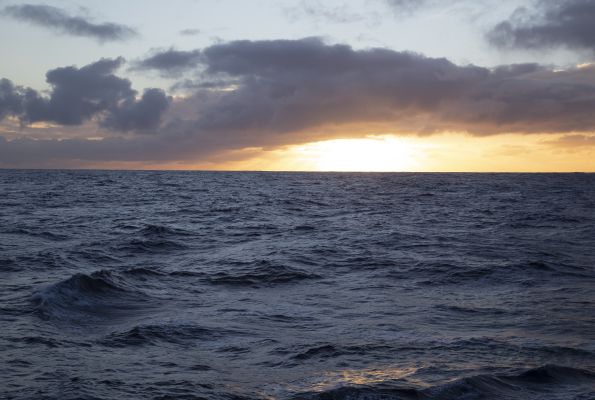 Diving into the decade: Ocean science to combat climate change
Over 3 billion people — more than one-third of the world's population — depend on ocean and coastal ecosystems for their livelihood. The ocean helps regulate climate, supports vital global transportation and trade, holds tremendous cultural value, and captures the collective imagination in art and entertainment. How we choose to study, protect and engage with the ocean in the next decade will impact the health of the ocean and, ultimately, the severity of climate change for everyone.
NSF and the Ocean Decade
The United Nations designates decade themes to increase visibility and action around priorities, and 2021-2030 is the Decade of Ocean Science for Sustainable Development. This designation (Sustainable Development Goal 14) is a signal that the ocean is a critical component of our future and requires immediate global attention and recognizes that we need a whole lot more people to care about the oceans.
The Ocean Decade calls on everyone to advance "the science we need for the ocean we want." When thinking of ocean-focused careers, you might think of marine biologist or maybe oceanographer, but the ocean science community encompasses so many more sectors and disciplines. This includes careers that may not be traditionally associated with the ocean community, such as economist, artist, teacher, construction worker and more.
Part of advancing "the science we need" means creating opportunities when existing categories are limiting. The U.S. National Science Foundation has demonstrated global leadership in doing exactly this in the ocean science space.
Coastlines and People
One way NSF is rising to meet this challenge is with the Coastlines and People, or CoPe, program, which tackles the environmental stressors and pressures on our coasts and coastal communities outside the bounds of strictly engineering, biology or any single scientific discipline. Addressing these issues successfully requires approaches that encompass both the human and natural components of coastal environments and involve local stakeholders from the beginning.
One CoPe award, led by University of South Florida civil and environmental engineering professor Maya Trotz, is engaging communities in the Gulf of Mexico, U.S. Virgin Islands and Belize to reduce climate risks through nature-based solutions — specifically, coral reef and mangrove restoration. "By working with communities on better understanding and valuing these ecosystems, we will develop more equitable approaches to protecting and restoring them," Trotz said. "Not only will this project address the environmental questions of our time, but it will also provide advice on how ordinary people everywhere can participate in finding solutions to our coastal crisis."
Convergence Accelerator: Networked Blue Economy
NSF's Technology, Innovation and Partnerships, or TIP, Directorate also recognizes the need for new methods of funding and conducting science that enables and expedites societal impacts — including our relationship with the ocean. One program is the Convergence Accelerator, which includes the Networked Blue Economy research track focused on producing products, processes and resources to engage with the ocean more sustainably both as an environment and a resource.
Backyard Buoys is a Convergence Accelerator project, led by Jan Newton at the University of Washington, that is empowering Indigenous and other coastal communities to collect and use ocean data to support their blue economy. This involves bringing together existing regional ocean observing networks, underserved Indigenous communities and a sensor company. Powered by a Convergence Accelerator Phase 2 grant, this team can continue its work "co-designing technologies and techniques with Indigenous community members in ways that complement their knowledge," Newton said. "We are developing wave buoy systems that will collect critical real-time wave information that can serve to increase awareness and understanding of changes in the ocean and climate."
The ocean-climate nexus
As we focus on the Ocean Decade, ocean-based climate solutions are at the forefront of national and global conversations. At many venues, including the 2022 U.N. Ocean Conference, U.S. Special Presidential Envoy for Climate John Kerry emphasized that "you can't solve the climate crisis without the ocean, and you can't solve the ocean crisis without reducing emissions."
Use-inspired research is needed in the ocean sciences to address climate change; a recent report highlights that ocean-based climate solutions have the potential to reduce greenhouse gas emissions by 21% by 2050. As a result, a whole-of-government Ocean Climate Action Plan has been implemented under the leadership of NSF and other federal agencies to identify the most pressing areas where research is needed to accelerate ocean solutions. NSF is taking other measures as well, including increasing collaboration with the National Oceanic and Atmospheric Administration to strengthen the research-to-operations-to-research cycle, building off of each agency's strengths to accelerate the speed and scale of climate solutions.
In addition to novel programs, NSF is funding the U.S. National Ocean Decade Committee convened by the National Academies to encourage participation and serve as a communication channel for the U.S. ocean science community. NSF also co-chairs the Subcommittee on Ocean Science and Technology and participates in the SOST Ocean Decade interagency working group, which coordinates federal engagement in the Ocean Decade.
Creatively expanding the boundaries and mechanisms of ocean science enables us to rise to the challenge of mitigating and adapting to climate change during the Ocean Decade and beyond.
About the Authors
Lauren Howe-Kerr is a postdoctoral researcher at Rice University and previously served as an ocean policy fellow in NSF's Division of Ocean Sciences.
Stacy Aguilera-Peterson is an ocean policy specialist in NSF's Division of Ocean Sciences.
Clea Harrelson is a science assistant in NSF's Directorate for Geosciences.
Join the Ocean Decade Stakeholder Forum and stay up to date on Ocean Decade events to learn more about how you can get involved.