Image: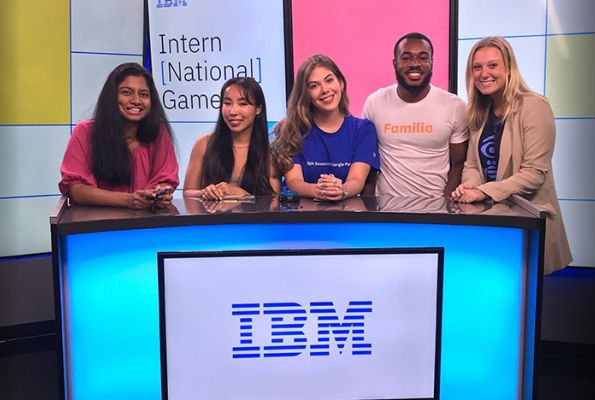 GRFP 2019-2023: Little wins result in big rewards
April 15, 2023, was graduate school commitment day for thousands of students across the nation, including about 2,500 who received fellowship offers from the U.S. National Science Foundation's Graduate Research Fellowship Program, or GRFP.
For Andre Green at Penn State, receiving this fellowship was a big moment.
"GRFP holds a lot of prestige, and that means a lot to me, especially as an underrepresented student," Green said. "It's one of my first experiences where I think, 'Hey, I made it! I'm on the right track for my education to keep going.' So, this is motivation for me now. Why stop here? What else can I achieve?"
Each year since 1952, undergraduate and graduate students early in their careers have received fellowship offers from NSF to pursue research in STEM.
By recruiting and supporting outstanding students with high potential in science, technology, engineering and mathematics, this unique program has nurtured economic innovation and leadership in the U.S. for decades. More than 40 former fellows have been awarded Nobel Prizes, and more than 400 have been selected as members of the National Academies of Sciences, Engineering, and Medicine.
Green will attend University of California, Berkeley to pursue a doctorate in electrical engineering. But early in his undergraduate studies, he had doubts about his place in STEM.
"A lot of people in high school can get through classes pretty easily without studying — myself included. But, going into college, that's definitely not the case," Green said. "You have to put in a lot of effort to make sure you're still sitting at the top of the class. At some point, I kind of questioned whether I was cut out for this type of career."
Through mentorship, adjustments in study habits and by acquiring several research internships, Andre brought up his grades and started to solidify his place in STEM.
"It was those little wins that made me realize, 'All right, Andre. You're cut out for this. You're really doing well. Just keep on doing everything that you're doing, and you're going to be okay,'" he said.
A major goal for Green as a doctoral student is expanding his research, developing his skills and increasing representation in STEM by serving as a role model for other students.
"As an African American, Hispanic, first-generation student, I don't see too many people who look like me in positions I'm working toward," Green said. He believes it's crucial for youth to see people in those positions, especially if they're underrepresented students. "GRFP is providing me the opportunity not only to pursue graduate education to deepen my area of study but also to dedicate a life toward increasing representation and engagement in my field."
In fact, individuals offered fellowships between 2019 and 2023 reflect the diversity of the country's student population. NSF has made it a priority to increase the number of underrepresented investigators by 10% over the 2020 baseline. And GRFP has far exceeded this goal, increasing the number of underrepresented fellowship awardees by four times that amount since 2020.
"GRFP is providing me the opportunity not only to pursue graduate education to deepen my area of study but also to dedicate a life toward increasing representation and engagement in my field."
GRFP is a very competitive program; it normally receives more than 13,000 applications per year. For the most recent cycle, NSF anticipates making 2,500 fellowship awards.
To reach even more people, in 2021, NSF introduced language in the GRFP description highlighting accessibility accommodations to ensure broadly diverse representation and make STEM more inclusive for individuals who identify as having disabilities.
GRFP is striving to support thousands of researchers, including Green, in their efforts to become leaders in their fields. "Achieving this great fellowship is a major steppingstone for me," Green said. "This is the icing on the cake."
For more information visit the GRFP website and see the quick facts.