Image: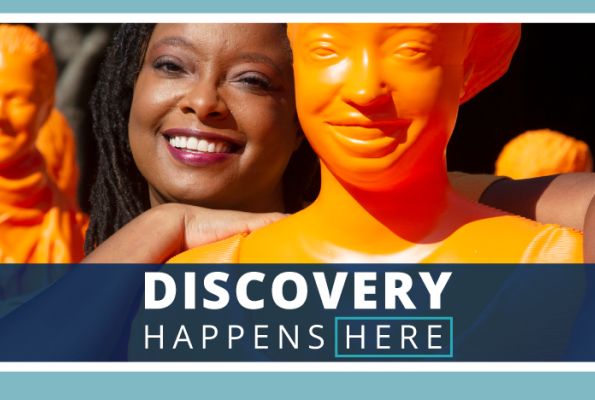 If she can see it, then she can be it – An exhibit highlighting female role models in STEM
Lekelia "Kiki" Jenkins was with her father at the Smithsonian National Museum of Natural History posing for a picture with a statue. Another family, strangers to Jenkins, watched, approached and started asking questions.
The statues were hard to miss: 120 in total, life-sized, and 3D printed in neon orange at Smithsonian museums throughout Washington, D.C. Visibility was the point, part of the #IfThenSheCan exhibit – short for "if she can see it, then she can be it."
The concept: Show authentic, relatable images of women in the science, technology, engineering and mathematics fields. The goal: Spotlight successful role models for young girls to open their eyes to possible careers in STEM fields.
Jenkins is an associate professor at Arizona State University's School for the Future of Innovation in Society, working on marine conservation issues like reducing turtle entanglement in fishing nets. As an ocean scientist, it was particularly special that her If Then She Can statue was displayed in the Sant Ocean Hall of the Smithsonian Museum of Natural History, a place she loved as a child and that inspired her on her career path. "I loved it because there was so much information, layer upon layer, I felt I could visit every day and still learn something, and the idea that my statue was in that place that was so pivotal for my career as a scientist, it was unbelievable." 
She recounted seeing the impact of the If Then She Can exhibit in real time. "While I was standing there with the statue, taking a picture of it with my father, some people came up to me, a Black family. They asked 'Is that you? It looks like you?' and I said 'yes, it's me'. They suddenly crowded around me, they were so excited for me, even though I didn't know them at all. Then they asked, 'are there other Black scientists – Black women scientists in the museum?'" Jenkins said, emphasizing that this is the point of the exhibit. "It was not just that they saw an orange statue, but they saw me, a Black woman, in this museum – they made that connection and got excited about it!"
Another role model represented, Jessie Rack, an ecologist, science writer and program director at the Natural History Institute in Arizona, said, "I hope the exhibit acts as a powerful image of the strengths and brilliance and achievements of women."
"My hope is that everyone that comes to the exhibit can find at least one person that resonates as a kindred spirit and role model," added Ritu Raman, an engineer at Massachusetts Institute of Technology.
How did these role models feel about seeing these statues of themselves across Washington D.C., and what was it like seeing the public's reaction to them?
"Seeing myself as one of these statues is beyond surreal," said Rack.
"I can't explain how important it feels to be the reason that kids might see themselves in science fields." Raman added: "Seeing myself as one of the statues is truly humbling. It is teaching me to be proud of myself for all the hard work and resilience it has taken to persevere as a woman in mechanical engineering."
Jenkins, Raman and Rack, like many of the If Then She Can role models, got their starts with U.S. National Science Foundation fellowships. These grants recognize and support outstanding graduate students in STEM disciplines who are pursuing research-based master's and doctoral degrees or who have Ph.Ds. and want to embark on the next steps of a research career.
NSF's Graduate Research Fellowship Program provides awardee three years of financial support, including an annual stipend of $34,000 and $12,000 for tuition costs. Postdoctoral fellowships are also offered in a variety of science and engineering subjects. They provide financial support for early career researchers for two years at the university of their choice (with a salary usually ranging from $53K to $69K, depending on field and location). 
NSF particularly encourages people from underrepresented groups to apply for the fellowships. These awards can play a major role in helping to boost the career of a young researcher.  
"It allowed me the space to explore where I fit into science," said Rack. "I was able to chart a path towards my current career, combining ecology, environmental education, and natural history in a public-facing position." 
"It was also the first validation that I could write a fundable proposal on a new scientific idea and gave me the self-confidence I still rely on as a new professor," Raman said.