Image: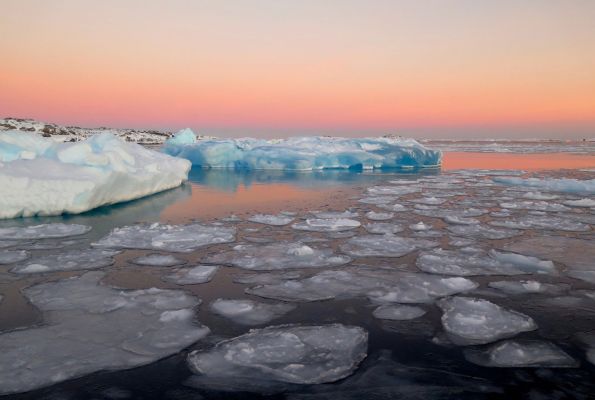 Life on the ice during a pandemic: Keeping science in Antarctica going and the continent COVID-19-free
It is hard to imagine a location that has not been touched by the pandemic currently sweeping the globe, reordering our daily lives and collective priorities. It might come as a surprise, though, that there is one place on the planet that has remained free of COVID-19 -- the continent of Antarctica. Since the implementation of the 1959 Antarctic Peace Treaty, the entire continent has been dedicated to international scientific research and collaboration. And while it has been able to remain COVID-19 free, it has not gone completely untouched by the pandemic.
Under normal circumstances, the task of maintaining the continuity of scientific research, while ensuring researcher safety in Antarctica, involves serious logistical challenges. The global pandemic has made this mission even more complex. As manager of the U.S. Antarctic Program, the National Science Foundation provides logistical and programmatic support to thousands of scientists, who travel to the continent each year to conduct research in fields that range from climate change to astronomy to weather and paleontology.   
For more than 60 years, NSF has ensured the safety of researchers traveling to the most inhospitable environments on the planet. Now, faced with a global pandemic, USAP, collectively with other national Antarctic programs via the Council of Managers of National Antarctic Programs, is working diligently to ensure the continent remains free of the COVID-19 virus.
Antarctica's winter season begins in February, which is the harshest time of the year. Only a handful of people are permitted to remain at NSF's three research stations during this time. Science Matters spoke with Erin Heard, station manager of NSF's McMurdo Station, about life on the ice during the Antarctic winter; steps NSF is taking to prevent COVID-19 from arriving on the continent; and tips for dealing with social isolation.
Q&A with Erin Heard, Station Manager of McMurdo Station
What is your role in USAP?
I am the NSF winter station manager for McMurdo Station. This is my second winter season in this role and my 16th season in the U.S. Antarctic Program. As station manager, I represent the foundation and oversee operations in and around the station. A major part of this is ensuring that NSFs commitment to supporting science continues through the winter season and as we prepare for the summer research season.
What's it like to overwinter in Antarctica?
Spending the winter season at McMurdo Station, or anywhere in Antarctica, is a very special time in a very special place with remarkable people. It's a unique experience -- not many people in human history have spent the winter in Antarctica. It can be wonderfully beautiful, serene and peaceful. But at the same time, the natural environment can be very harsh and unforgiving and just frankly, uncomfortable. It can dip as low as minus 60 degrees Fahrenheit in McMurdo. I'm excited to be here to support NSF's mission and the scientific research, and to get the station ready for the summer season, when most research and infrastructure projects occur.
Antarctica is the only continent that is COVID-19 free. What are some factors that contributed to this and how are you working to ensure it stays that way?
One reason is that Antarctica is naturally isolated -- it's hard to get here and particularly in January and February, very few people arrive.
NSF and other countries in the Council of Managers of National Antarctic Programs acted quickly to stop bringing people to the continent when the outbreak became serious. NSF hasn't brought anyone to McMurdo Station since late February. Similarly, NSF's Amundsen-Scott South Pole Station has been isolated since February as well, which is actually typical. It's so cold at the South Pole, the station can only receive flights for about three months of the year.
On the other side of the continent, however, a crew is preparing to sail to NSF's Palmer Station for a much-needed crew swap. To make sure that no one is inadvertently bringing in COVID-19, the team has been tested for the virus at different times in their journey and is currently quarantined for several weeks on their docked ship as we carefully monitor them for any symptoms before they set sail.
Currently, because there are no cases of COVID-19 on the continent, we do not need to have social distancing protocols in place. We've always had protocols in place that are important for maintaining hygiene in close quarters and the program continues to work with medical advisors to minimize risks.
Will there be any new precautions in place for the summer season?
Yes. Summer is the busy season in Antarctica when most researchers arrive to work on their projects. We are putting a lot of effort into making sure the virus doesn't arrive on the continent and everyone here remains safe. In planning for the summer season, we will have to consider what research projects we can and can't support based on specific criteria, which is listed on the NSF website.
In addition, we'll have stricter protocols for those arriving on the continent. Everyone is already required to pass a physical evaluation, which has been updated with new guidelines for people who are considered high-risk for severe illness from the virus. The updated health protocols will also include testing and isolation before arriving on the continent

How is daily life there now?
In some ways it's normal for winter life in Antarctica. While we didn't have the typical staff turnover we see in a normal winter season, due to restrictions, we still have our work to support the mission of the agency and scientific research. Winter is when we do major repairs and maintenance and we still have that to-do list to keep us busy.
And while day-to-day life is somewhat normal, we regularly talk about the virus and closely monitor the news. People have concerns for loved ones back home, and NSF has made sure people are supported and aware of employee assistance resources.
For someone in my position, I keep in mind that this is an issue weighing on people's minds. From a safety perspective, it's important that we accommodate those who might need some time or support and that we take our time on things.
Any advice on social isolation?
Those of us who have spent time in Antarctica have a lot of practice with social isolation, the feeling of being "cut off." It's different for us because we come here knowing that we'll be isolated from the world but not from one another. We still work and socialize together.
One trick for dealing with isolation is to maintain a good routine. Everyone here usually has a busy work schedule, but it's important to keep a good schedule outside of that. Regular exercise is also important. Here, you might go for a walk around the station, whereas back home you'd go for a walk around the neighborhood. Diet is important too. When someone feels the stress of isolation, it's easy to choose junk food, and that happens here too. We have some amazing bakers and the temptation is strong.
Maintaining social connections are important too. Here, as the winter goes on, people can sometimes become reclusive, but it's important to stay social, connecting with friends by playing board games, exercising or watching movies together. We're fortunate that we can still gather in groups, but back home I encourage people to make use of the phone or video chats to keep those social connections going.
Are you excited to come home?
I normally don't think about leaving until it's nearly time to go. This season, I have been thinking about how different the world will be when I head home compared to when I left. Typically, those of us who spend a lot of time in Antarctica will do a little traveling on the way back home to decompress and thaw out; that won't be possible this time around. When it's time to leave, I'll be excited to see my friends and family, but right now I'm focusing on the job at hand and my part in supporting the NSF mission.