Image: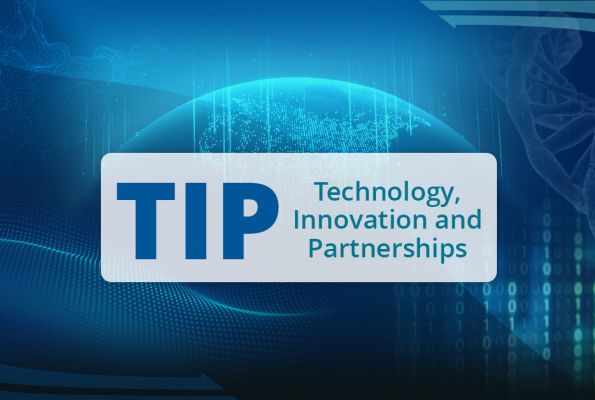 New National Science Foundation directorate to accelerate breakthrough technologies, societal and economic advances
Technology, Innovation and Partnerships, TIP, will harness the geography of innovation at speed and scale
"There's something happening in America," President Biden said in his 2022 State of the Union address. "Just look around and you'll see an amazing story."
He was talking about American innovation, manufacturing — technology breakthroughs in smartphones, the internet and semiconductors. And a future field of dreams near Columbus, Ohio.
It's a story Americans can tell because of U.S. science and engineering progress. The U.S. National Science Foundation makes that progress possible. NSF discoveries lead to breakthrough technologies and game-changing innovations — new industries, economic growth, jobs.
NSF has powered more than 70 years of progress; we're ready for what's next.
With the landscape for global competition shifting, Americans have an opportunity to optimize the research enterprise for U.S. competitiveness — for the future.
That's why at SXSW 2022, during the session on Reinvigorating Science and Technology for the Future of U.S. Innovation, NSF Director Sethuraman Panchanathan announced a new unit within NSF focused on Technology, Innovation and Partnerships — TIP.
TIP is about possibilities. Possibilities for technology breakthroughs to answer the toughest challenges. Possibilities to bring discoveries out of the lab fast, for real-world, widespread impact. If NSF channels the awesome changes already happening, brings diverse perspectives together for developing and using technology, imagine what we can create and solve.
We're imagining breakthroughs in advanced manufacturing, materials and wireless; in artificial intelligence and biotechnology and quantum; in microelectronics and semiconductors.
TIP will help scale use-inspired research and how we translate results. We'll tap and foster STEM talent from the diverse range of U.S. places and people. That means revitalizing communities left behind, paths to STEM education, high wage jobs, and fields of dreams everywhere.
This is the first step toward new inventions and the next era of American possibilities.  
Why TIP
Long-standing and emerging challenges demand action. From the threat of a changing climate to creating equitable access — in education, healthcare, and broadband — to upgrading U.S. infrastructure for this century, TIP will help the U.S. rise to answer the greatest challenges.
How? By tapping the extraordinary transformation already happening, scaling research that can create answers to society's foremost challenges and connecting and growing the geography of innovation through partnerships.
Americans are seeing historic changes. The pace of discovery has already accelerated. STEM researchers and students, especially the newer generations, are passionate about putting their work to use for game-changing solutions in their communities.
STEM talent is widespread, and TIP can help bring expertise and resources together. We want to design, develop, and solve through inclusion. We want thoughts and perspectives from the diverse range of U.S. people and places. That's how we can create the best interfaces between science progress and societal impact. 
Technology 
To fulfill its mission for science progress, in over 70 years, NSF has supported the full spectrum of research. From blue sky, curiosity-driven, to use-inspired, solution-focused research.
That's not changing. We know from seven decades of experience that avenues of inquiry are connected, they run together, though not in a prescribed path. The results power exploration, unearth discoveries, develop technologies, and nurture diverse STEM talent.
Consider artificial intelligence (AI). AI technology is everywhere — in phones, cars, healthcare and more. Fundamental advances are enabling new use-inspired research like AI and agriculture for better crop yields, AI and transportation for safer travel, and AI and disaster response for resilience.
At the same time, these new technologies — progress from use-inspired research — raise new foundational questions. How do people interact with AI systems? How do researchers create products? How does that process engage users? How can we ethically bring AI systems into society?
TIP will bolster NSF's historic mission by strengthening and scaling our commitment to the interplay between different types of research. TIP will strengthen and scale our abilities to power future technologies to solve problems.
Because we've built the foundation, because we'll keep asking foundational questions, we're ready to unlock technologies we have yet to invent. TIP is the first critical step.  
Innovation  
TIP is a crosscutting platform that works collaboratively with all of NSF's directorates — and with partners in government, industry, philanthropy, civil society, communities of practice. This crosscutting focus will help leverage expertise and resources. It will energize use-inspired research and innovation.
TIP will create new possibilities for growing the U.S. economy in critical technologies and industries, revitalize communities and support a diverse STEM workforce with high wage, quality jobs. That's how the U.S. can expand the geography of innovation and help deliver on NSF's Missing Millions goals.
At the same time, TIP can bolster U.S. competitiveness. Science and engineering progress have long defined U.S. leadership — the technologies and innovations that change the world. Securing future decades of American competitiveness and leadership in innovation and security starts now, with TIP.  
Partnerships 
STEM talent is in academia and industry. In nonprofits and governments. In civil society and local communities. It's in labs and factories. It's in the Midwest, the South, the East, and the West. STEM talent is everywhere. That's the geography of innovation.
We want to build bridges and connections. We see teams collaborating, inspiring, asking questions and speeding up results for impact. These partnerships empower new paradigms.
In addition to "pushing" research results — including new technologies out of the laboratory and into the market and society — we'd also like to inspire people and industry to imagine research questions and draw out results. That is a "market-pull" dynamic to enable beneficiaries of research to motivate that work, and thus become invested in seeing it translated and realized in the marketplace and society.
NSF sees positive impacts and opportunities through partnerships.  
Structure  
TIP will advance shared interests and goals among stakeholders, coordinate and enhance the impact of investments, and complement and support national research priorities.
To catalyze co-creation, existing programs that were already fostering collaboration and crosscutting will be part of TIP. This includes programs like NSF's Innovation Corps (I-Corps) program, Partnerships for Innovation and America's Seed Fund, and the brand new Pathways to Enable Open-Source Ecosystems program.
The Convergence Accelerator, and a new initiative focused on regional "innovation engines" (stay tuned for more information on that shortly) will empower a diverse geography of innovation — making STEM progress and opportunities available everywhere.
Engage TIP 
We encourage all Americans to engage in our mission, regardless of background or geographic location. Visit our website to learn more about the TIP Directorate and sign up for alerts to keep up with the latest developments.
TIP spans the whole of the agency — it will closely collaborate with each of NSF's existing directorates and other stakeholders in the U.S. research, innovation and education enterprise. We welcome and require the participation of leaders across the full breadth of science and engineering that NSF supports.
We anticipate new opportunities for use-inspired research and to translate research results for real-world impact. We imagine a new era of American possibilities. And as we make progress, we'll be telling that story here. This is just the beginning. Thank you.