Image: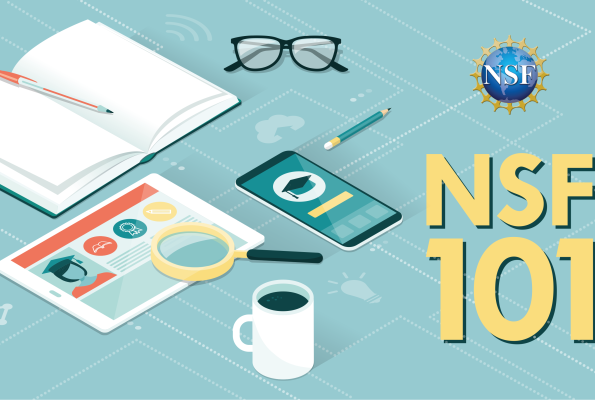 NSF 101: Funding opportunities for early career researchers  
Congratulations! After years of work, you've earned that coveted professorship and finally settled into your new lab. Now you might be looking to secure funding for your new research idea or take on a graduate student to jumpstart your research productivity and build your tenure portfolio.  
NSF provides funding opportunities in a wide range of research areas for scientists of all career stages. In general, an early career researcher is defined as someone at the rank of assistant professor or equivalent. Early career researchers are eligible (and encouraged!) to compete for NSF core grants and special initiatives as well as many other funding mechanisms, which can be explored on NSF's funding page.  
Below are five NSF funding opportunities available for early career researchers that you may not have heard about before. 
Faculty Early Career Development Program (CAREER) 
One of the most well-known and competitive awards comes through the CAREER program, which funds proposals from assistant professors (or equivalent ranks) whose proposals successfully integrate teaching and research.  
Interested in applying for a CAREER award? Read these tips on how to apply 
More Information on the CAREER program 
 
Research focus: All fields 
Award Amount: $500k over 5 Years 
EArly-Concept Grants for Exploratory Research (EAGER) 
The EAGER funding mechanism supports exploratory work in early stages on untested but potentially transformative research ideas or approaches that are considered "high risk/high reward." Note that EAGER proposals are reviewed internally, which allows for shorter time between proposal submission and available funding.  
More Information on EAGER funding 
Research focus: All fields 
Award Amount: Up to $300k, up to 2 Years 
Grants for Rapid Response Research (RAPID) 
The RAPID funding mechanism is for research that involves urgent data collection, such as for quick-response research to natural disasters. Note that RAPID proposals are reviewed internally, which allows for shorter time between proposal submission and available funding.  
Recent NSF-funded RAPID grants have been responding to COVID-19. Read about examples here 
More Information on RAPID funding 
Research focus: All fields 
Award Amount: $200k, 1 year 
Computer and Information Sciences and Engineering (CISE) Research Initiation Initiative (CRII) 
CRII awards provide essential resources to help early career researchers in computer and information sciences launch their research careers, including 48 months of graduate student support.  
More Information on CRII 
Research focus: Computer and information sciences and engineering  
Award Amount: Up to $175k, up to 2 years 
Education and Human Resources Core Research: Building Capacity in STEM Education (ECR: BCSER) 
ECR:BCSER supports activities that enable early- and mid-career researchers to acquire the requisite expertise and skills to conduct rigorous fundamental research in STEM education. This opportunity is open specifically through the Education and Human Resources directorate. 
More Information on ECR:BCSER 
Research focus: Education and human resources  
Award Amount: Up to $375k, 2 years 
Established Program to Stimulate Competitive Research: Research Infrastructure Improvement  (EPSCoR-RII) Track-4
EPSCoR-RII Track-4 awards build research capacity in EPSCoR eligible institutions and transform the career trajectories of early career investigators by supporting collaborative visits to the nation's premier private, governmental, or academic research centers.  
More information on EPSCoR-RII Track-4
Research Focus: All fields
Award amount: Up to $300k, 2 years
If you're not sure where to start, go to the NSF funding page to find a program officer in your specific research area, who can give you more information and let you know which awards you are eligible to apply for. Good luck!