Image: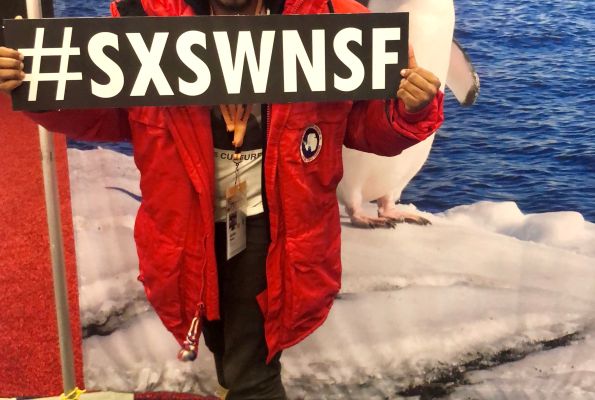 NSF brings the future of science and innovation to SXSW
For decades, the U.S. has led the world with its trailblazing discoveries and technological breakthroughs that drive the economy, impact our daily lives and deepen our understanding of nature. Since its founding in 1950, the core mission of the U.S. National Science Foundation has been to drive fundamental research that contributes to core components of icons of the modern world, from the internet, smartphones and 3D printing to MRIs, laser eye surgery and DNA analysis, to climate monitoring and deep-ocean exploration.
NSF's mission has expanded over the years, with the agency building on its success in fundamental research to lead developments in fields such as nanotechnology, robotics and driverless vehicles, smart agriculture and tissue engineering. And NSF continues to tackle the biggest challenges society faces today, such as protecting human health; understanding how food, energy and water interconnect; and exploring the universe at all scales.
Today, the progress of science and engineering is at a historic crossroads. As the nation confronts the most pressing societal, scientific and technological challenges it has faced in decades, NSF is directing U.S. research toward finding solutions and forging an inclusive, innovative workforce that will be necessary to deliver those solutions. NSF will present information on some of this research in a number of sessions at the upcoming SXSW.
NSF Director Sethuraman Panchanathan will bring NSF's vision of the future to SXSW with the recently announced featured session, "Reinvigorating Science and Technology for the Future of U.S. Innovation," on March 16, 2022, from 11:30 a.m. – 12:30 p.m. CST.  
Panchanathan is driven by his belief that extraordinary things can happen when people are empowered through opportunity and access. From his vantage leading the United States' flagship agency for advancing the full breadth of scientific and engineering discovery, he will share how the future of the nation depends on partnership — a shared mission among entrepreneurs, industry, academia and government — to solve seemingly intractable problems and open doors for all Americans to participate in that journey and experience success.
Panchanathan will also participate in a session titled, "A Connected World: The Future of AI Tech," alongside IBM Senior Vice President and Director of Research and National Science Board member Dario Gil; and USC professor and AI pioneer Yolanda Gil. The panel is part of the 2050 Track that will look at long-range, big-picture innovations that can be a force for positive change in the world. The researchers will discuss how the tech-driven society is rapidly transforming, bringing both opportunities and challenges. The panel discussion, moderated by NSF's Erwin Gianchandani, senior advisor to the director for Translation, Innovation, and Partnerships, will take place on March 15, 2022, from 2:30 p.m. - 3:30 p.m. CST.
A second NSF-anchored panel, "Startups With Solutions," will bring together leaders of innovative companies developing cutting-edge technologies to reduce the impact of climate change. Etosha Cave of Twelve, Miles Barr of Ubiquitous Energy  and Sorin Grama of Transaera will discuss how they are moving basic research out of the laboratory and applying it in ways that will potentially protect the planet and improve the lives of millions. The panel discussion, moderated by NSF's Ela Mirowski, a program director of the Small Business Innovation Research and Small Business Technology Transfer programs, will take place on March 11, 2022, from 11:30 a.m. - 12:30 p.m. CST.
NSF will have a booth at the Creative Industries Expo, from March 13 - March 16, 2022, which will include a virtual tour through NSF facilities; wear gear from the NSF-managed U.S. Antarctica program; and an opportunity to learn about how to partner with NSF on your tech startup.
Come meet with us to talk about the future of science and technology and how we can all work together to drive innovative science and engineering research that will make a better tomorrow for all.