Image: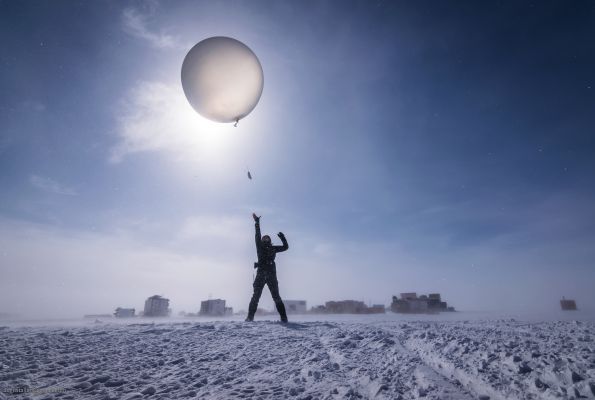 NSF in Greenland: Promoting novel research, improving infrastructure, growing international partnerships
Research in Greenland: Past, present and future
In 1989, the U.S. National Science Foundation launched the Greenland Ice Sheet Project 2, and a summit "camp" was established. This effort succeeded the original multinational Greenland Ice Sheet Project in a better glaciological location near the apex of the Greenland ice sheet. The camp grew into modern-day Summit Station.
Research about the Greenland ice sheet is critical to understanding past and future climate change. In 1993, researchers retrieved the deepest ice core in the world at that time, obtaining over 3 kilometers of ice and 1.55 meters of bedrock. This core opened a new window into paleoenvironmental investigation, providing an unprecedented high-resolution, continuous record that is still being used to understand past climates and help predict future climate change.
One multidisciplinary NSF-funded project currently operating out of Summit Station is the Integrated Characterization of Energy, Clouds, Atmospheric state, and Precipitation at Summit. ICECAPS has been operating ground-based instruments at Summit Station since 2010. Researchers take observations of the atmosphere to advance understanding of cloud properties, radiation and surface energy, and precipitation processes over the Greenland ice sheet. The project also makes observations and measurements in critical zones on the ice sheet to better understand how it contributes to rising global sea levels, which will severely impact humans over the next century.
The future of Summit Station
Over 30 years after being established, Summit Station has become the only high-altitude, high-latitude, year-round inland research platform not influenced by local air pollution, collecting the highest quality observations to answer key questions about climate processes in the Northern Hemisphere.
Today, Summit Station supports a network of arctic observatories​. Greenland research supported by NSF continues to expand across disciplines to understand ice sheet mass balance, aerosol concentration in the atmosphere, cold weather engineering, impacts on coastal communities due to climate change, high-energy neutrinos and much more.
The buildings and infrastructure at Summit Station are subject to high winds, extremely cold temperatures and annual snow accumulation of more than 3 feet. Staff at the station constantly battle against drifting snow that would bury anything on the surface to the roof top without consistent shoveling and plowing. With a few exceptions, the current infrastructure is mainly on the snow surface, and some of the buildings are elevated to protect them from being buried by snow. Summertime researchers and staff traditionally slept in tents, but as the sea ice changes, more polar bears are making their way onto the ice sheet, making it unsafe to camp in tents at Summit Station.
For these reasons and to update the station to be more efficient and sustainable, plans are underway to transform the infrastructure to better support science for decades to come. The vision for the Summit Modernization and Recapitalization project includes infrastructure that will be elevated above snow drifting and accumulation on platforms that are easy to lift and level. The new Summit Station will be energy efficient and will incorporate renewable energy and autonomous systems where possible​. The station will be capable of being unmanned at times if needed and reoccupied later without damaging infrastructure.
Research with Greenland's coastal communities
​NSF-funded research in Greenland extends far beyond Summit Station and remote ice sheet studies. Projects funded along the Greenland coast engage local communities to collaboratively understand impacts of climate change, develop hazard mitigation strategies, advance novel technologies and more.
Many of these projects are under NSF's Navigating the New Arctic initiative. NSF is investing over $150 million to support creative new directions for understanding and adapting to a rapidly changing Arctic. The initiative falls under Growing Convergence Research in NSF's 10 Big Ideas, which encourages transdisciplinary approaches to define and tackle critical research topics in the Arctic.
Current projects include researching increasing geohazards due to thinning ice, testing sustainable technology suitable to harsh polar conditions, and identifying changes in glacial fjord ecosystems due to melting glaciers and warming ocean waters. These projects also work directly with Greenland research institutions, such as Greenland Climate Research Center, Greenland Institute for Natural Resources and the University of Greenland.
International partnerships in research and education
NSF's work in the Arctic relies on strong international partnership with Greenland and other Arctic countries. The government of Greenland announced its National Research Strategy for 2022-30, led by the Greenland Research Council in collaboration with Greenland research institutions. One pillar of the research strategy emphasizes increased research coordination between Greenland and other nations, which includes the U.S.-Greenland Joint Committee, established in 2004 to strengthen government-to-government partnerships to meet common scientific and environmental goals.
The Joint Science Education Project began during the International Polar Year in 2007 and is a collaboration between Greenland, Denmark and the U.S. to send teachers and students to Greenland for research experience. During the summer, high school students stay at the Greenland-led Kangerlussuaq Science Field School and travel to Summit Station for a Dartmouth-led science education week.
Another pillar of Greenland's National Research Strategy is focusing on sustainable social development. There are multiple NSF-funded projects working with Greenland research institutions on sustainable solutions to social and environmental changes. One of these projects is working with Inughuit farming communities and research communities at the University of Greenland to investigate emerging agricultural practices and increased production in southern Greenland and the associated economic and political implications. Another project is working with the Veterinary and Food Authority of Greenland, the Greenland food cluster NERISA and students from University of Greenland to improve Greenland's food security through fermented foods.
NSF also encourages collaborations with Greenland educational and informational platforms and participation in Greenland research meetings. Arctic Hub, a Greenland communications hub, focuses on connecting people within Greenlandic research and making research accessible. ISAAFFIK, a web platform hosted by the Arctic Research Centre, helps a wide variety of users learn about Arctic infrastructure, research projects, educational opportunities, collaboration opportunities and more. This November, in Nuuk, Greenland Science Week will host outreach events, stakeholder meetings and the Greenland Science Conference. The conference theme, inspired by Greenland's 2022-2030 National Research Strategy, is "Making Science Matter."
NSF values the partnerships between the Greenland and U.S. research communities, as these collaborations are critical for addressing urgent scientific issues related to the changing Arctic and its impacts on Greenland communities and global society​. The Principles for Conducting Research in the Arctic established by the U.S. Interagency Arctic Research Policy Committee (IARPC), are guidelines for conducting research ethically, responsibly, and respectfully throughout the Arctic.