Image: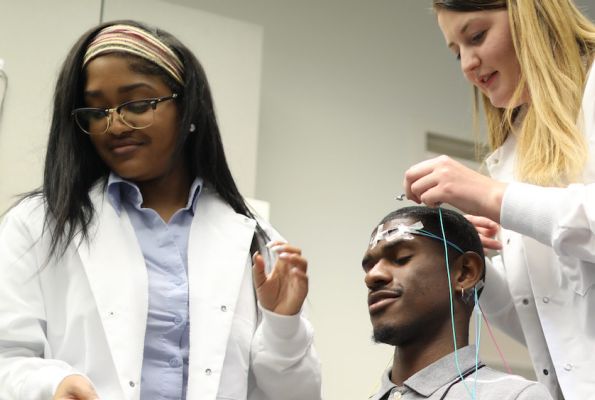 NSF supports researchers through the COVID-19 pandemic
Carlos Peredo, a paleontologist and early career scientist, had been looking forward to the opportunities that his new, two-year NSF postdoctoral fellowship would provide him with at the University of Michigan. In particular, access to the paleontological collection in the museum in Ann Arbor would really be a boon to his research. But then the pandemic hit, and the museum that Peredo was relying on closed its doors for the duration.
"I haven't held a fossil for a year-and-a-half," he said.
For an early career researcher like Peredo, a postdoctoral position is an important phase of their career when, typically, scientists are proving their research potential by showing their ability to be active, independent investigators -- something that is essential for their resumés. In academia, it's the phase between being a research student and gaining a position as an assistant professor or lecturer. Like many of his peers, Peredo had found his planned career trajectory derailed by the pandemic. But the U.S. National Science Foundation stepped in and gave him both supplementary funds to weather the pandemic and additional time to conduct his research.
"The pandemic has been a nightmare for a lot of us." said Peredo. "Having the financial security and peace of mind regarding my salary through it has been a small sliver of comfort and hope throughout".
NSF research has found that the pandemic has significantly impacted scientists in the U.S. A study by Kyle Myers and colleagues found that more than half of scientists reported a decline in their ability to work, with an average of 25% less time spent on research. In particular, scientists that needed access to laboratories, field work or similar facilities were heavily impacted.
As part of the national effort to recover from the COVID-19 pandemic, NSF has been helping scientists, engineers and STEM educators to continue their important work and to get support through these difficult times. Thanks to the support by Congress and the Administration, -- including the $600 million provided by the American Rescue Plan -- NSF has been able to aid both impacted individuals like Peredo and institutions negatively affected by the pandemic.
Supporting early career researchers
Across NSF an estimated 505 postdoctoral fellows are being supported through a combination of Fiscal Year 2021 and American Rescue Plan funds. Additionally, an estimated 176 existing postdoctoral fellows were able to extend their fellowship to finish research projects delayed by the pandemic.
These early career researchers, often saddled with tuition debt, have not yet had the opportunities to build up financial reserves through stable employment, and many do not have the resources to weather the pandemic, especially those with young families to support.
"The NSF supplement was a huge relief," said Sara Lipshutz of the biology department of Indiana University. As she was unable to travel to her field study sites, her research was delayed by a year. The support added to her award through the Postdoctoral Fellowships in Biology program allowed her to finish laboratory work analyzing and processing samples.
"I'm so grateful that NSF supported me at this vulnerable career stage" she said. "The needs of postdocs are often forgotten or neglected at the institutional level. NSF's supplement filled an important gap for many postdocs."
Matthew Savoca, a biologist who normally works on samples stored in the Smithsonian Institution, said that the support was a blessing, too. "When the COVID pandemic shut down all museums and research facilities in the United States for much of 2020, I feared that my postdoctoral work was in jeopardy. Undoubtedly, this would have had future negative consequences for my career. The funding supplement allowed me to undertake my research nearly as planned, thus limiting the negative impact of the pandemic on my career's future. It was a great relief!"
Another recipient, Durre Muhammad, emphasized that it was not just the ability to do lab or field work that was impacted. "Six months into my postdoctoral fellowship, the mandatory closure of Rice University labs caused an abrupt halt to my research. … This time was also difficult, as I managed to homeschool my daughter until January 2021. Having an extended year, with funding, is allowing me to complete my intended research aims, mentor an additional undergraduate student and work to continue on my goal of obtaining a tenure-track research position."
Early career scientists in other fields also benefited from the supplementary funding. "The additional funds from the program were pretty much the only reason I could safely move to my fellowship position in the middle of the pandemic," said Michael Ann DeVito of the University of Colorado Boulder, a recipient of the Computing Innovation Fellowship. "Starting a postdoc is a weird liminal moment. You're not a grad student but not at the new university yet, and you really don't have many pathways to seek support. The additional funds were really helpful in setting me up to start my fellowship without a ton of extra worries."
Reaching out to all research levels
It is not just postdoctoral researchers that are being supported. Across NSF, there have been numerous efforts to provide support to students at other levels of education impacted by the pandemic, especially individuals belonging to groups traditionally underrepresented in science and engineering fields.
For example, the Directorate for Biological Sciences invested nearly $12 million in 259 supplements to current research awards as part of its Research Experience for Post-Baccalaureate Students in the Biological Sciences Supplemental Funding Opportunity. These awards make it possible for recent college graduates to participate in mentor-guided, independent research for a period of up to 12 months. For these students, this kind of experience can be an important career steppingstone, helping them with their applications for graduate school or giving them valuable laboratory and technical experience for jobs in STEM.
NSF is also providing opportunities for research experiences to those still completing their undergraduate studies. As part of a collaborative investigation into how floodplains have and are responding to climate change, researchers at Dartmouth College, the University of Massachusetts and North Carolina State University developed a  "virtual field project" for undergraduate students related to terrace formation. This project, led by an early career female scientist, also included a summer workshop on landscape evolution for middle school girls from historically underrepresented groups and a community field workshop to share project results.
In addition to individuals at critical career transition points, funds have also been targeted towards other groups that have been disproportionately impacted by the pandemic. These groups include female researchers who have had to juggle primary responsibilities for increased childcare and/or other family-related obligations with their research and academic duties. For example, the NSF-funded study by Kyle Myers and colleagues found that scientists with at least one young child -- less than 5 years old -- spent 17% less time on their research.
NSF has also focused on supporting minority-serving and less affluent institutions. These institutions, and the researchers, students and staff that they serve, were impacted particularly heavily by the pandemic. Using funding provided by the American Rescue Plan, NSF was able to provide greater support to those institutions, their researchers, students and staff, and their collaborators at other institutions.
For example, American Rescue Plan funding provided nearly half of the $12 million NSF invested in its Build and Broaden Program supporting minority-serving institutions, such as historically Black colleges and universities and Hispanic-serving institutions. Led by NSF's Directorate for Social, Behavioral and Economic Sciences, the program focuses on supporting research and training opportunities, as well as the development of new research infrastructure at those institutions.
Facilities and research infrastructure have also been supported. Nearly $9 million was invested to support completion of the Daniel K. Inouye Solar Telescope, which was 96% constructed before the pandemic brought work on the facility to a halt.
As of September, NSF has mobilized nearly $1 billion in relief funds to support scientists and research during the pandemic from a combination of American Rescue Plan, CARES Act and other funding.
Michelle Afkhami, an assistant professor in the University of Miami's Department of Biology, said, "I have been impressed how NSF has been really considering scientists at vulnerable career stages affected by the pandemic. … This sort of challenging time could derail excellent students and postdocs, so it is wonderful that people at NSF are making an extra effort to recognize the issue and give them a helping hand."
The pandemic may have a long-lasting impact upon scientific research and innovation. An NSF-funded study by Jian Gao and colleagues from Northwestern University and Harvard University found that, during the pandemic, scientists who were not involved in COVID-19-related research started 36% fewer new projects during the pandemic. The pandemic seemed to have a chilling effect on scientific innovation that could have long-term impacts. However, NSF has played a major role both in supporting scientists during the pandemic and helping scientific enterprise in the U.S. to recover.
More information on NSF support in response to the COVID-19 pandemic, as well as updates on NSF American Rescue Plan funding and other spending on pandemic relief, is available on the NSF "toolkits" page.