Image: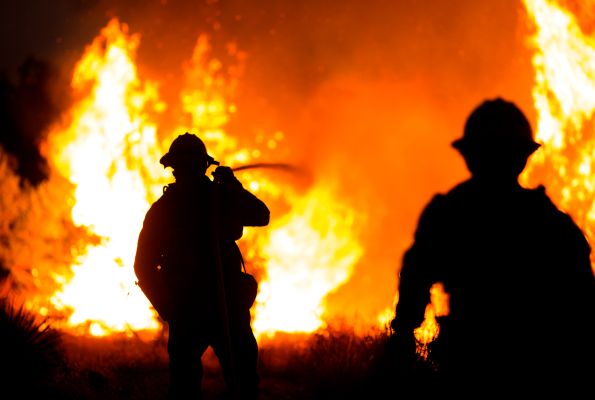 #NSFStories: Fighting fires with supercomputers
Los Angeles Fire Department Capt. Tim Werle cranked the temperature up to 110 degrees Fahrenheit, tuned the Santa Ana winds to swirl hard from the northeast, and dropped the humidity down to a bone-dry 5%. He carefully picked his target, a mostly uninhabited grasslands preserve just outside San Diego.
With a click of his laptop's mouse, he dropped a match into conditions perfect for a disaster. His eyes widened as the brushfire burst angrily across 1,500 acres in just two hours. Looking across the WIFIRE Firemap, a satellite image map overlaid with terrain and access roads, Werle could instantly strategize exactly where to send his crew to get ahead of this fast-moving, simulated blaze, to practice for the real thing.  
The WIFIRE Firemap is a real-time interface that simulates and projects how quickly a real wildfire might spread and can even make projections on how many structures or people might be affected. It currently shows the location and status of every active wildfire in the US, and such advanced computer-based tools are now just as essential as a firehose in the current era of fighting wildfires.
When a fire is reported, emergency dispatchers input live data into WIFIRE, such as location, temperature, and wind speed and direction. This technology gathers all of the information in one place, and enables firefighters such as Werle to better target the deployment of fire trucks, planes or digging crews. From the resulting data, dispatchers relay the information within minutes to teams on the ground and in the air. In a firefight, every second matters, and quick response saves lives and homes.   
The 'crystal-ball' capability of WIFIRE to crunch all the relevant information in real time is far from magic. This technology, funded by the U.S. National Science Foundation, is made possible by a cyber-infrastructure that connects real-time weather information, infrared images from fire planes, satellite maps of terrain and brush, and other data to predict what a seemingly fickle wildfire might do next. If you think that's smart, WIFIRE also learns from past inaccuracies and quickly evolves its ability to predict fires with each bit of new data in real time.  
The deployment of WIFIRE is an incredible confluence of technology, science and old-school firefighter experience, says Werle. The WIFIRE team is led by Ilkay Altintas, an NSF-funded computer scientist at the University of California, San Diego, who uses her expertise in workflow to connect data science with fire science in collaboration with the San Diego Supercomputer Center. Altintas says that the nuts and bolts of the technology behind WIFIRE is the interconnectedness of the inputs. In fact, another NSF-funded project, HPWREN, was the tinder for WIFIRE. It provided inputs for predicting and spotting fires by connecting the existing network of cameras and weather stations scattered throughout San Diego County.  
Altintas says this technology would not be possible without funding from the National Science Foundation. Her team's work is more relevant than ever as devastating wildfires are occurring more frequently and more intensely because of drastic changes to the climate, and more homes are being built near wooded or grassy areas away from cities.
Together with local firefighters, the WIFIRE project combines modern technology with years of firefighting know-how to shape the future of emergency wildfire response.