Image: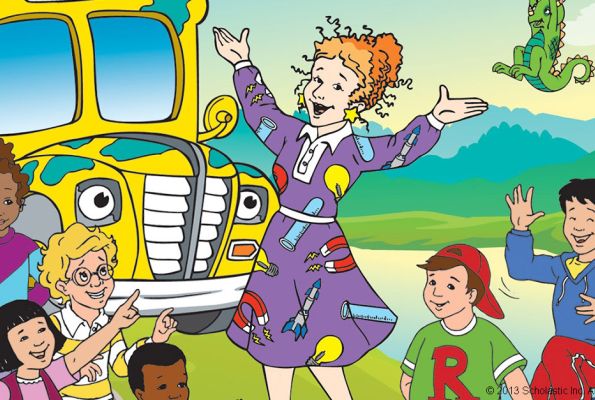 #NSFstories: What a magic school bus can teach us about science education
This field trip has gone horribly wrong.
A school bus full of third graders sits stranded, submerged in a dense, sticky substance with no way to escape. Then someone comes up with an idea. They add baking soda to a vial of vinegar and top it with a balloon. The mixing of the two substances causes an immediate chemical reaction that produces carbon dioxide, inflating the balloon and lifting them to safety. Ms. Frizzle's students have once again used science to get them out of a jam -- this time in the form of a cake.
Twenty years ago, four-year-old Alex Peterson was on the edge of her seat watching Ms. Frizzle and her class escape from being baked inside a cake on the "Ready, Set, Dough" episode of "The Magic School Bus."
"I loved baking when I was a kid. Watching those air bubbles form, it just clicked for me that chemistry is what makes cakes, and I realized that this is what I wanted to do," says Peterson, now a doctoral student in biochemistry at the University of Maryland. "I have a very vivid memory from third grade of looking at the schedule and counting down the time to science class because I just couldn't wait to do science in 'real life.'"
In her university lab, Peterson studies the enzymes that form biofilm, a slimy buildup of microorganisms that can grow on all types of surfaces, from teeth and buildings to pacemakers and ponds. She's looking for a way to effectively break down the notoriously impenetrable substance, which can make it hard for medications to reach the infections they need to treat. Finding a way to reduce biofilms could make treatments more effective. When asked about the effect "The Magic School Bus" had on her current career path in science, Peterson says, "It's absolutely why I'm a chemist."
Twenty-five years ago, Scholastic's "The Magic School Bus" veered off the written page and into our television sets, bringing with it a credo that emphasized taking chances, making mistakes and getting messy. Support from the National Science Foundation helped bring the celebrated book series to the airwaves and to young viewers like Peterson, sitting frog-legged on living room floors across the country.
Sandy Welch was the director of education at PBS when the network picked up "The Magic School Bus" as part of its portfolio of children's programming.
"We were excited because it was the first fully animated science show," Welch says. "I was excited to see a teacher featured, and not just any teacher -- [Ms. Frizzle] was a delight!"
Welch says Ms. Frizzle helped inspire teachers to use the programming in their classrooms.
Today, Welch is part of a division in NSF's education directorate dedicated to providing funding for children's media programs that focus on STEM education. It supports the agency's multi-decade effort to boost science learning beyond the classroom, where research has shown most learning takes place.
"We know that children learn intuitively and that a lot of it happens in an informal setting," says Welch.
NSF supports a wide range of informal STEM programming in museums, through after school programs and citizen science projects. With mass media, however, there is a potential to reach millions.
According to Welch, for NSF to fund a media program it must meet rigorous criteria. Creators must demonstrate the concept was developed based on existing knowledge of best practices in STEM education and how children learn through media. They must have clearly defined goals on how to interest, engage and impact learners. They must have a way to evaluate the program's impact.
And they must be innovative.
"Our program is explicit that we want to fund innovation," Welch says. "We are looking for proposals that experiment with new technology, a new approach, a new distribution platform. We're willing to fund things that may be risky -- like a new platform that hasn't been tried but seems to hold promise."
"The Magic School Bus," "3-2-1 Contact," "Reading Rainbow," "Zoom" and "Bill Nye the Science Guy" were just a few of the early NSF-funded shows that took an innovative approach to bringing science to life on the small screen.
Today, NSF-funded shows like "Cyberchase," SciGirls," "Peep and the Big Wide World," "Peg + Cat" "Design Squad," "Splash and Bubbles" and others continue to break new ground in children's science learning through media.
"Peep and the Big Wide World," for example, was one of the first programs to show that toddlers could learn basic science concepts and skills like measuring, comparing and estimating through television shows geared toward their age group.
"SciGirls" was launched in response to the fact that women in the U.S. remain underrepresented in STEM, especially in fields like engineering and the computer sciences. The show engages tween viewers in STEM by following a group of real-world girls as they predict, observe, experiment and otherwise don their "scientist hats" to understand the world around them.
Many of today's shows have also been adapted to a multimedia and mobile world, augmenting their TV programming with innovative web content and downloadable apps. Kids who love "Cyberchase," a show designed to make math fun and accessible and that NSF began funding in the late 1990s, can now access educational games, videos and hands-on activities via the "Cyberchase" webpage on the PBS Kids website and through apps. The webpage for "Design Squad," another NSF-funded show on PBS, offers short videos on how to make everything from a two-wheeled balloon car to bristle bots made from toothbrush heads.
Through on-screen characters like Peep, Peg and Digit, and with access to hands-on activities and other innovative science content, NSF is ensuring quality science programming reaches newer generations of Alex Petersons, inspiring them to become scientists or -- at the very least -- to take chances, make mistakes and get messy!