Image: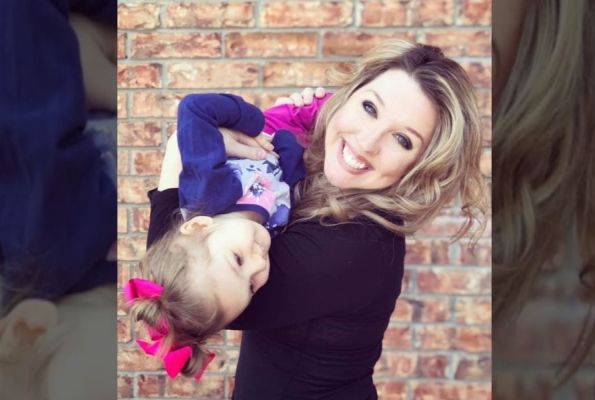 #NSFstories: Where the Wild Things are
According to her big brother, Brooklynn has always been an angel.
But to hear Rachel Enos, Brooklynn's mother, tell it, her three-year-old daughter is more like a Hells Angel ever since she brought home an adapted Power Wheels vehicle through the GoBabyGo program.
"She doesn't show mercy," Rachel says. "If she wants to run you over, she's going to run you over. She'll know – 'I'm going to go right towards him, and they better get out of the way.' We have videos where her brothers are screaming."
These scenes – Brooklynn running down her brothers, performing "donuts" in the driveway and splashing through puddles – fill Rachel with delight.
"This is a special needs mom's dream: to see your kids all playing together versus when [Brooklynn] just had to lay on the floor all day," she says. "It's been really cool."
It's something Rachel and her family likely thought they'd never see after Brooklynn was diagnosed with a neuromuscular disease three years ago. Two weeks after bringing their infant daughter home from the hospital, Rachel and her husband noticed Brooklynn seemed limp. Her legs frogged out and her breathing seemed different, labored.
After a frustrating fight for answers and just three weeks before Christmas, a doctor finally gave them a diagnosis. Brooklynn had a rare genetic disease – spinal muscular atrophy – that causes muscles in the body to wither, including those used for swallowing and breathing, as well as crawling or walking. In infants, the disease is often fatal.
"The doctors didn't think she'd make it to Christmas," Rachel recalls. "They advised us to go home, be with Brooklynn, have family time together. I was in complete shock and disbelief that my child could possibly have some rare disease that was going to kill her in a few weeks."
Mobility and cognition
Brooklynn made it through that first Christmas and the two that followed thanks to a new drug Rachel learned about from another parent. Slowly, Brooklynn regained muscular control in her fingers and arms.
Her hips, though, were dislocated. Because she'd never crawled or walked, Brooklynn hadn't put weight on her legs and her femur bones never formed correctly. At three years old, Brooklynn was completely reliant on others to move her around.
The connection between movement and Brooklynn's development is something Rachel thinks about constantly.  
"Brooklynn is, cognitively, completely there," she explains. "I try to ensure she's doing the same things her cousins of similar age are doing, to ensure she's doing age-appropriate things."
University of Delaware developmental scientist Cole Galloway studies the link between mobility and cognitive development in children. He knows that infants and toddlers with mobility disabilities like Brooklynn's are often not afforded the same early learning opportunities as their more able-bodied peers. From the earliest ages, children crawl, walk, touch, feel, push and otherwise begin to move independently around their surroundings, exploring and learning about the world around them. During this time, they develop critical cognitive, social and motor skills. Children with moderate to severe mobility impairments, however, risk missing out in developing these skills.
In 2012, with funding from the National Science Foundation, Cole joined forces with another NSF-funded researcher, mechanical engineer Sunil Agrawal, to build a robotic vehicle for infants and toddlers. They began testing the prototype with special needs children at their university's early learning research facility. They found that infants can steer mobility devices earlier than they can crawl or walk. As they quantified the results from the prototype, their research also showed an increase in the cognitive and language scores of children using the prototypes.
"Very young infants are very capable of learning to drive," Cole says. "For kids with mobility delays, this will provide them the means to interact with the world and 'drive' their own development similar to a typically developing child."
As more parents began asking for the high-tech prototypes that he and his colleagues had built – of which there were only three – Cole started thinking about a less expensive option for parents and caregivers.
He found he could take the brightly colored electric cars available at toy stores and easily retrofit them with items from a local hardware store, transferring the high-tech abilities of their lab-built robots to the store-bought, lower-tech cars.
"Driving impacts infants' development across cognitive, language and motor domains similar to typical development," Cole explains. "We learned that these effects, both statistical effects and the impact on kids and families, were moderate to large, which means that our cars can become a powerful intervention, while simultaneously allowing kids to enjoy the fun of participating with their family and friends."
His team launched GoBabyGo and made the open-source plans showing how to hack the cars publicly available.
Today, a network of more than 150 GoBabyGo chapters exists around the world, including one managed through Variety KC, a non-profit for kids with disabilities in Kansas City, where Brooklynn and her family live. In 2015, a robotics team from The Barstow School, a local high school, started working with GoBabyGo through Variety.
"I'm really focused on user-centered design and the empathy side and engineering for social good, and this is where all of those intersect," Gavin Wood, Barstow's FIRST Robotics coach and director of STEAM (science, technology, engineering, arts and math), says of GoBabyGo.
His group has since built 78 cars, published several manuals, created car kits, trained other robotics teams and organized an annual build competition among local high schools. Gavin and Cole started thinking about how to get more schools involved in GoBabyGo.
A purple "go-go" for Brooklynn
At Barstow's annual GoBabyGo Build Day event, parents, siblings, grandparents, aunts and cousins all turned out to see Brooklynn and 22 other special needs kids get their new cars.
"It was a huge deal for us because Brooklynn was moving on her own," Rachel says. "My family has seen us struggle for so long, and so everyone wanted to be there for the event."
In the gymnasium, Power Wheels Jeeps and Maseratis -- some covered in Kansas City Chiefs stickers -- Dune Racers, Wild Things and even a bike-hoverboard hybrid awaited their new owners. In the middle was Brooklynn's ride, a Wild Thing customized just for her.
The Barstow high school students who worked on Brooklynn's car – or "go-go" as Brooklynn calls it – installed a Velcro system in the seat to keep her upright, a joystick that could be moved to either her right or left hand, and a basket to hold the portable suction device Brooklynn needs to clear her airways. The color?
"Purple all the way," says Rachel. "She's a purple kind of girl."
Rachel was impressed with how the high school team worked together and thought of everything, right down to the sparkly purple duct tape.
"I told the team of students, I don't know if you realize how big an opportunity you're giving her to play outside," Rachel says. "This is life changing to a little girl who has brothers that she can't play with. They're giving her independence with this chair and allowing her to be a free spirit."  
Gavin, Barstow's robotics coach, says GoBabyGo has also been life changing for his students.
"I just haven't found a loser in this whole thing yet," he says. "Everybody wins. The kids that build the cars win. The kids that get the cars win. The families win. It's kind of a no-brainer for me."
Three months after bringing Brooklynn's Wild Thing home, Rachel sees a difference in her daughter, beyond the joy of simply playing with her brothers.
"I do think that her hand-eye coordination has gotten better because she realizes she has to turn her hand a certain way to go a certain way," she says. "There's a special stop sign that she loves to go to, so I know she's already planning her destinations ahead of time. I think, mentally, it's giving her a goal to meet and then using that hand-eye coordination with the joystick to get there."
For Cole, GoBabyGo's founder, parents and other caregivers like Rachel are an integral part of the project's growth and success.
"Our goal with GoBabyGo is to help others co-create their world through the human right of mobility," he explains. "That means our real-world technology must be designed to be both scientifically impactful and mom approved. Families are much more than simply 'research subjects.' Each are valued partners who openly share their ideas, struggles and dreams – that's community-active neuroscience!"
The NSF awards that funded Cole's early studies and technology advancements provided important data on human-machine interfacing, specifically how babies and mobile technology interact. Thanks to his NSF-funded work, Cole and this team were able to design clinical trials supported by the National Institutes of Health.
"GoBabyGo is a collective of citizen scientists, from middle and high school students to university labs, community organizations, toy and medical industry leaders," he says. "We need a federal agency that understands our urgency and supports our vision. NSF is here for the Brooklynns of the world – NSF gets it!"
See Empathy and engineering: Q&A with Lexi Dixon to hear from one of the Barstow high school students who helped build Brooklynn's car.