Image: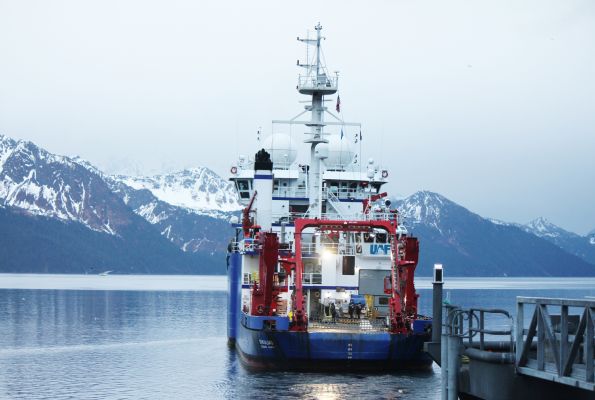 Ocean research in the time of COVID-19: Expedition to the Gulf of Alaska keeps vital research and data collection on course
It was an oceanographic research cruise that, as scientist Russ Hopcroft of the University of Alaska Fairbanks says, "was just plain strange." Like almost everything this spring.
National Science Foundation-funded ocean expeditions, and indeed those of the entire U.S. Academic Research Fleet, were on pause due to the risks of COVID-19 (think: dozens of people in a confined space aboard ship). But for seven days in May, Hopcroft's cruise to the Northern Gulf of Alaska was given permission to sail.
A biological oceanographer, Hopcroft is the principal investigator of the NSF Northern Gulf of Alaska Long-Term Ecological Research site, one of 28 such sites in ecosystems from grasslands to deserts, coral reefs to coasts, across the U.S. and around the world.
Hopcroft's study of marine life in the Gulf of Alaska builds on decades of research in the region. The ability to sustain long-term monitoring of ocean ecosystems allows scientists to track changes as they develop over time. These observations improve knowledge about marine processes and provide key insights into the health of Alaska's fisheries. Losing one season of data would have adversely affected the study for years to come.
Monitoring marine life in the Gulf of Alaska
The Gulf of Alaska is home to iconic species of crabs, fish, seabirds and marine mammals. This productive region has a strong seasonality, with a huge spring bloom of phytoplankton that provides meals for numerous zooplankton species, including millions of tiny, swarming crustaceans called copepods. 
Copepods grow quickly, storing fats and oils to carry them through the following winter. Their energy-rich bodies are food for numerous other species. "Year-to-year variability in the ocean can change the timing and intensity of the spring phytoplankton bloom and its effects on zooplankton like copepods," says Hopcroft. "That in turn affects larger organisms such as fish."
For 50 years, scientists at the University of Alaska Fairbanks have monitored ecosystem changes at a station named Gulf of Alaska One, or GAK1. GAK1 is an anchor for a sampling transect that extends 150 miles offshore; it's called the Seward Line. 
Researchers have studied how the waters along the Seward Line reflect changes in ocean chemistry, and in cycles of the phytoplankton and zooplankton that ultimately form the prey base for many Alaskan fisheries. 
Such multi-decade studies are at the heart of the Northern Gulf of Alaska LTER site. "Northern Gulf of Alaska LTER cruises are designed to capture the gulf's major oceanographic seasons," Hopcroft says, "sailing each spring, summer and early fall to understand what makes this region so productive and – so far – fairly resilient to change." 
Research continuity during a pandemic
"As services and facilities closed during March in response to the coronavirus," Hopcroft says, "it became clear that the planned May cruise was in jeopardy." And so began the process of adapting as the situation changed. Researchers needed to prepare for an uncertain transit aboard the research vessel Sikuliaq, owned by NSF and operated by UAF.
Working closely with UAF ship managers, the scientists looked at ways of complying with risk mitigation plans. The expedition would be reduced in scope and in the number of researchers allowed to participate. "As our cruise date approached, we found ways to proceed with minimal risks," Hopcroft says.
Adds Cynthia Suchman, a program director in NSF's Division of Ocean Sciences, "We're glad the team could adapt its field program to stay safe during the pandemic, and still collect measurements to further our understanding of the Gulf of Alaska ecosystem. Conducting this cruise with appropriate precautions and social distancing was a major challenge for the scientists and the Sikuliaq crew, and they did a fabulous job."
The scientists and ship managers planned well – and were lucky.
Lucky is as lucky does, especially at sea
"Lucky, however, is a relative term," says Hopcroft. "'Lucky' meant that we would be allowed to sail, but not without significant restrictions."
To be sure the virus didn't enter the close confines of the ship, the crew quarantined in early April. Scientists were required to home quarantine for two weeks before embarking and to monitor their temperatures twice a day. No out-of-state participants would be allowed to join the cruise. 
Rather than fly to the ship, the researchers drove 500 miles nonstop from Fairbanks to the vessel's home port in Seward to avoid public contact. "Most challenging," says Hopcroft, "was the decrease in the science party from 24 to just three."
At sea were Hopcroft, physical oceanographer Seth Danielson and chemical oceanographer Ana Aguilar-Islas, all from the University of Alaska Fairbanks. "Allowing so few people kept anyone from needing to share a stateroom and increased social distancing while onboard," Hopcroft says. It also led to a reduction of cruise days from 14 to seven.
Those days were long. "Everyone needed to perform sampling that would usually be done by a scientist who was unable to participate," Hopcroft says. The team relied on support from the ship's crew and marine technicians to make up for reduced staffing.
Empty labs, new experiences
"It was the oddest feeling," Hopcroft remembers, "to be the sole person in a lab normally packed with as many as a dozen scientists. To be so scaled-back that setup and pack-up could be done in a few hours. To be in the ship's mess at mealtime and have only two or three other people eating, each well-separated by several seats. To rarely pass or even see anyone in a passageway."
The researchers split their responsibilities into two shifts. During the day, Danielson ran instruments that profile water temperature, salinity and other parameters, then deployed small plankton nets. Aguilar-Islas sampled the gulf for nutrients, dissolved oxygen, plant pigments and microplankton.
At night, Hopcroft handled a towed net system, then live-sorted and photographed zooplankton collected that morning. "It was essential to be prepared for the day's sampling before your shift started, or you couldn't keep up," Hopcroft says.
In the end, he remembers, "we dodged several storms, but we accomplished our goals."
Without this spring's cruise…
The loss of a season in a long-term dataset might seem unimportant, but that's far from the case, according to Hopcroft. "Missing one year of the spring plankton bloom, for example, would affect our results for a long time to come. Lost data can never be replaced."
If a gap happens when something unusual takes place, scientists may never understand what occurred or why.
"This season, things were relatively normal," Hopcroft says, "but some large whirlpools, called eddies, on either side of the Seward Line disrupted the usual patterns of both phytoplankton and zooplankton. Our summer cruise will help us understand how these anomalous patterns played out in the ecosystem."
To account for changes in large ecosystems, "scientists usually use an ensemble of observations," Hopcroft says. "For example, Northern Gulf of Alaska Long-Term Ecological Research data are an important part of Alaska's fisheries management plans."
Next time an Alaskan king crab, halibut or salmon lands on your dinner plate, data from a research expedition in the Northern Gulf of Alaska likely played a role in keeping the fishery healthy. Seven days in May might have made all the difference.