Image: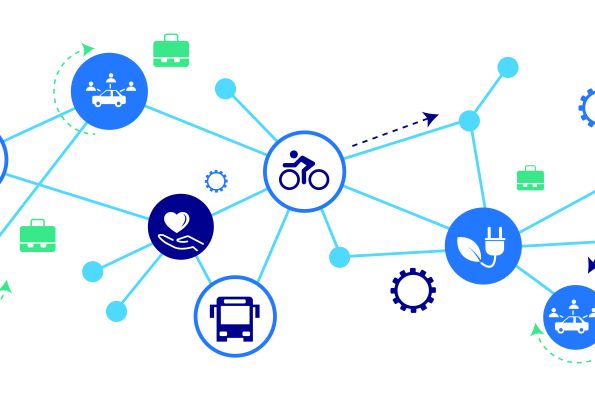 Pilot programs help workers and students cross transit deserts
NSF Civic Innovation Challenge working to connect people with jobs, educational opportunities and essential services
 The neighborhood of Georgian Acres in Austin, Texas, is surrounded by highways and high-speed roadways that cut off its nearly 9,000 residents from easily traveling in or out of the neighborhood. Public transportation is critical to reaching jobs and educational opportunities in other areas of Austin, but options are limited and often too expensive for the residents, who are mostly identified as having low- and moderate-incomes.
The residents of Georgian Acres are trapped in a transit desert – an area with poor public transportation and possibly poor biking, sidewalks or road infrastructure. These transit deserts are found in urban areas throughout the U.S. and often impact low-income neighborhoods of color and can have negative effects on the health, job prospects and economic mobility of the population.
The phrase transit desert was coined nearly a decade ago by Junfeng Jiao, an associate professor at the University of Texas at Austin. He leads "Co-Creating a Community Hub for Smart Mobility," one of six community-focused projects being developed as part of the National Science Foundation's Civic Innovation Challenge. NSF, with the Departments of Energy and Homeland Security, is investing up to $1 million in each effort.
The six projects were selected for based on their work addressing a local challenge during the first stage of the program. The solutions being expanded under the second stage will improve the lives of local residents and also become templates to address community-level issues across the U.S. Read more about these six mobility projects below. 



1. Co-Creating a Community Hub for Smart Mobility

 
In Stage 1, Jiao's team, in collaboration with the Austin Transportation Department and the nonprofit Jail to Jobs organization, performed a community engagement campaign – 23 different activities – to understand their needs and then co-design and develop the proposed center of activity, or "hub." The hub will provide residents access to alternative transportation options – shared bikes, e-scooters and a neighborhood circulator – and also offer free Wi-Fi and other community services.
The hub is intended to address the immediate transportation needs of the residents and provide additional data that guides future policy decisions made by the city. Jiao and his team believe this project will help researchers and policymakers understand and address long existing transportation inequities and aging urban infrastructure problems throughout the US. 
2. User-Centered Mobility Solutions: A New Vision to Connect Jobs and the Labor Force

 
A team led by the University of Wisconsin-Milwaukee is working with civic partners to help low-income, minority workers living in urban neighborhoods commute to jobs in the suburbs of the greater Milwaukee region. Often, these workers face challenges in reaching the points where buses or other public transit lines that can connect them to jobs in suburban areas.
Two models for addressing the issue – one labor force-centered and one employer-centered – were developed using input from workers and employers collected during Stage 1. The team is now tracking the efficiency, financial feasibility, environmental sustainability, economic benefits, equity implications and participant experience of each pilot project.
"This was perfect timing given the labor shortage," said Lingqian (Ivy) Hu, a professor at the University of Wisconsin-Milwaukee. "These employers need workers, and we are working with multiple workforce development organizations, business organizations, and community partners to help recruit workers."
3. Piloting On-Demand Multimodal Transit in Atlanta

 
The Georgia Tech Research Corporation and the Metropolitan Atlanta Rapid Transit Authority are deploying on-demand shuttle services to address the challenges commuters face covering large distances between bus stops and eventual destinations. For example, instead of waiting at a traditional bus stop, a person needing a ride to the grocery store could use a smartphone app to summon a vehicle to a nearby location also picking up other passengers.
"We've been working on this integrated transit system and on-demand shuttle system for about 10 years," said Pascal Van Hentenryck, a professor at Georgia Tech. "Most of this was for small cities and college campuses. We could show the benefits in those settings, but we want to see if it really works for a large, complicated city." The program intends to fundamentally transform public transit into a flexible, scalable and affordable system that meets the needs of all residents regardless of where they live in the service area. 
4. A community-based framework to develop Shared 

MicromobIlity

 for 

affordabLe-accessIblE

 housing, or SMILIES

 
Led by the University of Arkansas, the team behind this project is designing and deploying microtransit services in smaller, rural neighborhoods in Fort Smith, Arkansas, where more than 65% of city residents face challenges accessing transportation. SMILIES is a community-engaged pilot project to improve the accessibility to jobs and essential activities for affordable housing communities in small- and mid-sized cities of rural areas, "a relatively unexplored space in transportation," said Suman Mitra, a professor at the University of Arkansas.
Approximately 1,500 Fort Smith citizens are participating in the program, which will deploy e-bikes and e-scooters in high-risk communities in Fort Smith to estimate their impact on household transportation costs, job access and more, especially for residents that don't work traditional hours. "Not all jobs are 8-to-5, and public transportation often does not help after 5 p.m.," Mitra said. "We need to provide these services to those that really need it."
 
5. Civic Bicycle Commuting, or CiBiC

 
This UCLA-led project is alleviating some of the challenges of commuting in Los Angeles by making cycling to work safer and more accessible — while also creating digital art. Many of the residents the project engaged with said they were interested in commuting by bicycle if they felt it were safer.
"The first hurdle is the mythology of the danger of the bicycle – that moving in a city is dangerous," said Fabian Wagmister, a professor at UCLA. "We strongly believe data shows that the risks are minimal. … Actually, research supports you will live longer and live better."
The school is working with the Los Angeles County Bicycle Coalition and neighborhood organizations to launch a community-driven mobile app to enable and support collective bike commuting involving more than 200 participants from underserved communities in northeast downtown Los Angeles. The app enables experienced riders to highlight their commute and pairs them with non-experienced riders to create groups. At the same time, the project integrates data from the rides to generate digital media exhibitions of the groups. 
6. Connecting Underrepresented Youths with Employment Opportunities

 
Out-of-school-time, or OST, opportunities help youths develop skills they will need to become part of the workforce of the future. In metro areas like Kansas City, there is often substantial distance between residential areas, jobs and OST opportunities. Underrepresented youth face major challenges due to limited transportation options.
A team led by the University of Kansas will build and test an integrated mobile application to help these youths find and access these opportunities. "The inspiration came from the community and community partners," said Alexandra Kondyli, a professor at the University of Kansas. "The Kansas City Public Library had done a lot of work on this topic and found first, the youth don't know what is out there for them, and second, there is an access and transportation barrier because parents have to work and can't drive them. This is really an equity issue."
The team already has identified approved transportation options and developed a mockup of a mobile application that provides awareness and access to OST opportunities. Now they are working with transportation providers on a full version of the application that is being used by up to 300 underrepresented youth across two counties in the Kansas City metro area.
Seeking nation-wide impact
Through these fast-paced projects, the Civic Innovation Challenge program is empowering local communities to solve the challenge of equity in the mobility space and increase access to work, education and public service for all.
"What is compelling is how strongly NSF is supporting and creating co-creation," said Wagmister. "It's a very difficult and complex process, but it's clear that the intention is to give us money and time to do this but also find a way to help us do this."