Image: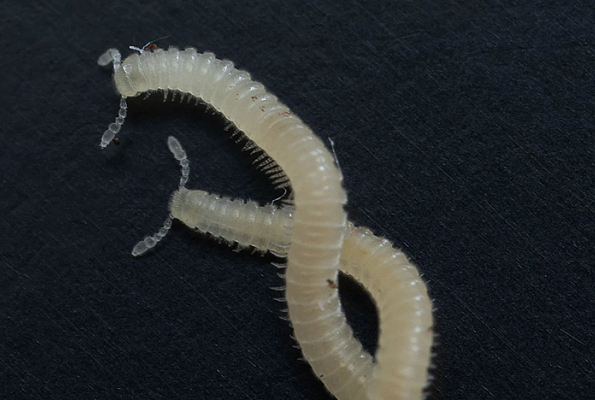 Researchers uncover new millipede species under Los Angeles
It could be a scene from a Hollywood horror movie: NSF-funded researchers found a new species of living creatures — described as pale, eyeless and with nearly 500 legs — thriving in the soil under Los Angeles. The creature is adapted to life underground and likely never surfaces, so the more than 18 million people in the region likely don't know what lurks beneath their feet.
But rather than posing a threat to humanity, the species of millipede, dubbed Illacme socal in honor of its Southern California roots, serves a critical role in the area's ecosystem. Millipedes break down dying and decaying material from plants, fungi and other sources and provide key nutrients to the soil that help support new life.
Paul Marek, associate professor of systematics at Virginia Tech, discovered the new species in two different areas of greater Los Angeles. The first was in the Whiting Ranch Wilderness Park, a 2,500-acre area of rivers and woods in Orange County just south of Anaheim, a suburb of Los Angeles. A second possible specimen, a juvenile millipede, was observed in the Eaton Canyon Natural Area, just north of another suburb, Pasadena, but could not be fully identified given its relative age.
The discovery was published today in ZooKeys.
Work like Marek's to identify new species and place them in the evolutionary tree of life helps to describe Earth's biological diversity and shows that even in densely populated metro areas there's much diversity to discover beneath our feet. There are an estimated 4 million to 6 million arthropod species, including millipedes, living on Earth, but only about 1 million have been described to date. While specimens of l. socal were only found in these particular areas, Marek believes species likely lived in other parts of the LA-metro area before development led to habitat loss. The limited habitat makes conservation of the species more important.
"Studying and cataloging millipedes and other species that live in and feed the ground below us can help us to make informed decisions to conserve biodiversity on this planet and also help preserve the environment that humans also depend on," Marek said.