Image: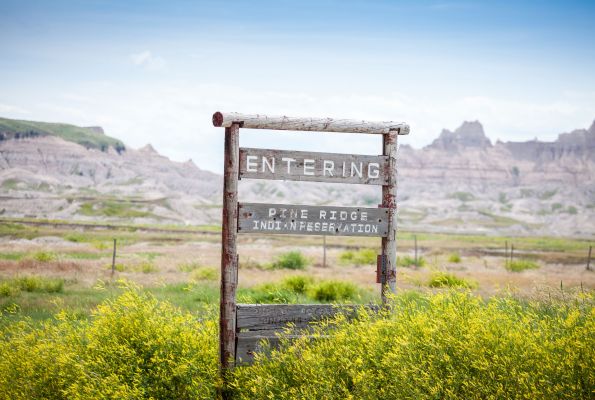 Tribal colleges and universities partner to fill COVID-19 data gaps
When Elisha Yellow Thunder first learned of COVID-19, she worried that her community would be hit hard. As a member of the Oglala Lakota Nation (Oglala Sioux Tribe), born and raised on the Pine Ridge Indian Reservation in South Dakota, Yellow Thunder knew that her community was not equipped to address a pandemic. Nearly a year later, Yellow Thunder mourns the loss of many relatives. Like many tribes across the U.S., the Oglala Sioux Tribe has been devastated by a loss of elders, many of whom are the cultural knowledge-keepers and fluent speakers of the Lakota language.
American Indian and Alaska Native communities have been disproportionately impacted by COVID-19 compared to other racial and ethnic minority groups, according to Centers for Disease Control and Prevention data. Compounding this problem, COVID-19 data has not been collected or shared consistently across American Indian reservations.

This lack of data accessibility has made it difficult for tribal nations to respond quickly and effectively to the ongoing health crisis.
To help mitigate the impact of the pandemic on tribal communities, Yellow Thunder and three other students studying data science at Oglala Lakota College in South Dakota and United Tribes Technical College in North Dakota spearheaded an internship project, COVID-19 South Dakota Tribal Data Infrastructure, which focused on collecting and sharing COVID-19 data.
Data science solutions
"Data science has always been important to me," Yellow Thunder said. "Being in this research world and being indigenous, my first question is always – Where is the data for the reservation? Where is my ZIP Code?"

This mindset encouraged the students to begin their research by identifying areas where COVID-19 posed a high risk on two reservations – the Pine Ridge Indian Reservation in South Dakota, home to the Oglala Lakota Nation, and the Fort Berthold Indian Reservation in North Dakota, home to the Mandan, Hidatsa and Arikara nations.
Because distance plays a critical role in how quickly individuals can receive medical attention for COVID-19, Yellow Thunder's project focused on gathering geographic data that shows how far elders live from medical facilities. For instance, elders living in Porcupine, South Dakota, must travel over 20 miles to get to the nearest medical facility. Among initial recommendations, Yellow Thunder's data provides a strong case for the tribe to set up local pop-up COVID testing and informational centers in existing community spaces. As the project continues, Oglala Lakota College and United Tribes Technical College hope to develop and present a more complete COVID-19 dashboard to their tribal communities.

Leah Wasser is the principal investigator for the project and director of Earth Analytics Education at the University of Colorado Boulder's Earth Lab, which served as the partner for the students. "A big part of being able to address science challenges is having the skills to use the data, and it's a huge gap right now. There is so much opportunity and information locked up in large data sets, but there is a lack of skills to use the data," says Wasser
 
Building capacity: Intentional partnerships and NSF's Tribal Colleges and Universities Program
The internship project was part of the NSF-funded Earth Data Science Corps, which focuses on partnering with communities that have been historically left out of STEM. EDSC helps students develop the skills necessary to access and analyze data. Recognizing that one-off workshops and classes don't have the much-needed lasting effect of long-term capacity building, the EDSC, Oglala Lakota College and United Tribes Technical College came together to create an intentional partnership—one that would provide long-term investment and skills development for students. Such collaborations also ensure that all partners share responsibilities in partnership administration, share resources, and have equal voices for policy and decision-making.

While this project is supported through NSF's Harnessing the Data Revolution program, much of the foundation has been laid by NSF's Tribal Colleges and Universities Program.    
NSF launched TCUP 20 years ago, and the program has since funded high-quality STEM education and research at tribal colleges and universities, Alaska Native-serving institutions and Native Hawaiian-serving institutions. With the committed leadership at tribal colleges and universities, TCUP has helped develop STEM degree programs across a spectrum of tribal institutions, from two-year institutions to a growing number of master's accredited institutions, which allow students to obtain advanced training at home. 

The path to data sovereignty
Initiatives such as the COVID-19 South Dakota Tribal Data Infrastructure project underscore the importance of data sovereignty in ensuring greater accessibility and inclusivity in STEM. Data collection by outside entities has historically been a source of mistrust for many American Indian and Alaska Native communities. A lack of standard data collection practices for researchers working with these populations has resulted in omission or, at best, aggregation and misrepresentation of data.
The Oglala Lakota Nation is in critical need of resources to develop infrastructure as well as resources to train their own data scientists to collect, manage and report tribal data. Tribal colleges and universities, and projects such as the Earth Data Science Corps, can play a critical role in paving a path to data sovereignty.
Wasser urges investigators to consider what these collaborative relationships can look like – how they can empower students, provide mentorship and faculty support, and help increase access to data and data science skills.
For instance, faculty from several tribal colleges and universities have developed a data science group, which plans to meet quarterly to facilitate partnerships, share experiences and identify opportunities to grow together.
Perhaps most importantly, tribal college students and faculty want to encourage more Native youth to explore STEM fields. Yellow Thunder shared that students often do not feel that they belong in STEM.
"You belong here. It's part of the hero's journey to have to leave home, but the hero always comes home to tell the story. Never forget that."

Thanks to such intentional partnerships, Native American students can now learn data science while remaining in their home communities.
By Yuliya Manyakina, NSF Science Assistant; and Jeremy Guinn, Program Director, NSF Tribal Colleges and Universities Program (TCUP)