Image: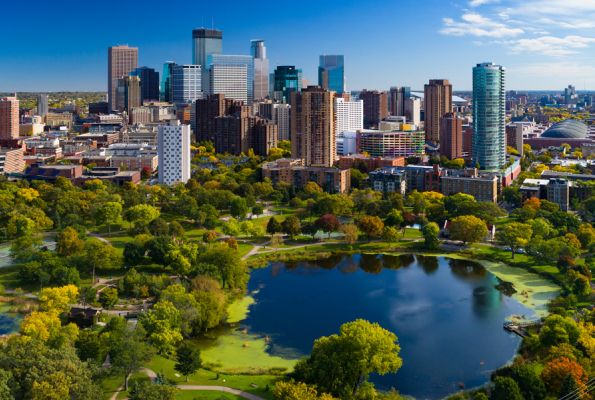 Understanding long-term changes to global ecosystems
In 1980, the U.S. National Science Foundation established the initial Long-Term Ecological Research sites to initiate continuing, and large-scale, ecological research across the globe. Today, over 28 sites drive ecological research and discoveries from the deepest ocean ecosystems to your backyard.
Each site involves the work of dozens of researchers and partnerships. Sites vary in terms of size and can be quite large. For example, Konza Prairie contains the largest tracts of unplowed tallgrass prairie in North America. By design, these sites are an incredibly valuable resource for long-term data and observation, for testing ecological theories, and for education and outreach to the public. 
Through this network of sites in the U.S., Puerto Rico and Antarctica, NSF has cultivated 40 years of sustained observations of sensitive ecosystems. Read about three of these projects, which focus on climate change impacts in Antarctica, the mountain ecosystems of the Rockies and urban settings. 
Palmer Antarctica
At the bottom of the world sits a continent covered by ice. The continent and waters are a beacon for unique scientific research on trying to understand how species live in extreme Antarctic environments and how changes in glaciers and water temperatures affect every aspect of the ecosystem.
Established in 1990, Palmer Antarctica  studies the marine ecosystem along the west Antarctic Peninsula. Research at this site includes: 
Understanding the physical components of the region, such as solar radiation, atmosphere, oceanic and sea ice, and how they impact the ecology of the species living in the area.  
The life-history of a range of ocean species, including small organisms such as krill, salps and apex predators.  
Unveiling how the region's biological processes work, in particular, the food web. 
Using physical, chemical and biological modeling that links ecosystem processes to environmental variables. 
Palmer research has captured major environmental changes in the Antarctic Peninsula region over the past 30 years. This includes changes to sea ice, climate changes in the area and the resulting impacts on the ecology of the species that call the region home. For example, the region around Palmer Station has been home to thousands of breeding pairs of Adélie penguins. In 1975, there were about 15,000 breeding pairs; now there are fewer than 2,000.
The Antarctic Peninsula remains a boundary between the polar and subpolar climate of the region. As the environment changes, Palmer Antarctic will be there to study the impacts on the region and its species.
Niwot Ridge
Established in 1980, Niwot Ridge supports the study of air, land, water, snow, plants and animals in the mountain ecosystems of the Colorado Rockies. This natural, high-elevation laboratory is ideally suited for research and education on plant and microbial ecology, hydrology, geomorphology, climate and atmospheric sciences. The only long-term site of its kind in North America, Niwot Ridge has enabled collection and analysis of valuable long-term data sets that help scientists understand the complexities of alpine tundra and other mountain habitats.
Ecosystems change slowly over time, many years to decades, and, thus, long-term observations and experiments like those at Niwot Ridge are necessary to understand the responses and resilience of mountain ecosystems to a changing climate. Data collected from these efforts are integrated into predictive models to help with forecasting and planning for future change.
360 video drone flight over Niwot Ridge
In recent years, researchers at Niwot Ridge have been examining the impact of shrinking glacial areas, decreased snowpack and higher temperatures on plant and animal populations as well as the human populations that depend on water from snow melt and glaciers to feed into rivers and watersheds. One issue of particular concern is the stress on high-elevation plants and animals, as they must seek higher and higher elevations for food, water and habitat due to a warming climate.  The shrinking footprint available to them may portend an "escalator to extinction," further reducing biodiversity and species health in mountain regions. By studying the structure and dynamics of high-elevation ecosystems, researchers at Niwot Ridge are making contributions towards a more positive outcome for both the natural and human world.
Minneapolis-St. Paul
Climate change isn't affecting just the Antarctic, oceans and coastlines – it is changing our cities and how people live in them. It is impacting yards, lakes, parks, gardens and streams, and NSF is creating opportunities for scientists to understand how. Managed by researchers at the University of Minnesota, Twin Cities, the network's newest site is examining the interactions between people living in urban areas, urban nature, governance and policy, and climate change. The research also focuses on equity, including how turmoil, policy and socioeconomic disparities impact the urban ecosystem and who benefits from the ecosystem.
The Minneapolis-St. Paul site is just the third urban site in the history of the LTER network. Scientists at the site are seeking to understand if the ecological theories developed in other types of ecosystems will apply to the urban center. Their hope is that the research will improve the understanding of how society interacts with and responds to changes in the environment, and how that response differs among socioeconomic groups. The goal is to determine how environmental outcomes can be improved to benefit all people living in the Twin Cities.
Key to this effort are collaborations between researchers and minority communities that will enable inclusive, participatory research to produce actionable results. The researchers will also study how such partnerships and engagement with the community changes scientific and social outcomes in the urban ecosystem.
Communicating and Building on the Research
Broader impacts are also important to Long-Term Ecological Research, with all sites providing educational experiences for a wide range of students and teachers.  For example, many sites participate in a Schoolyard LTER book series, which provides illustrated children's books in multiple languages that cover each site's ecological concepts, research and scientists. Those researchers, along with teachers, also co-design classroom activities based on authentic data, or Data Nuggets, from the sites.
The Palmer Antarctica site partners with the Polar Interdisciplinary Coordinated Education, or ICE, program, an integrated education and outreach program developed with help from NSF's Office of Polar Programs that enables public access to the Antarctic and Arctic regions through polar data and interactions with the scientists. The program creates communities of practice that encourages educators and researchers to develop workshops, data visualization tools and data-focused activities appropriate for middle and high school students as well as undergraduates.
Among other programs, the Niwot Ridge site partners with Wild Bear Mountain Ecology Center and the Winder Wildlands Alliance to bring elementary school children from the Boulder-Denver area to the site to learn about snow science and the importance of snow. The Minneapolis-St. Paul site has partnered with the Bell Museum, Minnesota's official natural history museum, to enable middle school students to learn state standards in Earth and life science through museum trips and urban nature-based learning activities in their own communities.
About the Authors
Jared Dashoff
Communications Specialist 
Jared is a communications specialist in the Directorate for Biological Sciences at the National Science Foundation. Before joining NSF, Jared developed communications materials and strategies for organizations in a host of industries, ranging from defense to education and healthcare. His love for words and language extends beyond his professional pursuits to word puzzles and he regularly competes in crossword puzzle tournaments; he even featured in the DVD extras of a documentary on the American Crossword Puzzle Tournament.
Sara Eckert
Communications Specialist
Sara is a communications specialist in the Office of Polar Programs in the Directorate of Geosciences. Sara has worked for multiple federal agencies, but NSF is her "true home" where she can combine her science background with her love for talking. 
Beth Zelenski
Staff Associate
Beth is a staff associate in the Directorate for Geosciences at the National Science Foundation. Her long and winding road of experience in the public and private sector aids her current efforts to communicate the value of science. Gen X to her core, Beth has a penchant for sarcasm and distributes self-deprecating memes to boost staff morale.