Image: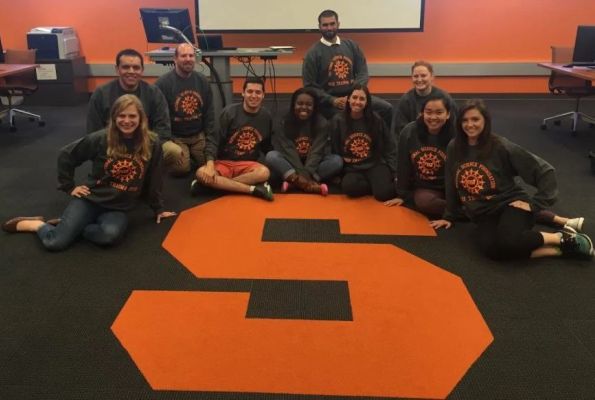 Vets, non-vets work together to understand PTSD
Program connects psychology, neurobiology and physiology to study trauma
Post-traumatic stress disorder, PTSD, can develop after a person experiences a traumatic event, such as a death, a car accident or a sexual assault. According to the U.S. Department of Veteran Affairs, 11% to 20% of veterans who served in Operation Iraqi Freedom and Operation Enduring Freedom have PTSD in a given year. For veterans who served in the Gulf War, that rate is about 12%, and for Vietnam veterans it is about 30%. Due to the number of military veterans dealing with PTSD, research in this area continues to grow.
The NSF REU: Undergraduate Trauma Research Training Program, a collaborative effort among Syracuse University, SUNY Upstate Medical University and SUNY Oswego, focuses on teambuilding activities, mentorship and hands-on training with veteran and non-veteran students to conduct trauma-related research.
To learn more, NSF interviewed Kevin Heffernan, a professor of exercise science at Syracuse and the program director, and Karen Wolford, a psychology professor at SUNY Oswego and senior co-director of the program.
Q: What led you to focus on military-related trauma research?
Wolford: I was pursuing a lot of continuing education in the area, such as PTSD treatment and trying to understand it. So, that led me to the focus on post-traumatic stress disorder. Seeing the parallels between general trauma survivors and military survivors really spoke to me because both of my parents are World War II veterans.
Heffernan: I have no expertise in psychology, trauma or PTSD, but I think in some way that's where Karen and I balance each other extremely well. Like Karen, I have family connections to the military. My great uncle was in World War II and my brother-in-law is a Navy SEAL. So, teaching research methods, teaching research ethics — that's what I was excited to do.
Q: Could you briefly describe the research?
Wolford: Every year the research focus is different. We get our ideas for studies from the students. We've had interest in service dogs, for example, because several student veterans had them. So, we did do a study on service dogs. Our very first cohort was interested in mindfulness-based stress reduction approaches but making it more accessible because there's been a stigma with pursuing psychological care, not only in our society, but also in military culture. They thought if we could make a mindfulness-based stress reduction program that was accessible through the computer, then maybe veterans could be anonymous and take part in it. We found the computer was too clumsy, so we moved it to a mobile app and that's still being researched.
Heffernan: The overarching theme is trauma and PTSD, with focus on veterans, but also as it applies to non-veterans, and we try to approach it as truly interdisciplinary. A lot of the students come in interested in psychology and clinical psychology, which is outstanding, but I try to share with them that to truly make any progress in understanding PTSD for prevention, management and treatment, we can't just focus on it one way.
With the faculty, we have clinical psychologists, cognitive neuroscientists and neurobiologists. I focus on physiology. We have individuals in social work and social statistics. So, everyone has an interest and a focus on trauma and PTSD, but through a very different lens. The students can see that we can't keep asking the same questions and doing the same kind of research. We have to bring in all of these different perspectives.
The last few years there's been a large interest in structural racism and social determinants of health and how that might transact with past traumatic experiences to affect PTSD's severity or risk in the future. Some students have interest in physical activity as management for trauma and PTSD.
Q: What are some misconceptions associated with military service members and PTSD?
Wolford: We open up our research talks to the public and maybe there wasn't quite the awareness early on that PTSD was treatable. So, we'd like to talk about the different evidence-based treatments. And certainly not everybody with PTSD has to be a veteran. A lot of times that used to be the thought. We know now after COVID, and after 9/11, and all kinds of unfortunate things, like high rates of sexual assault in our society, that a lot of people get PTSD. When we open up our talks in June, its PTSD awareness month so we try to bring in experts.
Heffernan: I've learned quite a bit as well. I think the focus for a while has been on combat-related PTSD and it's so complex — it's more than just combat. Not all veterans experience combat, and that doesn't make them any more or less likely to have PTSD. Individuals have different experiences that are not always related to combat that can be very traumatic, and I think that's probably a misconception. We shouldn't be looking at and treating all veterans the same.
Q: How has COVID impacted your research? And how has the program been able to adapt?
Heffernan: The positive of it is that when we were online it forced us to think a little differently. I just started emailing people all over the country, "We have this program, could you zoom in and talk to our students?" and many of them were like, "Yeah, sure, absolutely." So, that expanded our network and the students have stayed in contact with many of these individuals.