Image: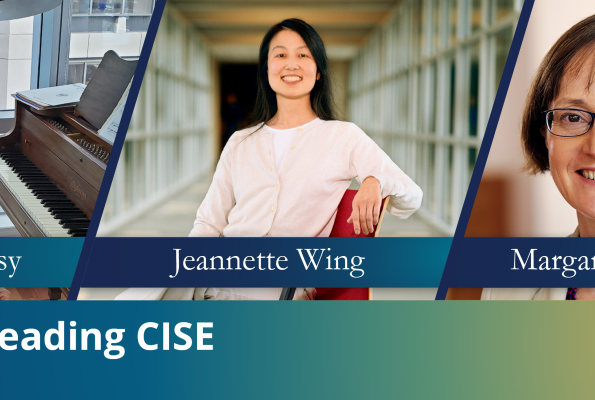 Wisdom and insight from women leading in computer science and engineering
Three Assistant Directors; leadership across four decades
A U.S. National Science Foundation Distinguished Lecture, "Reflections and Visions," brought together three distinguished scientists, academics and thought leaders: Ruzena Bajcsy, Jeannette Wing and Margaret Martonosi. These three women were each NSF assistant directors leading the Directorate for Computer and Information Science and Engineering over three different time periods: Bajcsy 1998 to 2001; Wing from 2007 to 2010 and Martonosi from 2020 to the present.
Each faced distinct opportunities and challenges that characterized each decade, but each road mapped and supported CISE's priorities and helped set the groundwork for innovations as varied as artificial intelligence, GPS, cell phones and the Internet, which have profoundly shaped the daily lives of not only Americans but societies the world over. The three women shared their personal, academic and professional journeys, as well as their thoughts on the field over time. Read on for highlights and watch the full discussion.
What sparked your interest in pursuing a career in STEM in general, and in computer science and engineering in particular?
Each computer scientist spotlights the power and influence of their parents and especially close bonds with their fathers. Bajcsy was first motivated by her father, a civil engineer, and mother, a doctor. Martonosi describes "hitting the parent lottery."  She was given the encouragement to enter STEM, and the "freedom within STEM to do my own thing."  Wing's father nurtured her love of mathematics, crystallizing for her that "Engineering is using math to solve real world problems," which, as she put it, "basically set me on my career for life ... I never looked back."
How has the field and your involvement in the field changed over time?
Bajcsy, now 89 years old, was born into a very different world than we know today. A woman in engineering who worked in the infancy of computer science, a field still male dominated today, she was then the first and only woman in many regards at her university and in her field. What's more,
she grew up in Bratislava, so lived on the one hand under communism, which limited choices, but on the other hand near Vienna, considered the center of cybernetics, which afforded exposure toprominent intellectuals such as Sigmund Freud, Helmut Leder (who developed models of aesthetic appreciation) and W. Ross Ashby (a pioneer in systems theory and complex systems). "The was an atmosphere that machines can be used to reason and act, in a useful manner, and so from there, I really used the computer as a paradigm for how it can help."
Wing realized the applicability of computing to every other discipline, field and societal challenge. She was enthralled by the universality of how data, computing, AI and machine learning touch every single sector and is being used in every single science and engineering challenge that faces the world today. "And it's all happened in my lifetime. It is pretty amazing."
Martonosi highlighted two important trends. One positive trend relates to computing and connectivity: "We never use a single processing device. Our phones are multiple processing devices, our web queries are going out across data centers … everything we do is sort of networked and distributed. On the other hand, she acknowledged the trends regarding computing's gender gap, noting that during the year in which she earned her degree in computer science, 1986 computer science as a field graduated its peak percentage of women, noting a subsequent precipitous drop. "While it has crawled back up, it hasn't reached the levels of 1985 or 1986," Martonosi said. NSF continues to work on programmatic investments to broaden participation in computing to address this and other challenges related to demographic and geographic inclusion.
What key transformative moments helped steer your focus, clarify your goals and determine your direction?
During her break from the "glorious life of an academic," Bajcsy realized the importance of service for the betterment of society. "We all live in a community," she explained. "I always felt that it was our responsibility, once you accomplish, once you get to a certain level, to serve and help to flourish that community."   At NSF, she was proud to create information technology research, or ITR, programs.
Early ITR investments funded Martonosi, then a young researcher. "Ruzena's leadership on that program changed a lot of research lives, including my own," said Martonosi. "Essentially, everything I'm known for is from that funding. I don't think I had an awareness that you were supposed to color within certain disciplinary lines. Today, researchers can address big problems and identify big opportunities, without getting wound up in the traditional disciplinary silos."
Wing experienced what she called "a transformative moment for the country" at NSF. "Congress passed the stimulus package under President Obama's leadership in 2009. NSF received a $3 billion budget boost that it had to spend in nine months. I made a lot of friends that year," she quipped. "It was a thrilling time to be at NSF, a thrilling time to be the head of CISE ... and transformative for STEM."
Other thoughts on the future of women and girls in STEM?
It's about culture--making sure the environment is one in which there are women and underrepresented populations who feel welcomed, appreciated, respected and treated as equals, and whose voices are heard and paid attention to." And why it matters, "There are wicked, hard societal challenges, and I think that they can help attract students to enter STEM."
"The future is phenomenal," Bajcsy exclaimed, "but we have to be careful not to lose the trust of the society ... I'm excited. I wish I was 20 years younger to contribute. I hope that I will still contribute."
A video recording of the entire program may be viewed online.