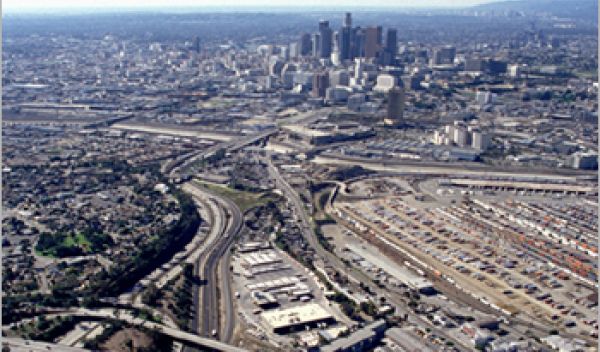 Economic Structure Drives Working Poverty in Los Angeles Region
Surprising findings about the geographic distribution of working poverty
The "American Dream" of hard work and determination leading to a middle-class lifestyle is just that--a dream--for many in the greater Los Angeles region. Encompassing more than 38,000 square miles and 180 municipalities in Los Angeles, Riverside, San Bernardino, Orange and Ventura counties, the sprawling metropolitan area is home to an economically polarized and culturally diverse population of more than 16 million, according to Census data. Of that total, some 4.5 to 5 million are living in poverty, and approximately 3.5 million are experiencing a disturbing economic trend called "working poverty." 
Urban policy experts define working poverty as a household with an income below the poverty threshold, despite having the equivalent of at least one family member working full time. Traditional stereotypes of blighted and dangerous poverty-stricken areas don't necessarily apply. Working poverty has a surprisingly suburban look--families living in neat homes and apartments within well-kept neighborhoods, says Jennifer Wolch, a dean and professor of geography at the University of Southern California (USC) and director of USC's Center for Sustainable Cities. She has studied the increase in the working poverty phenomenon in Southern California and its implications for local governments, with funding from the National Science Foundation (NSF).
"The geographic distribution of working poverty, which drives overall poverty concentration patterns, is intimately linked to the region's economic structure," Wolch explains, discussing research conducted with Juliet Musso, an associate professor at USC's School of Policy Planning and Development, and Pascale Joassart-Marcelli, formerly a postdoctoral research associate and now an assistant professor of economics at the University of Massachusetts. They determined that the concentration of poverty increased in Southern California's suburbs during the 1990s as a direct result of the changing regional economic structure, as well as broader forces such as general economic restructuring, pressure from abroad and increases in immigration.
Wolch and her team have linked the rapidly growing and concentrated clusters of working poverty to the types of jobs available within these suburban bedroom communities. As the nation's second largest metropolitan region (second only to New York/New Jersey/Long Island), greater Los Angeles has an economic and industrial base of technology, aerospace, manufacturing, entertainment and services as complex and diverse as its population. The technology boom in the region has driven increases in high-wage jobs in professional and technology sectors, and created strong secondary demand in the high-wage professional service sector and low-wage domestic service sector in the suburbs. Simultaneously, in the cities, the manufacturing sector has shifted from well-paying, unionized jobs to low-wage, non-union jobs without benefits. 
These economic shifts have caused a domino effect for local municipalities as they grapple with the fiscal challenges of subsidizing working poverty with limited fiscal capacity, the researchers explain. High concentrations of working poverty can create conditions of overcrowding and increase the cost of providing human services, low-cost housing, education, public transportation and fire and police protection. The team examined the impacts of municipal responses. For example, local governments in poor communities often attempt to fund the growing costs by diverting limited funds into attracting new businesses to create local jobs and increase income. Unfortunately, this strategy can often backfire, the researchers found, by reducing necessary services to residents while creating more low-paying jobs--perpetuating the cycle of working poverty and giving wealthier residents more reason to move away. 
"Although local governments experience major fiscal impacts linked to poverty concentration, they have very limited ability to alter the regional division of labor," says Wolch.
Rather, as Joassart-Marcelli explains, "Our results indicate that most municipalities engage in competitive economic development efforts that have insignificant impacts on working poverty levels. Instead, it creates intense fiscal stress in poorer cities, forcing them to cut services or raise taxes. Ultimately, this just accentuates fiscal disparities within metropolitan regions."
According to Joassart-Marcelli, these fiscal disparities can have a divisive effect on adjacent municipalities. "Every large metropolitan region in the country is experiencing significant pressure in facing the fiscal realities of working poverty. When poor cities struggle and the economy is not healthy, this dynamic can eventually impose costs on wealthier suburbs." She continues to work with Wolch to build a model to estimate the true cost to government of low-wage workers in cities. "Some of these problems might best be addressed by encouraging municipalities to work together toward a regional approach."
Wolch agrees, concluding, "This research has real, everyday consequences for the quality of urban life, especially for poor people and communities." 
--S2N Media