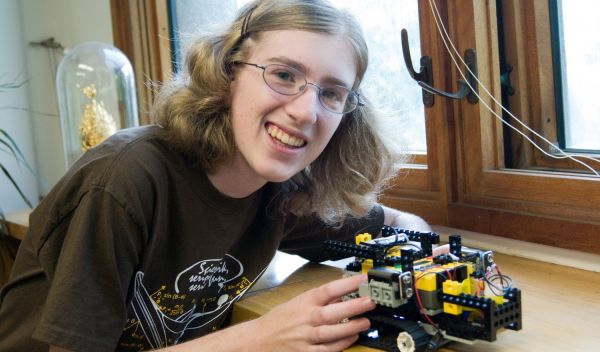 High School Student Develops Chemical-detecting Robot
California senior describes how she developed a mobile, autonomous robot, spending time in the lab of an NSF-supported researcher, and she shares what it was like to win at the state science fair competition
"Wow! You made THAT with Legos®!" exclaimed the children who crowded around my robot on Public Day at the Intel International Science and Engineering Fair in May 2009. On display was my mobile, autonomous robot that will search a room--and if it moves over a chemical spill, it will detect and respond to the chemical.
This technology has applications in industry, security, counterterrorism, environmental sensing and maybe even Mars exploration. By removing people from the potential danger of searching for and detecting chemicals in hazardous situations, an array of inexpensive robots could help preserve safety and save lives.
The sensor I designed uses relatively simple electrical parts: a light-emitting diode (LED), photodiode, operational amplifier (op-amp) and resistors in combination with a porous silicon chip that temporarily changes color in the presence of a volatile organic compound. A fan sucks up saturated vapor into the sensor chamber holding the chip, and the LED bounces light with a different intensity off the chip and into the photodiode.
The voltage from the photodiode is then amplified and sent to the microcomputer of the robot as the sensor signal. After creating the sensor circuit and adding the fan, I ran some tests to determine if the signal change caused by the targeted chemical was big enough to be easily seen by the robot. The change exceeded my expectations and was clearly large enough to detect the chemical, even in very small quantities and concentrations.
The technology that makes my robotic sensor possible was developed by my mentor, Michael Sailor of the University of California, San Diego (UCSD). His laboratory, funded in part by a National Science Foundation (NSF) grant, develops porous silicon chips that change color when chemicals get into the pores.
Sailor's many post-docs, graduate and undergraduate students explore applications for these chips in areas like medicine, environmental sensing and chemical detection. When I first met with the group as a freshman in high school in the spring of 2007, I was intrigued with the idea of putting his chip onto a robot.
Professor Sailor invited me to work in his laboratory that summer, and I have been working on my robot there ever since. Anne Ruminski, an advanced graduate student in the group, etched the porous silicon chips for me and encouraged me in a thousand different ways. She and the other graduate students in the laboratory taught me by example to persevere even when it seems that nothing will ever work, and I had ample opportunity to apply this lesson!
The main problem I faced was to develop a sensor that could see well enough to detect the color change on the chip. For a junior in high school who didn't know any circuitry, it was very much a trial-and-error filled learning experience!
After almost two years of work in developing the sensor, I was finally able to attach it to a LEGO robot base that I built, and began writing the programs to make it run. I had to teach myself LabVIEW (a platform for developing test, measurement and control applications), but when I was able to set my robot in motion and see it perform well, all of the effort was worth it!
I presented my robot this year at the Greater San Diego Science and Engineering Fair, where I took first place in Mechanical and Electrical Engineering and won the Senior Sweepstakes Award, a trip to the Intel International Science and Engineering Fair.
Several societies and companies, including the San Diego Space Society, and the Society of Women Engineers, also recognized my project with first-place awards.
At the California State Science Fair in Los Angeles, my project won a first place in Electronics and Electromagnetics, and the Patricia Beckman Project of the Year Award, the top science fair award given in the state of California! As I heard my name announced and walked to the stage to receive a check for $10,000, I thought, "Wow! And I made that out of Legos!"
-- Anna Kornfeld Simpson, San Diego, California, annakornfeldsimpson-livescience@yahoo.com
This Behind the Scenes article was provided to LiveScience in partnership with the National Science Foundation.