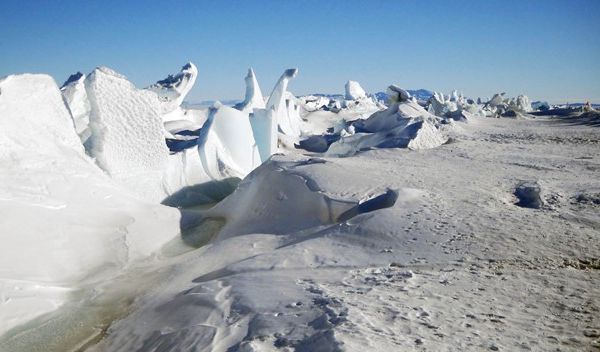 Ice core chemistry study expands insights into sea ice variability in Southern Hemisphere 
Sea ice cover in the Southern Hemisphere is extremely variable
Sea ice cover in the Southern Hemisphere is extremely variable, from summer to winter and from millennium to millennium, according to a University of Maine-led study. Overall, sea ice has been on the rise for about 10,000 years. However, there have been some exceptions to this trend, including a midpoint decline in sea ice around 5,000-6,000 years ago.
Scientist Dominic Winski spearheaded a project that uncovered new information about seasonal sea ice variability in the Southern Hemisphere by examining the chemistry of a 54,000-year-old South Pole ice core.
The Southern Ocean experiences the largest seasonal differences in sea ice cover in the world, with Antarctica surrounded by 18.5 million square kilometers (about 7.2 million square miles) of sea ice in the winter and only 3.1 million square kilometers (about 1.2 square miles) of sea ice in the summer. According to the researchers, this seasonal disparity in sea ice has a significant influence on regional and global climate.
When U.S. National Science Foundation-funded researchers recently retrieved the deepest and oldest ice core to date from the South Pole, Winski saw an opportunity to learn more about seasonal and overall changes in sea ice in the Southern Hemisphere throughout the Holocene -- the geological period of the last 11,700 years. He examined the chemistry of the ice core, particularly its salt concentrations, to learn more about sea ice variability in the region. Geophysical Research Letters published a paper detailing Winski and his team's findings.
The scientists capitalized on seasonal variations in Southern Ocean climate to create a sea ice record showing distinct summer and winter variability. The researchers combined this information with a state-of-the-art atmospheric chemistry model to link ice core measurements with sea ice variability. The result is a detailed record of Southern Ocean sea ice that reveals major fluctuations, especially in winter sea ice.
"This novel record significantly extends our view into sea ice dynamics over millennia, and hints at links between Southern and Northern Hemisphere sea ice extent and the role of ocean circulation," says Paul Cutler, a program director in NSF's Office of Polar Programs. "It also provides valuable context for current trends in sea ice extent under a changing climate."
The project to extract the ice core, called SPICEcore, or South Pole Ice Core, involved scientists from 18 institutions, all aiming to create an archive of climate conditions in East Antarctica during the past 54,000 years, including changes in atmospheric chemistry, climate and biogeochemistry.