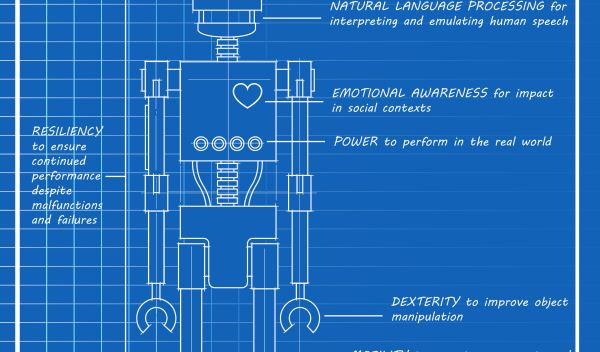 Infographic: The making of a collaborative robot
Over five years, National Robotics Initiative has helped answer questions in robotics, but many remain
This month marks the fifth anniversary of the National Robotics Initiative (NRI). The National Science Foundation (NSF) has been an active leader in the program since it was launched by President Obama in 2011 and is proud of the significant progress made so far in robotics.
Advances in fundamental technologies that enable robots to collaborate with humans, as well as with other robots and devices has led to a surge in the interest and use of robotics in our everyday lives. Moving forward, NRI will continue to support robotics research that will help spur innovation in robotics, enhance our economy and national competitiveness, and improve our quality of life.
Critical questions in robotics remain, including the following:
1. How can robots understand the world around them?
Improving sensor capabilities will support robots' abilities to detect situational information and to integrate that information into models of robots' surrounding environments.
2. How can robots make high-level decisions in complex situations?
Research in cognition will improve our understanding of how the human brain processes information and will make it easier to program robots so they can interpret different types of information.
3. How can robots and humans interact through language?
Advances in natural language processing and speech will help enable robots to produce and interpret language, as well as to understand and express acoustic, facial and gestural cues that accompany speech.
4. How can robots be impactful in social contexts?
Investigating fundamental aspects of emotion and expression is critical for building human-like robots that can perceive and express subtle emotional signals.
5. How can individual robots execute a range of movements?
Motion research can help provide robots with the mobility and agility required to traverse different terrains, as well as the dexterity to manipulate small objects.
6. How do we ensure robots function optimally?
Studies on quantitative measurement tools will allow for the continuous evaluation of robots, and resiliency research will empower robots to perform despite dysfunctions or failures.
As robots capable of collaboration emerge, new questions will arise. For instance, in a world of collaborative robots, how do we best incorporate collaborative robots into our existing infrastructures? Once robots are integrated, how do we ensure the safety of people, devices and information? NSF is committed to addressing these important issues so the potential of the robotics age translates to significant benefits for society.
NSF's long-term investments in fundamental science and engineering research such as these projects have led to novel machines that safely partner with people in nearly every environment. Visit NSF.gov/robotics for more stories about the emerging robot generation.