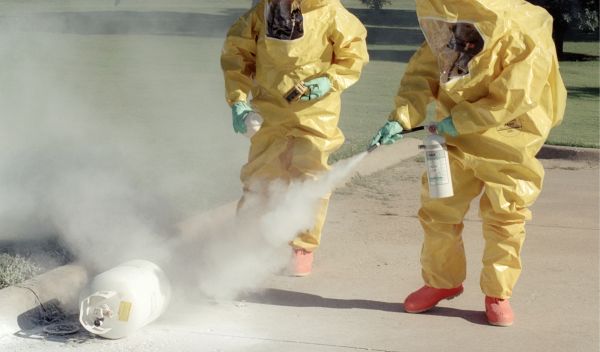 Nano-engineered Powders Tackle Toxic Chemicals
Thirsty grains act fast to clean up messes
Composed of magnesium, titanium and oxygen, the toxic-chemical cleaner known as FAST-ACT is unremarkable at first glance. Yet, this new family of powders packs a punch--crammed onto each tiny grain is an enormous surface area and a seemingly limitless thirst for hazardous substances.
When sprayed from a canister or spread over a spill, the material grabs onto and rapidly breaks apart such deadly materials as VX nerve gas and sulfuric acid.
The video above shows just what FAST-ACT can do.
With support from the National Science Foundation (NSF), Kansas State University chemist Kenneth Klabunde was the first to devise the nano-engineering techniques that led to the development of FAST-ACT. He then founded NanoScale Materials Inc. to produce this new family of substances.
More recently, with support from NSF's Small Business Innovation Research (SBIR) program, the company created the manufacturing processes for commercial-scale production. The SBIR and Small Business Technology Transfer (STTR) programs target small businesses and their partners at universities, enabling the companies to pursue high-risk science and engineering research that could one day prove both useful and economically valuable. In fiscal year 2004, NSF provided just over $100 million to support small business programs.
A listing of Klabunde's NSF awards follows this text.
Kenneth Klabunde recently won a Popular Mechanics Breakthrough Award for his work on FAST-ACT.
NSF Contact: Josh Chamot, (703) 292-7730, jchamot@nsf.gov
NanoScale Materials Inc. Contact: Kyle Knappenberger, (785) 537-0179 x 134, kbk@NanoActive.com