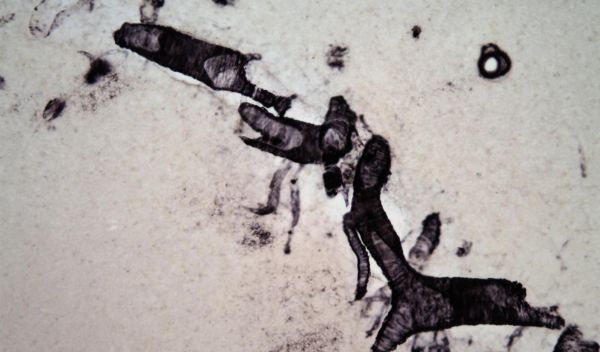 New research detects Alzheimer's disease markers in nonhuman primates
Research investigating the evolution of the human brain may inform therapeutic advances for humans
As a part of their research to understand the evolution of the human brain and how it differs from those of other primates, scientists from Kent State University discovered proteins associated with Alzheimer's disease -- believed to be unique to humans -- in a sample of brains of aged chimpanzees.
Alzheimer's is a clinical disorder partially confirmed at autopsy by the co-occurrence in the brain of two proteins: amyloid beta, and a second called tau.
In a paper just published in Neurobiology of Aging, the scientists say that the detection of both amyloid beta and tau in aged chimps suggests that Alzheimer's-like pathology is not limited to the human brain. The research was partially supported by the National Science Foundation's (NSF) directorate for Social, Behavioral and Economic Sciences.
It has been suggested that humans are uniquely susceptible to Alzheimer's, potentially because of genetic differences from other primates, changes to the human brain during evolution, and longer lifespans.
Age-related comparisons of the brains of humans and chimpanzees, the closest living relatives to humans, are challenging because of the scarcity of samples from older chimpanzees. In captivity, only 10 percent of male chimpanzees live to age 45 and only 10 percent of females to 55.
Senior author Mary Ann Raghanti, lead author Melissa Edler, and the research team examined brain specimens from a group of 20 aged chimpanzees. The specimens were provided by the National Chimpanzee Brain Resource.
The chimpanzees' ages at death ranged from 37 to 62 years: 8 males (ages 39-62) and 12 females (ages 37-58).
The researchers found significant evidence of amyloid beta and tau lesions in the same brain regions affected by Alzheimer's in humans.
While there have been age-related studies of great apes, the profound memory impairment found in Alzheimer's patients has not yet been demonstrated in nonhuman primates. Along with autopsy results, a diagnosis of Alzheimer's requires data from behavioral and cognitive testing to determine whether amyloid beta and tau lesions are associated with cognitive decline. At present, there are no studies that consider both cognitive data and autopsy results from the same apes to distinguish between normal and pathologic aging processes.
But the identification in the aged chimpanzees of amyloid beta and tau lesions, hallmarks of Alzheimer's diagnosis, is a significant advance in understanding the brain and Alzheimer's.
"This research underscores the value of basic, comparative research in advancing our understanding of disease etiology and therapeutic targets," said Rebecca Ferrell, program director for NSF's Biological Anthropology program.