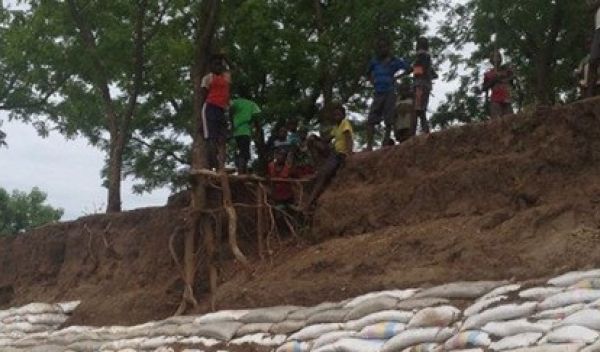 New study details impacts on food security caused by flooding
Analysis of African nations shows multiple effects of floods on food supplies
A new study by researchers at New York University and other institutions details ways that flooding can affect food security. The study tracked the effects of flooding on 5.6 million people in several African nations.
"Our findings show that floods can impact food security both immediately and in the months after the flood event," says Connor Reed, lead author of the study, which appears in Proceedings of the National Academy of Sciences. The study was supported by two grants from the U.S. National Science Foundation's Growing Convergence Research program, which funds research collaborations addressing a specific, compelling problem.
To gain detailed insights into the impact of flood disasters, Reed, along with NYU's Sonali Shukla McDermid and other colleagues, examined more than a dozen countries across western, eastern and southern Africa.
The results showed that flooding affected approximately 12% of those who experienced food insecurity from 2009 to 2020. Effects included detrimental impacts, as expected, but there were also beneficial impacts. "Excess precipitation may lead to floods that destroy crops in a localized area while being associated with beneficial growing conditions that boost crop production on the country-scale," says study co-author Weston Anderson, a research scientist at the University of Maryland.
The researchers caution that any positive impacts from flooding are not guaranteed, and these findings instead speak to the importance of improved data collection on flooding and food security for disaster response and climate adaptation planning.  
"What we highlight in particular is that flooding has important but complicated impacts on food security at different times and spatial scales," McDermid says. "This is understudied globally."
The results also revealed that flooding significantly affects food security in localized and varied ways, as opposed to uniformly across entire countries. The researchers say this finding indicates that the relationship between flooding and food security is due not to such factors as changes in food prices but instead to impacts on food production such as crop loss, destruction of infrastructure, loss of livelihoods, and water-borne diseases and sanitation deficiencies.
"This research illustrates how cross-disciplinary teams can generate exponential improvements in our understanding of societal problems," says Jeffrey Mantz, a program director at NSF. "This study clarifies and quantifies flooding impacts in ways that will have important benefits for people and communities that are facing increasingly frequent severe weather events."